This holiday season social media is intertwined into almost all holiday-themed campaigns. It's indicative of what's to come in 2013. We'll no longer see one-off "social" campaigns. Instead, digital marketing will be social by design. It will be impossible to separate the social part from the non-social part.
Here's five campaigns we think are really special.
Uniqlo's "GIF Box"


Japanese retailer Uniqlo is taking advantage of GIFs this holiday season, with a promotion online that is meant to capture consumer email addresses. People can provide their emails on a Uniqlo microsite to open a mystery gift. Out comes a GIF animation and a coupon for a discount. One GIF is a dancing Santa Claus with Uniqlo branding in the background. Consumers can share the GIF with friends on Facebook and Twitter.
Northwestern Mutual Life Insurance's "Share Unstoppable Happiness."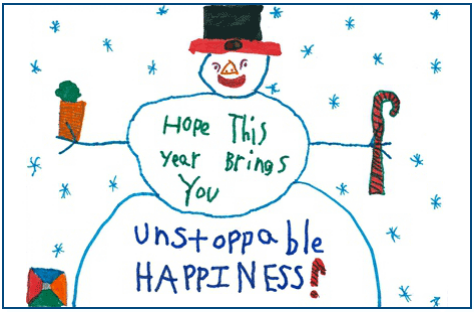 Northwestern's campaign aims to raise $25,000 by Dec. 30. The money will be donated to help fight childhood cancer. The financial services company had child cancer patients draw holiday cards and is asking people to share them via a Facebook app. Each share will equal $1 donated to Alex's Lemonade Stand Foundation and Starlight Children's Foundation. At the same time, people can watch videos within the app and on YouTube with three children who have "unstoppable happiness," even while facing childhood cancer. Besides the fact that this is a good cause, it's a really unique program. The video pulls at your heartstrings, because unlike most of these types of campaigns, the children featured are happy. They show a courage that is really something to applaud. The holiday card created will certainly drive awareness, donations and hope in the fight against childhood cancer.
Peeps' "Peeps Offering" campaign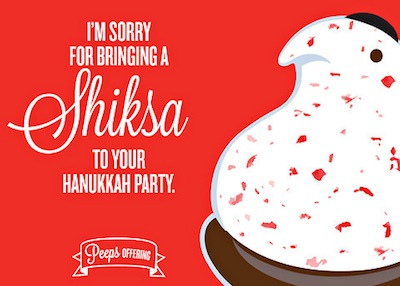 (Photo via nytimes.com)
Peeps, the marshmallow snack, is taking a humorous approach to the holidays, giving consumers the opportunity to send a holiday e-card as a "Peeps Offering" to those they've wronged throughout the year. Consumers can create the e-card via the Peeps website and also via a Facebook app. The cards are really funny. One card's message is, "I'm sorry for feeding your cooking to the dong." Another says, "I'm sorry for breaking up with you on Valentine's Day." My personal favorite: "I'm sorry for de-friending you. Again." The brand is also asking people to "Deck the Peeps," and create their very own holiday-themed peeps. Participants can submit a photo of their creation and then share via social media. The three with the most votes win.
Gap's "Love Comes In Every Shade"



Besides the fact that Gap's new holiday campaign promotes equality by featuring the LGBT community in it's print ads, the campaign also shows that Gap is forward-thinking through the use of newer platforms like Postagram and Pinterest. Consumers can visit Postagram's Facebook app to turn their photos from Facebook, Instagram and elsewhere into real postcards that will be mailed to their loved ones at no cost, courtesy of Gap. Also, users who pin Gap's favorite holiday items to their Pinterest wish lists through an app on Gap's Facebook page will be automatically entered to win a Gap gift card. Five winners will be selected each week through December 24. Additionally, Styld.by, Gap's digital catalog includes curated gift guides from well-known fashion bloggers from Lookbook, WhoWhatWear and Rue. The gift guides are based on different personality types, like 'For My BFF' and 'For My Skater' and utilize pieces from the Winter Icons collection alongside other gift ideas specific to each personality. It's a new take on the gift guide, since traditionally brands and retailers just push their own products. Having an outsider point of view makes it more authentic.
Chevrolet's "Home for the Holidays" campaign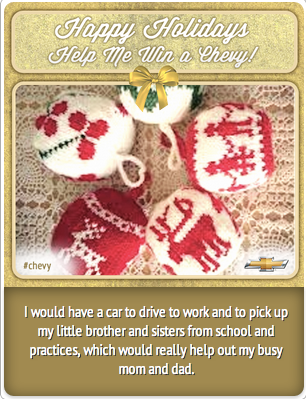 Chevy has teamed up with Dailybreak to give consumers the chance to win a new Cruze, Sonic or Spark. To be entered to win, users are asked to create a postcard by first uploading a picture of the family or friends you're excited to see this holiday season. Next, users have to tell Chevy what they'd be most excited to do with their family and friends if they did win the car. And lastly, people are supposed to share their post card via social media to gain votes and boost their chances of winning. The winner will be selected based on a combination of votes and creativity.
https://digiday.com/?p=27352