There's a lot of back and forth going on in the industry over the effectiveness of QR codes. Brand executives have gone as far as saying that the number of people that scan the code is so small that it isn't cost-effective to create them. You know it's bad when there's a blank Tumblr for Pictures of People Scanning QR Codes.
But like all things in life, particularly marketing, it depends. The idea of adding interactivity to formerly static media is appealing. Yes there are any number of problems confronting QR but there are times it makes sense. Here are five of the most impressive uses of QR codes. Submit your own ideas in the comments.
LVMH's Hennessy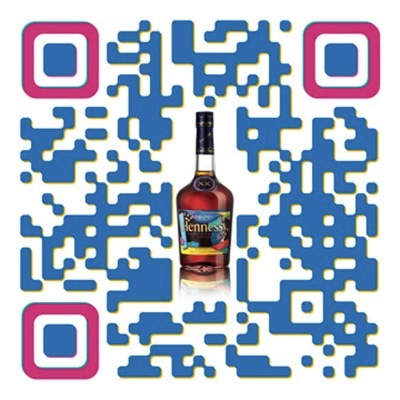 (Image via Puruitist)
The spirits brand designed a custom branded QR code, which appeared on a limited edition bottle and also on all press releases that announced the collaboration of Hennessy with the artist Kaws. Kaws created the limited edition bottle for Hennessy. The code was scanned 1.3 million times. This execution makes sense because consumers' will naturally be interested in finding out why their bottle of Hennessy looks different.
(Image via 2D Code)
The ketchup maker's QR code activation for the "Join the Growing Movement" green campaign, which included QR codes on ketchup bottles, garnered 1 million scans in just a few weeks. 
Glamour


(Image via econsultancy)
Glamour magazine got 512,000 reader engagements for the "Friends and Fans" campaign that asked people to like advertisers in the issue by scanning a code. This worked because Glamour made sure everyone who read this issue understood how to scan the code. There were instructions in several pages of the magazine.
L'Oreal



(Image via AnitaLoomba.com)
L'Oreal partnered with Glamour for Mercedes-Benz Fashion Week. It turned a fleet of NYC taxis into Taxi Shops. Through QR codes, people could buy products right in the cabs. One in three passengers scanned, and 25 percent made a purchase. And 90 percent of those who took action downloaded the L'Oreal mobile app. L'Oreal is the only brand to ever do something like this in the U.S. It makes perfect sense because people are usually bored and not doing anything when they're in a NYC taxi.
Verizon


(Image via Hipscan)

Verizon created a free QR code via Hipscan, that offered San Francisco consumers the chance to win a new smartphone if they scanned the code as they entered any Verizon cell phone store and shared the code with their Facebook friends. If the friend bought a Verizon two-year phone contract, the original customer would receive a free phone. During the week-long promotion, Verizon's sales increased 200 percent, generating $35,000 in addition revenue. Verizon reached 25,000 Facebook pages. It cost Verizon $1,000 to develop the Facebook app and print up the materials for this effort. The lesson: never bet against free. Consumers will do everything possible to get something for free, including advocate a brand to their friends.
https://digiday.com/?p=23576