With the rise of e-commerce come associated challenges: Retailers must not only increase customer engagement but also drive sales in a highly competitive online environment.
Data — historical and real-time — is key. And there's never been more of it to go around. The problem is that most retailers aren't using it right.
"Everybody is good at collecting mountains of big data, but very few e-commerce retailers are actually using it to give consumers a better shopping experience," said Jason Goldberg, svp of commerce strategy at Razorfish. "Execution is what differentiates the top e-commerce retailers from others."
Retailers should use mobile retargeting as well as increased personalization, said Goldberg, which can also help drive sustained engagement and purchases within their apps. Ultimately, it also helps to have highly differentiated products and brand experiences.
Here is what else e-commerce retailers should keep in mind, in 5 charts:
Target new consumers, but not at the cost of returning ones
Top e-commerce retailers understand the value of a loyal customer base. According to a recent study by experience marketing platform Monetate, returning visitors are twice as likely to add an item to their cart than new visitors. While returning visitors spent nearly $5.3 billion online in the fourth quarter of last year, new visitors spent only $2.7 billion during the same timeframe.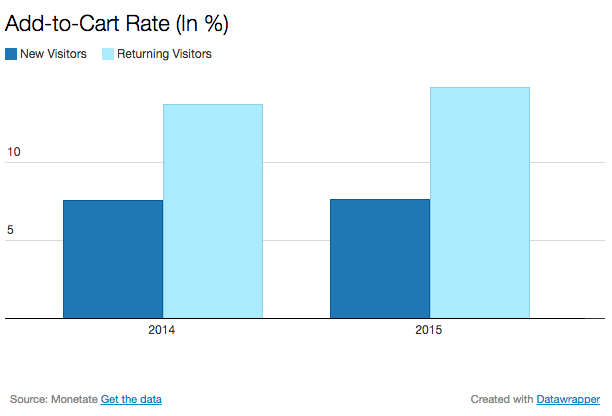 Smartphones are king for mobile transactions
Smartphones are now used in over 60 percent of all mobile transactions, with a 15 percent year-over-year growth between the fourth quarter of 2014 and 2015, a recent report by Criteo found. The study also revealed that even among non-mobile transactions, nearly four out of 10 cross-device desktop transactions included mobile browsing at some step.

"Mobile is growing and its influence is increasing," said Goldberg. "But overall in e-commerce, it is important to remember that mobile isn't the biggest channel as yet."
It's better to place your bets on mobile apps than mobile websites
Dedicated mobile shopping apps not only lead to higher conversions than mobile websites but also a to higher average order value. According to the Fluent survey, of the 37 percent of Americans who used smartphones for e-commerce purchases in 2015, 57 percent made them through mobile apps rather than websites (43.3 percent). This can be attributed to a more native and personalized environment as well as a more controlled purchase path.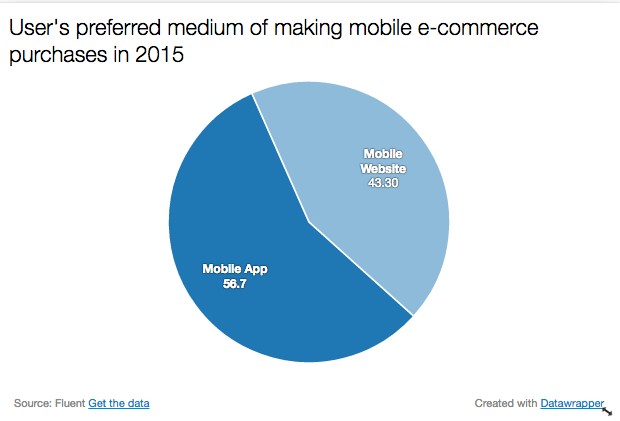 "The caveat here is that only your most valuable consumers are actually going to go through the trouble of downloading your app and using it to make a purchase," said Goldberg. "I would caution against overlooking mobile websites as a way to target new consumers."
Speed, navigation and security are all important to different consumer sets
To enhance their consumers' mobile shopping experience, brands and retailers should prioritize increased speed (21.6 percent), easier navigation (16.6 percent) and enhanced security (16.1 percent). A recent study by Fluent, however, found that while men prioritized navigation over security, women chose security over easier navigation. And when it comes to demographics, younger shoppers preferred speed over older shoppers, who preferred security.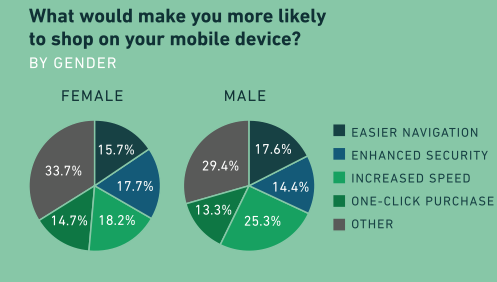 Mass retailers and fashion and luxury retailers have the most to gain
While mobile is emerging as an integral channel for shopping broadly, its growth is more explosive in some categories than others. Mass merchants as well as fashion and luxury have always been popular e-commerce categories, but health and beauty was the fastest-growing space in terms of transactions in 2015 with a 38 percent increase, followed by home.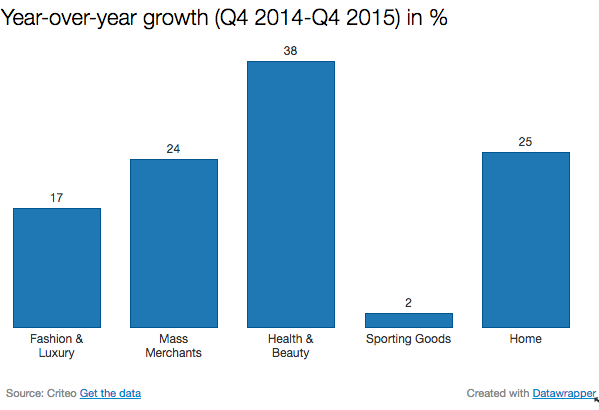 https://digiday.com/?p=170007
October 4, 2023 • 7 min read
•
•
There are still those who believe that AR has a place in the marketing funnel, however big or small right now.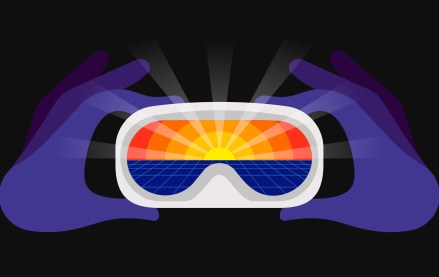 October 4, 2023 • 3 min read
•
•
With Pokémon Go revenues falling year-over-year, Niantic, its developer, is looking beyond its popular augmented reality game to generate profits.
October 3, 2023 • 2 min read
•
•
In episode four of the "Is This The Metaverse?" narrative podcast, Glossy international fashion reporter Zofia Zwiegliska spotlights the brand opportunity when it comes to fashion in the metaverse.