Barron's Group and Nasdaq have teamed up to launch a new weekly show
November 11, 2019 • 3 min read
•
•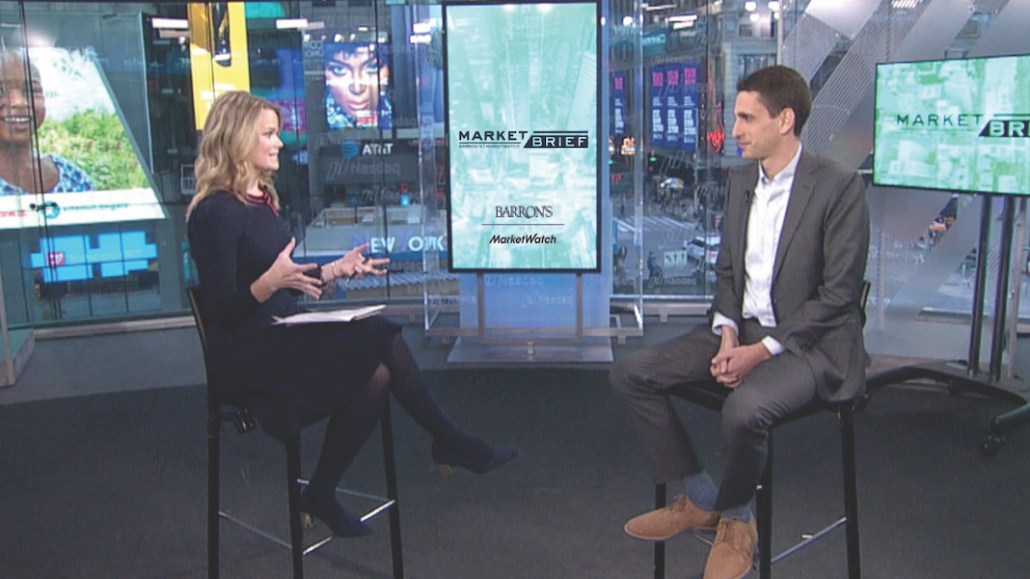 Dow Jones' Barron's Group is combining two of its brands — Barron's and MarketWatch — to launch a new live, weekly 10-minute digital show covering all the financial news that investors need to know to get their week started.
Debuting today at 9 a.m. Eastern, "MarketBrief" is billed as "taking stock of the news in 10 minutes or less" and will tape from the Nasdaq MarketSite in New York's Times Square with host Caroline Woods. Guests on the show will include analysts, investors, CEOs, reporters and editors from Barron's and MarketWatch. It's aimed at audiences who might watch Squawk Box on broadcast or Yahoo Finance on digital.
MarketBrief will air every Monday in full on four primary channels: Barrons.com, Marketwatch.com, YouTube and Nasdaq.com. Shorter one-to-two-minute versions of each week's show will be promoted on Barron's and MarketWatch's Twitter accounts and retweeted by Nasdaq. While the show is aimed at both brands' existing audiences, by promoting MarketBrief on Twitter and YouTube, Barron's Group also hopes to widen its audience beyond its proprietary channels.
"This is new, both in format and the way we're going to put it together and the partnership with Nasdaq as well," said Almar Latour, Barron's Group publisher. "We are, for the first time, packaging what matters that day for that week and sharing it in a very abbreviated form with a wider audience. We hope people will find great utility in getting a lot of value in a small period of time, and this is also the first time we are explicitly combining MarketWatch and Barron's reporters together to appear on the show and contribute to it."
For Barron's Group, the show is a relatively easy way to get deeper into video, as well as add up new revenue streams from pre-roll and mid-roll advertising. Latour said Barron's Group has a dedicated staff for the show, and also expanded its existing video production team, which also works on the just recently launched Barron's Roundtable show that airs on Fox Business. He added, "You can bet there will be more [videos and shows]" from Barron's Group in the future.
Latour wouldn't divulge the financial details of the partnership between Barron's Group and Nasdaq to put on the show, but he said the idea for the show was sparked during a meeting at Davos earlier this year.
While both have partnered together before on other projects, this was the first time they've partnered on digital programming, said Jeremy Skule Nasdaq's chief marketing officer. "We have a deep, strategic relationship Dow Jones and wanted to find a way to explore further partnerships with some of their more powerful brands like Barron's and MarketWatch. The alignment of our content, audiences and brand objectives made sense for us to consider collaborating on more digital programming together."
Latour hopes that the abbreviated format of the show will build on his efforts to make both MarketWatch and Barron's be seen as more accessible brands, too.
"We're trying to reach people in a concise and compact way," he said. "We are very respectful of people's packed agendas, and we know they are drowning in headlines and we want to cut through that. We aim to help people in their decision-making on the market and in investments. That's the unique aspect of Barron's Group: We're actionable, and we offer actionable insights."
Photo Credit: Barron's Group
https://digiday.com/?p=352247
This week's Future of TV Briefing looks at how the streaming ad market's programmatic guaranteed vs. private marketplace debate is reaching a compromise.
This week's Future of TV Briefing looks at how this year's upfront and recent announcements from AMC Networks and Paramount indicate the progression of programmatic in the TV and streaming ad market.
This week's Future of TV Briefing looks at how major streaming service owners' subscription business fared in the third quarter of 2023.