SapientNitro wins best in show at Digiday Retail Awards
February 25, 2014 • 2 min read
• By
Digiday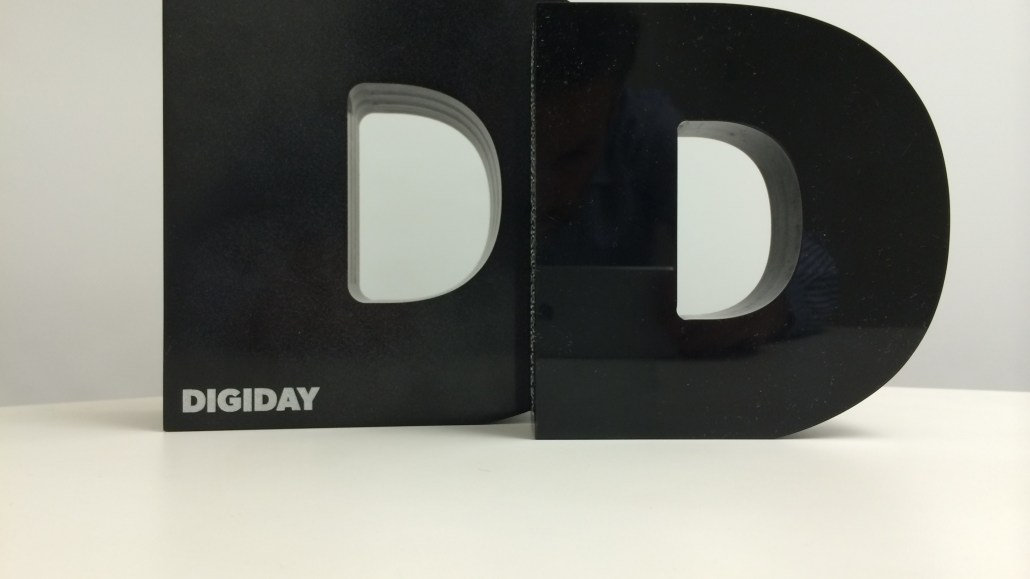 SapientNitro with Fuse Project took home Best in Show for its work developing the Briggo Coffee Haus at last night's first annual Digiday Retail Awards gala.
Briggo Coffee Haus is a fully automated robotic barista that allows people to order and customize their drinks remotely via their laptop, tablet, or mobile device. To realize this vision, Briggo partnered with a team from SapientNitro and Fuse Project, who immersed themselves in the customer experience, solving complex account systems and multi-channel ordering scenarios — to create the digital platform and Briggo storefront. The first Briggo Coffee Haus was launched at the University of Texas in Austin this past summer, with plans to open additional kiosks in airports, hospitals and corporate campuses dotted across the United States.
Sapient also won best m-commerce experience for the Coffee Haus and Best Digital Retail Environment for their work with LensCrafters at an evening that celebrated overall excellence and breakthrough achievement in digital retail innovation, marketing and advertising.
Other winners include Nike with R/GA for OneNike in the Best Retail Brand Website Experience category, DigitasLBi for its Miller Lite Fantasy Football in Best Digital Brand Marketing Campaign and BBDO New York for Lowe's Vine-based "Fix in Six" campaign in Best Social Brand Program.
Winners of  the Digiday Retail Awards were selected from 44 finalists across 15 categories, ranging from Best E-Commerce Experience to Best Content Marketing Program. Judges — selected from the staffs of bebe, Big Spaceship, Laird + Partners, mono and Deep Focus — viewed and voted on creative from all finalists.
The Digiday Retail Awards were presented last night at an event at City Winery in Manhattan. For a full list of our judges and information on judging criteria, see here.
The complete list of winners is available on the Digiday Retail Awards site and is posted below.
Best In Show – Judges' Pick
SapientNitro + Fuse Project for Briggo Coffee Haus
Best E-Commerce Experience
Diageo and Huge for Diageo's Alexander & James
Best M-Commerce Experience
SapientNitro + Fuse Project for Briggo Coffee Haus
Best Retail Brand Website Experience
Nike with R/GA for OneNike
Best Social Brand Program
BBDO New York for Lowe's
Best Mobile Brand Experience
Arc Worldwide/Leo Burnett for Pantene
Best Branded Mobile/Tablet App
Sobeys and The Working Group for "Better Food for All"
Best Content Marketing/Content Program
Spotify and Reebok for Reebok FitList App
Best Digital Brand Marketing Campaign
DigitasLBi for Miller Lite Fantasy Football Content
Best Digital Direct Marketing Campaign
Rockfish and Corner Bakery Café
Best Integrated Digital Brand Experience
Fox Head, Inc. and The Search Agency
Most Integrated Online/Offline Retail Experience
Julep for www.julep.com
Best Customer Loyalty Program
Starbucks, Living Social & CashStar for Starbucks Card eGift
Best Use of Data by a Retailer to Drive Sales
Eyeview & Shoplocal for Conn's
Best Digital Retail Environment, In Store
SapientNitro for LensCrafters
https://digiday.com/?p=66031