The Onion, UrbanDaddy Lead Digiday Publishing Awards Finalists
March 26, 2014 • 3 min read
• By
Digiday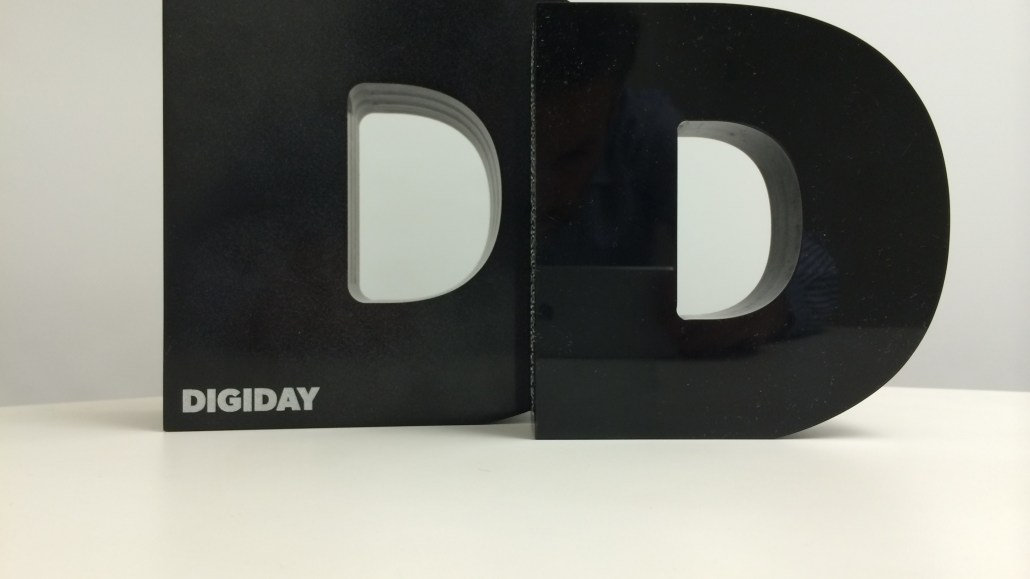 The Onion and UrbanDaddy each received four finalist nominations in the fourth annual Digiday Publishing Awards, created to honor overall excellence and breakthrough achievement in publishing in the last calendar year.
At the Digiday Publishing Awards Gala on April 23 in New York City, Digiday will award the publishers, brands, agencies and platforms that are pushing our industry forward. To learn more about judges and judging criteria, see here.
The Onion was recognized as a finalist in "Best Branded Content Integration by a Publisher," "Best Editorial Achievement by a Publisher," "Best Use of Native Advertising" and "Best Use of Social Media by a Publisher" for four different video and article series produced in conjunction with live-streaming and social media campaigns.
UrbanDaddy received nods in three different categories – "Best Advertising Innovation by a Publisher," "Best Design" and "Best Use of Mobile by a Publisher" – for four different campaigns: an image-focused editorial series, an innovative microsite and two mobile applications.
Content personalization company Gravity was close behind The Onion and UrbanDaddy with three nominations in "Best Publishing Technology Innovation," "Best Monetization Technology for a Publisher" and "Most Disruptive Publishing Technology" for their dynamic Interest Graph technology.
Mashable, Quartz, SheKnows, GE, and Vox were all close on Gravity's heels with two nominations each.
The full list of finalists is available on the Digiday Publishing Awards site and is listed below. The winners for all categories will be announced at the Publishing Awards Gala at City Winery in New York City, April 23, 2014. We hope to see you there.
Best Advertising Innovation by a Publisher
Mashable's Brand Lift
Quartz for KPMG
SheKnows for Romancing the Joan
UrbanDaddy for MINI Night Out
Best Branded Content Integration by a Publisher
Citi and LinkedIn for Professional Women's Network on LinkedIn
Everyday Health for Eating for Health Custom Destination Created for the Bison Council
Google and Huge for www.google.com/think
The Atlantic in Partnership with Volvo & Havas Media for Volvo's Joyride
The Onion for YouTube's April Fool's Day
Best Content Marketing Program
Gawker Media for the 2013 Ford Fusion
GE & Atlantic Media Strategies for Ideas Lab Website
GE & The Economist Group
Slate for Roadshow for Growth
The Huffington Post for Chipotle Food for Thought
Best Design
AskMen for askmen.com
Conde Nast International with Code and Theory for Vanity Fair France Website
NBCOlympics.com
UrbanDaddy for The TUDOR Encyclopedia of Style
Best Editorial Achievement by a Publisher
Business Insider for "The Truth About Marissa Mayer: An Unauthorized Biography"
National Journal for The Next America Program
SheKnows for Special Needs Coverage
The Onion for "This Is What World Like Now"
Best Publishing Technology Innovation
Gravity
Mashable's Velocity
Quartz's Chartbuilder
The MyCityWay Mobile 2.0 Platform
Best Use of Mobile by a Publisher
Code and Theory for Mashable for Android
Time Out iPhone App
UrbanDaddy for The Corolla Punch List
UrbanDaddy for The HypeCycle
Best Use of Native Advertising
BuzzFeed, Turner Media Group, and TNT for "Mob City"
The Onion for "Tough Season"
The Weather Channel with Disney Studios for "Oz: The great and Powerful"
Vox Media, Inc. for The Verge 50
Best Use of Social Media by a Publisher
MarketWatch for Earnings Wall
Refinery29 for The 2013 Adorbs Awards: The Search for America's Cutest Pet
The Onion for "Diamond Joe Biden: Presented By The Onion"
Best Use of Video by a Publisher
AOL for www.MAKERS.com
National Public Media for Center Stage
PopSugar for PUPSUGAR's LIVE! Emmy Viewing Party
Vox Media, Inc. for Jaguar's Life in the Machine on TheVerge.com
Best Monetization Technology for a Publisher
Gravity
Kargo for Parenting.com Mobile Site
LiveRail
Skimbit Ltd for Skimlinks.com
Solve Media, Inc. for TYPE-INTM
Most Disruptive Publishing Technology
Gravity
RebelMouse
ShopAdvisor
Wochit
Best In Show
To be announced at the Digiday Publishing Awards Gala
https://digiday.com/?p=69353