As promised, Facebook traffic to news publishers declines again, post news-feed change
February 19, 2018 • 4 min read
• By
Digiday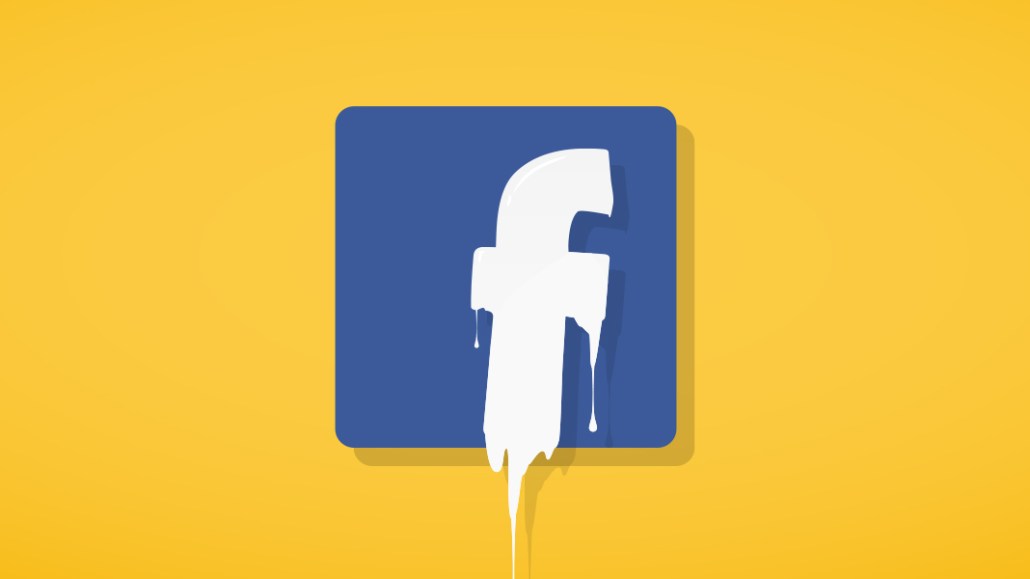 Just a month after Facebook said it'd show less news in its news feed, news publishers are already feeling the brunt, multiple data sources show.
Chartbeat data showed Facebook traffic to publishers declined 6 percent since the beginning of January, said Josh Schwartz, chief of product, engineering and data at Chartbeat. Facebook had already been sending less traffic to publishers, with referrals down 15 percent in 2017, according to Chartbeat, which measures traffic to around 50,000 publishers globally, with a skew towards news publishers. (All told, Facebook now makes up about 30 percent of Chartbeat publishers' referral traffic to Google's 40 percent.)
The declines are not a surprise. Facebook has said as much, warning that news as a percentage of news feed content will go from 5 percent to 4 percent. That would imply publishers can broadly expect a 20 percent drop. Asked about the actual declines since the January announcement, the company emailed a statement saying: "The recent News Feed changes we announced mean people will connect with their friends more, and with public pages less; that means news publishers' reach on the platform may go down."
Women's lifestyle publisher PopSugar has an in-house tool called TrendRank that monitors social activity across 700 publishers in 17 categories. Overall, Facebook traffic to publishers has been flat, but traffic in the news category, which includes major news publishers The New York Times, Washington Post, CNN and BuzzFeed, was down 14 percent after a sharper drop in the months prior, according to the tool, said Chris George, evp of product marketing and sales strategy at PopSugar. (BuzzFeed for its part said it wasn't impacted; others named wouldn't comment on the record.)
Other categories that saw declines were tech and fitness, which could be seasonal (interest in them tends to spike during CES and New Year's resolution season and then decline). But the news decline seems to fulfill Facebook's pledge to deprioritize content that doesn't share well.
A third source, True Anthem, which enables media companies to distribute and track their content on social media using A.I., looked at its client base of several hundred publishers over the past 90 days and found that overall reach has increased since Facebook's January announcement. But all categories aren't performing equally. Digital-only publishers, a category that includes BuzzFeed and Upworthy, were down 11.3 percent while local news grew 25.8 percent and magazines grew 3.6 percent, said Chris Hart, CEO of True Anthem.
Facebook hasn't responded to a request for comment; we'll update this story when they do.
A breakdown of True Anthem's numbers shows that the main driver of overall reach is an increase in viral reach — reflecting posts that have been commented on or shared. That suggests two things: Facebook is favoring posts that get a lot of interaction and publishers have responded in kind, posting stories that they know will get a lot of shares and comments, Hart said.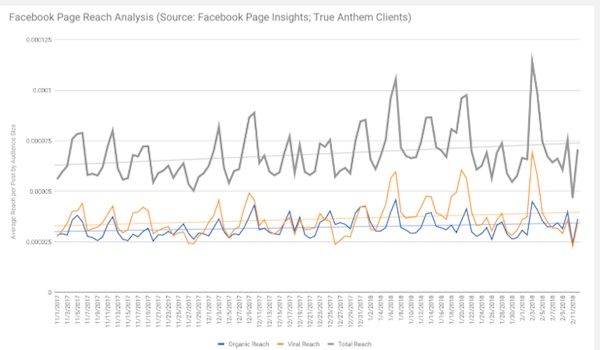 Engagement is playing an increasingly important role in driving organic reach, agreed Jennifer Lindenauer, chief marketing officer at Upworthy, which she said had its highest average page views per post per month in January than it's seen in a long time.
"We're seeing a lot of our values-aligned content rise to the top — stories that reflect where our audience stands on an important, topical issue, but can also spark interesting conversations and dialogue in the comments," she said. At the end of the day, though, publishers get paid on traffic, not engagement.
Some news publishers said they took the brunt of the decline in Facebook traffic last year and that recent trends may be flat or down but aren't alarming. But they're still holding their breath. One major publisher described the past few weeks of Facebook referral levels as "business as usual. There hasn't been a major impact on us to date. But we are watching closely."
Another, Nick Ascheim, svp of digital for NBC News and MSNBC, said that last year, the publisher saw quarter-on-quarter declines in Facebook traffic of 20-25 percent, during which the publisher also was posting less to Facebook. (That's across NBC News, MSNBC and Today.) So far this year, he said, the decline is closer to 10 percent.
Ascheim said the silver lining is that traffic from other sources like Google and Apple News is on the rise and the number of loyal visitors are up, whereas Facebook traffic tended to be one-and-done. "But it's hard to know if it's anything," he said of the easing in Facebook traffic declines, "because they say they're not finished rolling out the changes."