To appeal to news-wary advertisers, Politico borrows from sports
Elections may be great for traffic if you're in the online news business. But traffic doesn't necessarily translate into revenue.
Politico is trying to counter that bias this year by getting advertisers to think of its political coverage as if it's another big sporting event like the Super Bowl. After all, both share key players, a story arc, big audiences and a big reveal at the end. Politics just has a brand problem.
Starting today for the Iowa caucuses, the site is rolling out a new visual presentation for its election coverage that's reminiscent of sports coverage. It's even calling the treatment "Stadium Moments." Home page visitors spike during big political events, so the treatment is designed with them in mind. For side-door traffic, there will be a banner pointing people to the full event coverage.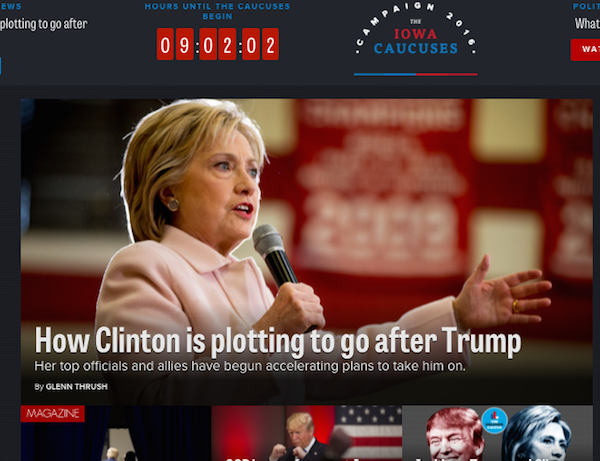 Advertisers traditionally have run away from election coverage, spooked by the partisan coverage and charged emotions, said Peter Cherukuri, head of business development and advertising at Politico.
"One of the challenges historically when marketers look at the election is they understand the passion but worry about it being brand-safe," Cherukuri said.
Politico is going through its own upheaval just as the political season is heating up. Its CEO Jim VandeHei, star reporter Mike Allen and three other key executives are leaving.
Cherukuri said Politico would be making plans to replace Allen, who's behind Politico's "Playbook" newsletter and conferences, after he leaves later this year. "It continues to be key part of what we do journalistically, but is not only thing we do or rely upon," he said. "We also have built a very diverse newsroom to make sure we'll continue even after Mike leaves. I think people know that the company is more than just one person or a few people."
Politico has recently bumped up its native ad sales efforts, and the "Stadium Moments" are built with these editorial lookalike ads in mind. The "Stadium Moments" run over the course of two days, which Politico thinks will make them well suited to advertisers that have a story to tell. The first three "Stadium Moments" carry advertising from The Innovation Alliance, an association representing patent holders, which is using the space to lobby against legislation and present stories about the history of American inventors. The ads will be labeled as "presented by" the alliance.
Cherukuri and Susan Glasser, head of the Politico newsroom, stressed that the "Stadium Moments" format wouldn't have an impact on how Politico covers the news. The idea is to communicate Politico is a neutral source of coverage "at a time of increasing fragmentation and segmenting of media," Glasser said.
Cherukuri said, "We're showing how coverage of the election does not have to be partisan, does not have to be angry. It can be done in a way that informs the professional and consumer that have a deep passion for politics in this country."
https://digiday.com/?p=159104