NBC Sports recruits BuzzFeed for the Kentucky Derby
May 5, 2017 • 3 min read
• By
Digiday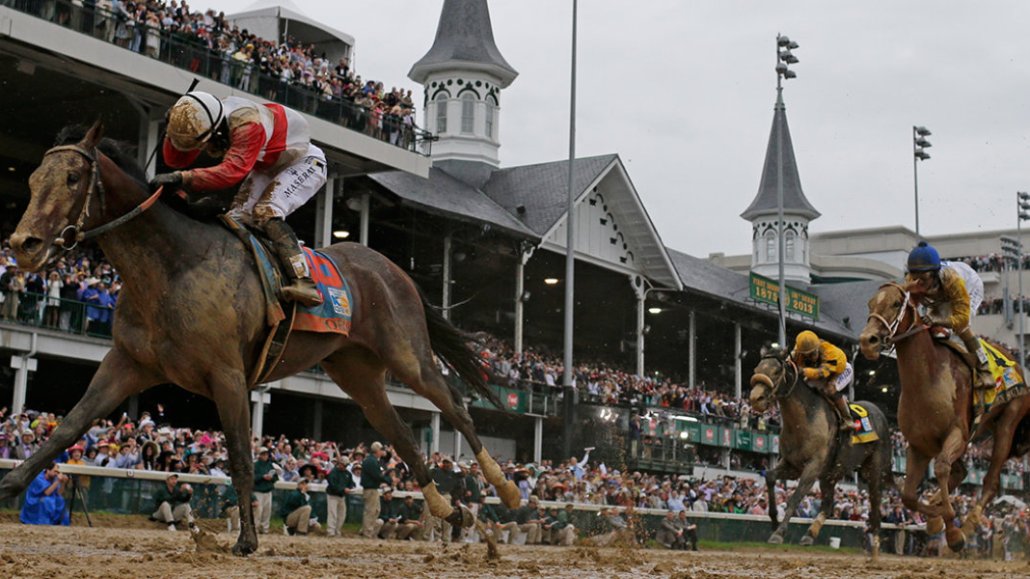 After a successful trip to the Rio Olympics, NBC is taking BuzzFeed to the Kentucky Derby.
The NBC Sports Group, which has broadcasting rights to the Derby and the rest of horse-racing's Triple Crown, has recruited BuzzFeed to produce social content leading up to and during the Kentucky Derby. Six BuzzFeed writers and video producers will go to Louisville to work with four NBC Sports social marketing staffers to produce videos for Facebook, Snapchat and other social platforms, as well as listicles and quizzes on BuzzFeed. They'll also be aided by the larger NBC Sports production of the Kentucky Derby, which includes a live five-hour telecast on NBC on Saturday.
"To call the Kentucky Derby a sporting event is not giving enough credence to the hats, celebrity and party culture that surrounds it," said Dan Palla, director of consumer engagement for the NBC Sports Group. "That's really why the BuzzFeed partnership makes so much sense. They are well-equipped to help us around an event such as this."
NBC Sports and BuzzFeed plan to produce numerous videos and articles around 10 core ideas. For instance, one idea is to cover the celebrity presence and culture around the Kentucky Derby, which will include sending BuzzFeed to the Barnstable Brown Derby Eve Gala to interview celebrities on the red carpet. There will be multiple Facebook Lives on the day of the Kentucky Derby, including a shoot inside the owner's box at Churchill Downs and an interview with NBC Sports analyst Eddie Olczyk.
BuzzFeed content will also appear on TV. NBC Sports has erected a studio set at Churchill Downs called the Peacock Paddock, which will be hosted by "Today" correspondent Dylan Dreyer. The studio will be used to showcase social content surrounding the Derby, such as clips of people hosting viewing parties around the country and popular BuzzFeed and Tasty videos. For instance, a Tasty recipe video for chocolate bourbon balls, which has already pulled in 5 million video views on Facebook since its release on Monday, might be highlighted during the five-hour TV broadcast on Saturday.
"When we sat down with BuzzFeed, we thought a recipe video for a mint julep made the most sense," Palla said of the unofficial Derby cocktail. "They said they understood why we'd think that and why it's central to the Derby, but their data suggested focusing on desserts. You look at the numbers, and you can see why we're letting them be the experts [in areas] where they are the experts."
NBCUniversal has invested $400 million in BuzzFeed in two rounds of funding. Last year, NBC Sports took a dozen BuzzFeed producers to Rio to produce content for a pop-up Snapchat Discover channel for the Olympics. NBC Sports got 35 million unique viewers and 2.2 billion video views on Snapchat across those two weeks.
Snapchat parent Snap, in which NBCUniversal separately invested $500 million, will also be part of NBC Sports' Kentucky Derby digital coverage. Snapchat will have three live stories on the day of the race, one on the red carpet; another called "Tailgate Heroes," highlighting Kentucky Derby viewing parties around the country; and a third on the actual race and the fan reactions.
Ultimately, though, these social partnerships are focused on getting people to watch the race on TV.
"For NBC, driving promotion and linear viewing is going to be priority No. 1," said Palla. "But we are also realistic in that not every single piece of digital content is going to do that."
Image via NBC Sports/Comcast
https://digiday.com/?p=235264