The time spent by people on digital media is exploding right now, and according to both Forrester and comScore, it's predominantly being driven by mobile apps.
Over the past two years, total digital media usage has grown 49 percent, with mobile app usage up 90 percent, according to comScore's 2015 Mobile App Report. Forrester's "Your Customers Will Not Download Your App" report estimated that 85 percent of the time spent on smartphones is in mobile apps.
Here is how apps are revolutionizing the digital landscape, in five charts:
The share of mobile apps in digital is growing.
The chart below shows how the smartphone app share has grown between 2013 and 2015, rising 11 points in its share of total digital, five points in mobile (including tablets) and three points within mobile apps.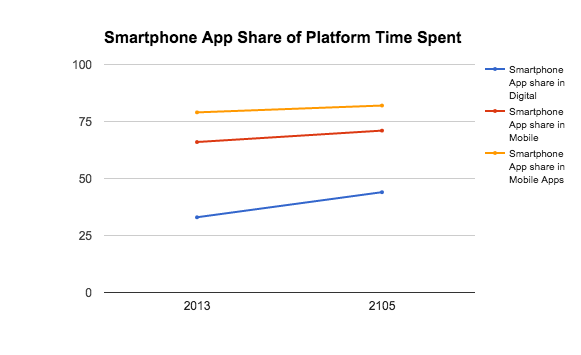 According to Forrester analyst Julie A. Ask, apps offer the contextualized, task-oriented experience that consumers need on mobile devices when they are short on time yet need to get something done.
People are also spending more time on these apps.
Mobile now represents two out of three minutes spent on digital — and people also spend most of that time in apps. Mobile apps on their own now drive the majority of digital media time spent — 54 percent, up from 42 percent in 2013.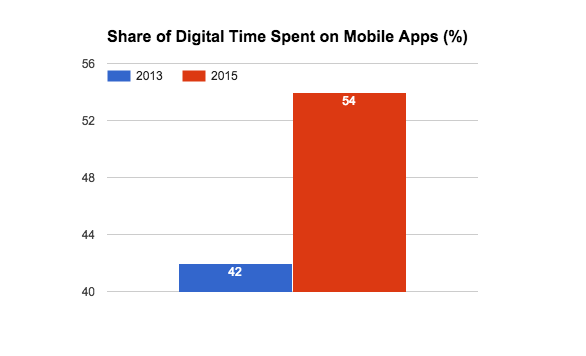 Not all apps are created equal.
According to Forrester, consumers spend more than 60 percent of their app time in communication and media apps. ComScore's report included radio and games in the most popular categories, suggesting that mobile devices are more heavily used for entertainment and communication than their desktop counterparts.
Here are the top 10 mobile apps in terms of unique visitors (in millions) in 2015, according to comScore: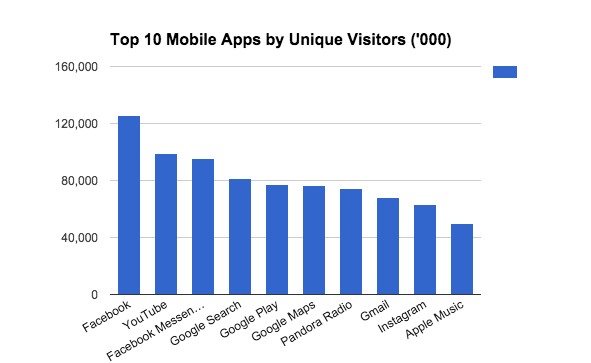 Millennials are driving the increase in app usage.
Millennials spend more time on their smartphone apps, while older segments tend to skew toward tablet apps. Tablet app engagement is much lower on average but generally increases with age outside of the 18-24-year-old segment, according to comScore.
And here are the apps millennials love.
Millennials' app usage time is dominated by social, video, music and communications. More specifically, the vast majority of apps skewing most heavily millennial are social in nature. These include several social personalization apps, like Instasize and Layout, reflecting millennials' affinity for creative expression and enhanced communications. Snapchat continues to grow (it's at number 11), but Timehop, which allows users to explore what they were doing on the same date on social media in previous years, is one of the fastest-growing apps, up 651 percent year-over-year.
https://digiday.com/?p=139073