Line is The Wall Street Journal's fastest-growing platform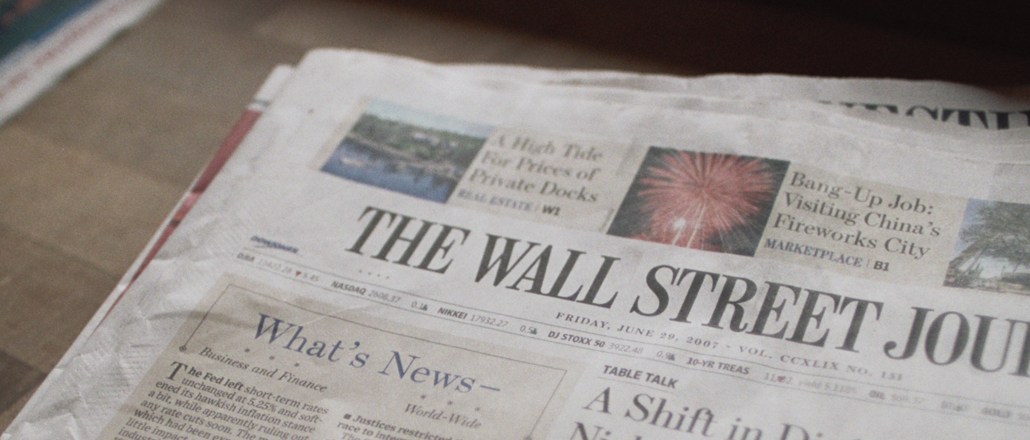 Messaging app Line has been having a growth spurt.
Carla Zanoni, executive emerging media editor at The Wall Street Journal, claims it has been the Journal's fastest-growing social channel, reaching over 2 million followers since it launched on the Japanese app 15 months ago. "I'm not seeing that kind of growth anywhere else, period," she told Digiday.
Last year, Line overtook Snapchat as the fastest-growing global social media app, growing by 59 percent to Snapchat's 45, according to Global Web Index. It has had 215 million downloads, 212 million of which use it every month. (Evan Spiegel, Snapchat's co-founder and CEO, last reported 100 million daily users.) Line has also done a grand job in monetizing itself — App Annie ranks it the No. 1 company in terms of revenue from iOS and Google Play outside gaming, largely off of sticker sales.
Publishers like The Economist, BBC and Mashable have all added Line to their social media arsenal, although WSJ is leading the pack in terms of numbers and longevity. For those keen to tap a younger Asian market, it's the place to be: 60 percent of its user base are in Japan, Indonesia, Thailand and Taiwan.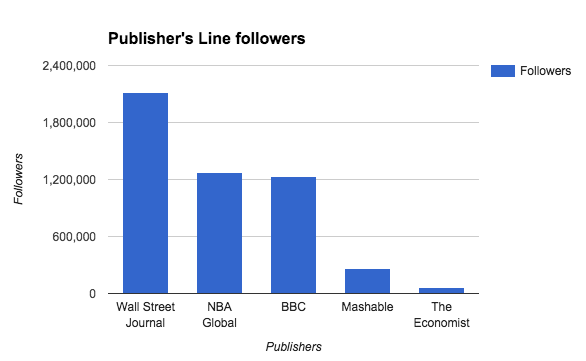 First-mover advantage
More important than big numbers are engagement rates, and Zanoni claims that around 30 percent of its followers are commenting, liking or sharing the Wall Street Journal's Line posts.
"Conversion rates will be a lot higher than in more traditional messaging channels," said Rafe Blandford, mobile strategist at DigitasLBi. "It's like the early days of Facebook. In time, they will go down, but now there is an element of first-mover advantage."
Western companies on Line with a fail-fast-and-fail-early approach can apply what they learn to bigger platforms. Facebook is doubling down on its Messenger platform this year as companies from Uber to hotel chain Hyatt create service-based ecosystems there.
But for now, Asia's mature messaging platform market is unmatched, in part because technology has developed in a more mobile-first way. "In Europe and North America, desktops remain much more important to online commerce and services, and digital consumers remain more wed to their computers," said Felim McGrath, senior trends analyst at Global Web Index.
Bespoke services
With fully functioning service platforms, the scope for personalization is broad — there's rich meta data on location, travel, individual bank details, and historical threads remain intact.
"It's also the most personal and authentic relationship with you friends," said James Kirkham, co-founder of social media agency Holler. "Keywords or emojis can trigger rewards. If you're talking about food with your friends and a restaurant offers you the best seat in the house because it knows where you are, that won't be too intrusive if the value is right."
Undaunted by few analytics
As with many new platforms, the lack of analytics poses a challenge. The Journal can't, for instance, see how many of its Line followers are already subscribers. The challenge with dark social is tracking referrals, and publishers are constantly trying to find more accurate ways to gauge reach.
Using analytics from Omniture, for example, Zanoni can gauge how well the posts from Line are performing by benchmarking the number of pageviews they get against an average from articles that aren't on Line. It's far from concrete, but she claims they get hundreds of thousands of pageviews.
Not being able to measure the traffic does not mean that the traffic is worthless, though. "It's the biggest thing in 2016 for people to understand. The influence from Line is important," said Holler's Kirkham. "The people succeeding are the ones who will make the noise first."
https://digiday.com/?p=160223