April 22, 2020 • 4 min read
•
•
Tribune Publishing's digital subscriptions business was already on a growth trajectory. But since the onset of the pandemic, digital subscriptions have spiked.
The company ended 2019 with 334,000 digital-only subscribers, a 34% increase versus a year prior, according to CMO Mark Campbell, and along with it, subscription revenue grew about 60% during that one-year period as well.
Looking at March versus February this year, Tribune Publishing experienced a 293% increase in new digital subscriptions. During the most recent edition of the Digiday+ Talk series, open to members of Digiday+, Campbell said the growth realized due to coronavirus coverage is entirely coming from the company's paywall model.
During that period, the company also had a 54% increase in unique visitors across its brands while the number of users who hit the paywall increased by 21%. Nearly 0.8% of the people hitting the paywall are converting to becoming subscribers — a 109% increase in the company's conversion rate.
Four years ago, Tribune Publishing created a meter paywall tech stack that would enable the company to leave content that is critical for public safety to be paywall-free while still counting towards a reader's paywall meter total, so that once they went to another story that's not within the breaking news category, they would hit the paywall. This comes in handy during hurricane season in Florida, but during the coronavirus pandemic, this tech stack is not only being used but is being expanded.
Digiday+ members can access full video of the Talk and Mark Campbell's slides below.
Tactical changes to prioritize subscriptions
On March 23, Tribune Publishing implemented three changes to its paywall and meter strategy that would enable its subscriptions business to offset some of the declines in advertising revenue that its publications, and the industry as a whole, are experiencing right now.
Pull back on introductory offers. By suspending nearly all discounts offered to first-time subscribers during the second quarter, Campbell said that the company could potentially realize an extra million dollars, though that still doesn't offset all of the lost revenue from advertising.
Implement a tighter meter. Rather than having a three to five-article limit before readers hit the paywall, test switching to a two-article meter that resets after 45 days, rather than 30 days. "If programmatic ad rates are softer, therefore page views are a little less valuable than they were a couple months ago, then I think we can have more tolerance to tighten the meter, reduce the impressions and page views and convert more subscribers into paying subs," said Campbell. "Unlike before, you can afford to learn and lose some page views.
Increase subscription prices. A devoted audience will likely bear the cost of a higher subscription.
Add value to mitigate new subscriber churn post-pandemic
"We are seeing that a lot of new subscribers are only focused on only reading coronavirus coverage," said Campbell. This makes sense given that they were driven to the site to learn more about the pandemic, however it is important to ensure that they won't cancel their subscriptions once the pandemic is over.
Use data and analytics to gain insights about this new group. Tribune Publishing is working with its data team to understand how this cohort is different from existing subscribers based on where they're reading the title and what they're reading about. 
Demonstrate your breadth of coverage. To show readers who only click on on coronavirus coverage the publisher's breadth of coverage, Campbell said his team began plugging non-coronavirus articles at the bottom of algorithmically curated, most-read-news newsletters to introduce them to the site's other content. This will remind them that your publication will have valuable information even after the pandemic is over. 
Provide additional value. What other features and benefits can readers get from their subscription? Include things like a discount program or access to reporters and additional information can make readers feel like their investment is worth it.
How the coronavirus outbreak has changed the company's subscription strategy
After coronavirus, Campbell said that the company's approach to subscriptions and membership will likely remain different than it was before because of three major takeaways:
"It is giving us license to experiment with different meter settings in ways that we might have been scared to do before," he said. Publishers need to use this time to experiment so that when the advertising market returns, they can have better data around the trade-off of having a tighter meter or a lot of page views.
"It will reshape the age-old tension between volume and revenue," he said. The debate for news publishers is whether or not circulation drives consumer revenue or drives volume for more ad revenue. For future-proofing these businesses, that tension will be front and center more than ever before.
Finally, there is more interdepartmental communication and collaboration than ever before, which has enabled quicker problem solving.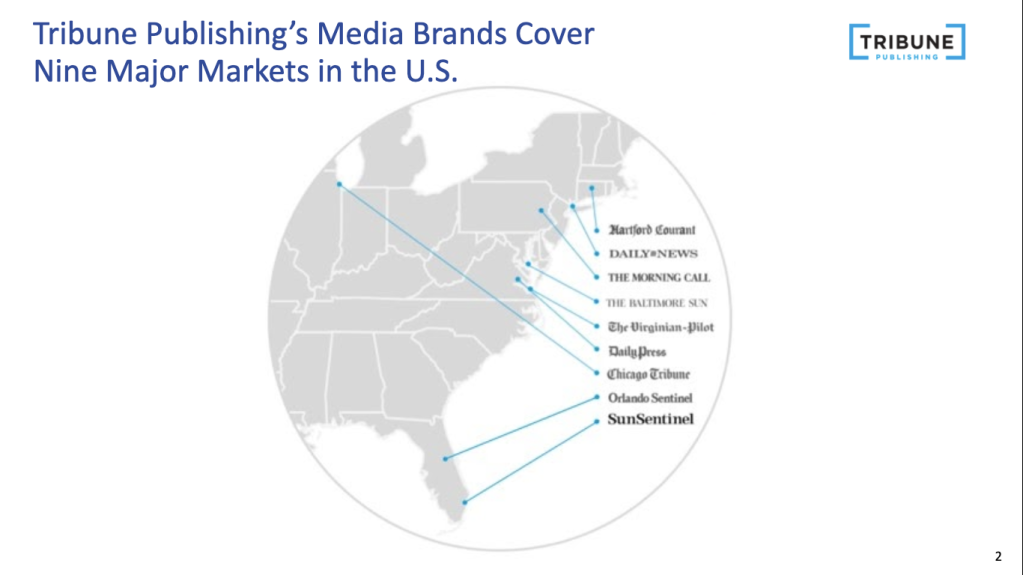 Image description –
Tribune Publishing is in 9 U.S. markets and the recent changes the company implemented to its paywall strategy was rolled out in one fell swoop across each one of them.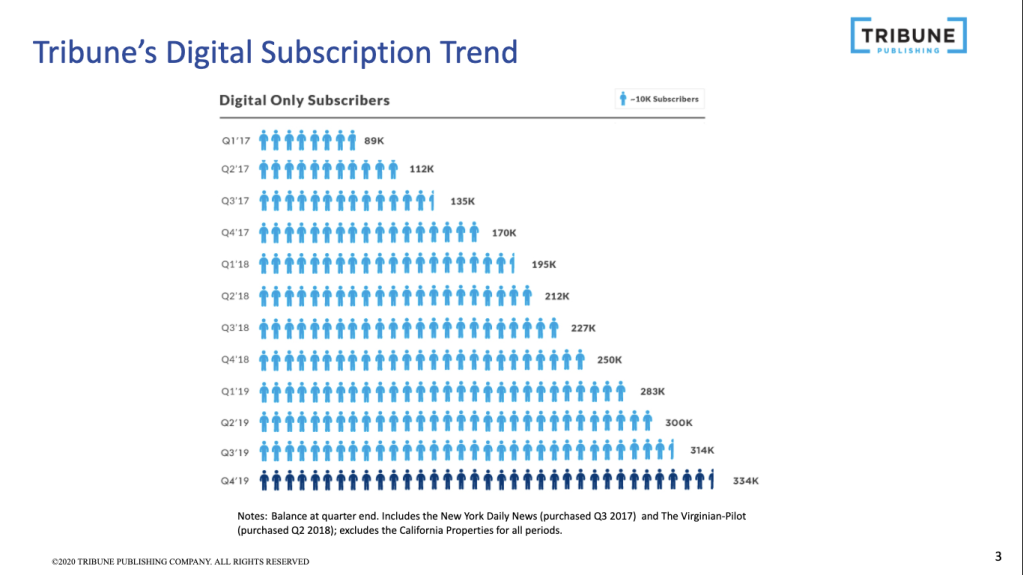 Image description –
At the end of 2019, the publisher had 334,000 digital subscribers, a 34% increase year over year.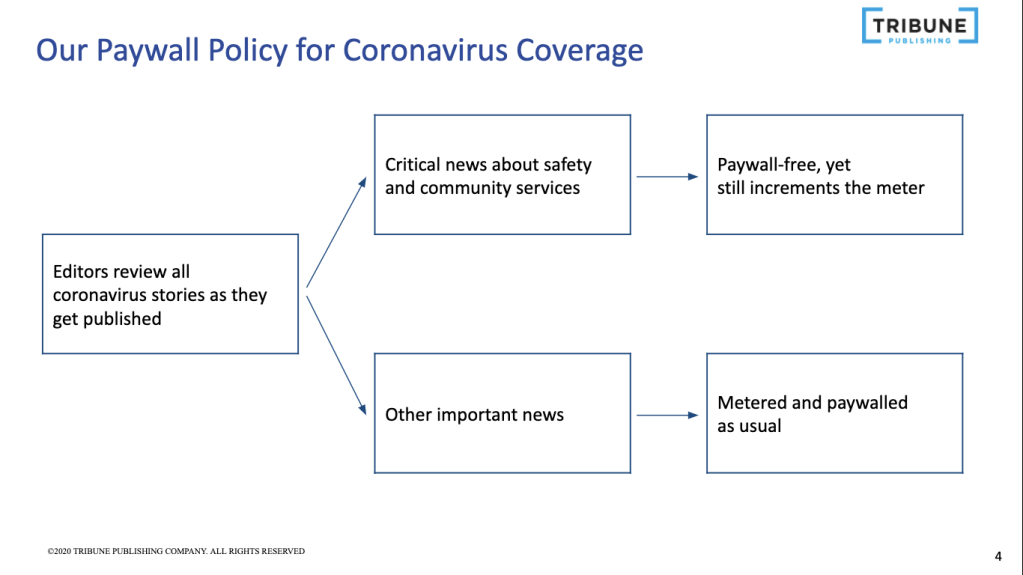 Image description –
Tribune Publishing's meter paywall tech stack enables the company to leave content that is critical for public safety to be paywall-free while still counting towards a reader's paywall meter total.
Image description –
The company is in its seventh week of increased digital subscription growth, a silver lining to the impact that the pandemic has had on ad revenue.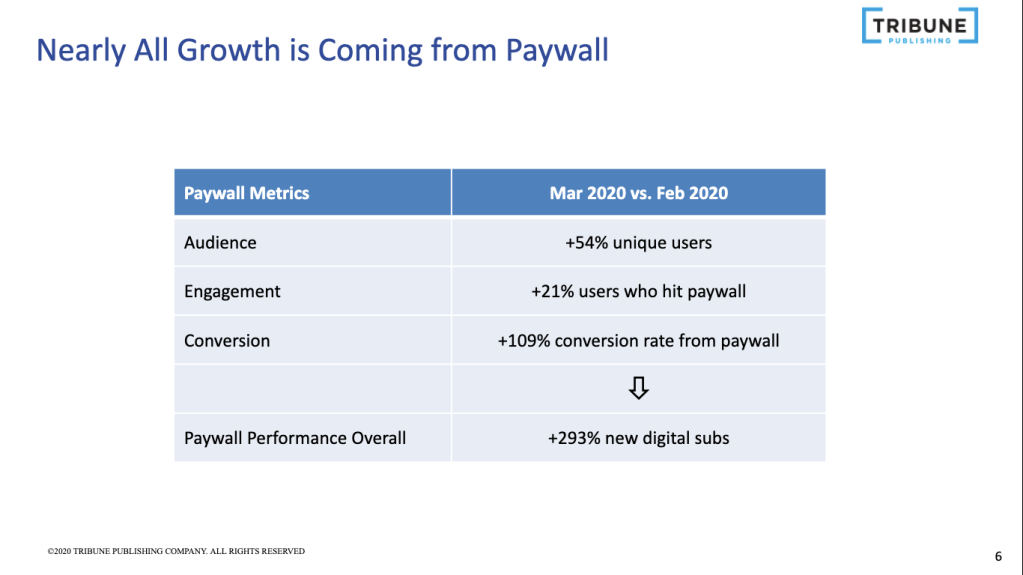 Image description –
In March versus February, Tribune Publishing experienced a 293% increase in new digital subscriptions.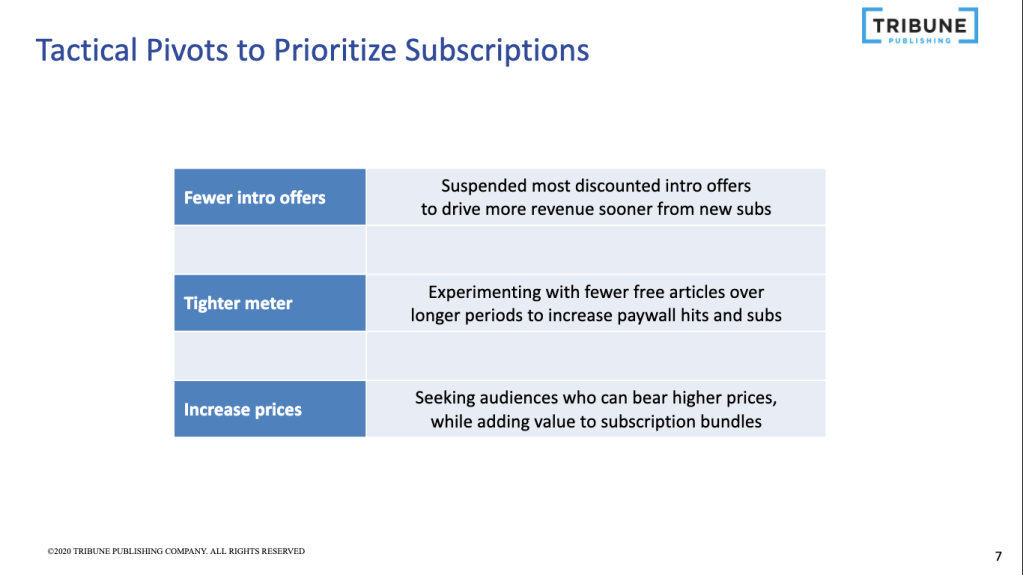 Image description –
These are the three immediate changes that the publisher made to its paywall strategy to capitalize on its subscriptions business.
https://digiday.com/?p=364829