May 7, 2020 • 5 min read
•
•
During normal times, The Financial Times hosts around 150 events globally per year. By this March however, 60 of those events — all the way until June — had already been delayed until the fall. The FT's events arm, FT Live, is preparing for possibility it will not hold any in-person events this year.
But Orson Francescone, managing director of FT Live, does not believe this means disaster. Like most publishers, the FT has pivoted to virtual events. It drew 5,500 attendees to a four-day FT Digital Dialogues digital event on April 1 and expects 25,000 to a Global Boardroom digital event next week. While these digital versions of in-person might not attract the same amount of revenue from ticket sales, there is a "route" to the FT's events arm hitting its profit number for the year, thanks to robust sponsorships and lower operating costs from dispensing with the need for expensive hotel ballrooms in expensive cities.
"The industry will be transformed," Francescone said, "and transformed for the positive."
In this week's edition Digiday+ Talks, a series practical tutorials given by industry leaders, Francescone gave firsthand perspective on how to rethink events at a time when in-person gatherings are not happening.
Digiday+ members can access the full video of the Talk and Orson Francescone's slides below.
How to select a virtual events vendor
There are two subcategories of virtual event tech out there, according to Francescone: broadcast platforms, like Zoom, and then virtual conference environments, which are similar to an empty venue. The big issues that kept creeping up were capacity and the ability to integrate your registration systems.
What is your capacity? "They won't tell you this straight away," he said, but during the sales pitch, be sure to ask this. One of the benefits of virtual events is scalability. If the event is right and the content is right people all over the world will want to register and watch online even though they wouldn't have been able to fly in for the in-person version of the event in, say, New York. "You will see your numbers inflate by a lot and a lot of these digital event environments have capped their numbers."
How does the tech integrate with your existing registration systems? Francescone said this is a constant headache in terms of APIs and which system to register attendees on. Beyond that, however, how does data protection come into play? From a GDPR perspective, which has tight controls around transfers of data, he said there was one tech provider he was considering using until he realized they did not use two-factor authentication. This led to a data compliance issue. "For a big brand like us, we can't take any risks," he said.
What are the business development and networking opportunities? If you're going to charge attendees to participate in the virtual event, you will have to give them the opportunity for networking and business development, which is a key value add of in-person events. "We know that delivering only content online is not something that is easily monetizable." If publishers want to have a pay-to-attend model, they will have to enable dealmaking and networking during the event.
How to deliver value in virtual events
Right now, the FT is monetizing its events through sponsorships. "By and large, sponsorship is going to hold up better in a digital environment than delegate revenue" or ticket revenue, according to Francescone.
Sponsorship revenue is holding up. Brand alignment with speaking at events and appearing next to the publisher's journalists doesn't go away in a digital environment, Francescone said. Branding across the FT's digital products pre- and post-event still provides the same level of brand awareness as a live event as well. Budgets are constrained, but he said sponsor revenue is still sticking around, though he estimates that the deliverables will have to be supplemented in some way by additional branded content.
Different events will work for different KPIs. Big global conferences with tens of thousands of attendees offer a better opportunity for brand alignment. Webinar-style events with a few hundred attendees can offer sponsors greater lead gen opportunities. They might have better luck in this environment getting a couple dozen quality leads.
Understanding lead generation KPIs. If your partners are after generating lead generation from your event partnership, be sure to understand whether or not the virtual event tech provider has an opt-in system or not because you may not be able to deliver a full list to your partner. Francescone said that most of the tech systems he's come across are set up as an opt-in for registrants to say whether or not they want their information shared with sponsors. "If it's an opt-in, you need to manage expectations," he said.
Understanding virtual event margins and value
The higher margins paired with maintaining sponsorship revenues is leaving the possibility that virtual events will net even to what the FT Live anticipated at the beginning of the year that it would be able to deliver at the end of the year.
Francescone said that in terms of ticket revenue, publishers on average or likely able to charge 30% to 50% of a normal event.
As for sponsorships, outside of the tightening the belt around events marketing, the shift from live to digital hasn't "put pressure" on the FT's rate card for its flagship events, Francescone said. "Of course there are pressures in a downturn, but we are in a better place to uphold pricing right now than other publications," he said.
There is a drop in ticket revenue because you're unable to charge full price for a virtual event, he said. On the other hand, by not having to pay hundreds of thousands of dollars for venues and food, that certainly helps to keep margins high. For FT, for instance, he said the cost of venues alone every year is in the millions. They're still determining whether saving money there counterbalances the decrease in ticket costs or not. Francescone still sees a possibility, however, to net at the end of the year where FT Live predicted it would at the beginning of the year.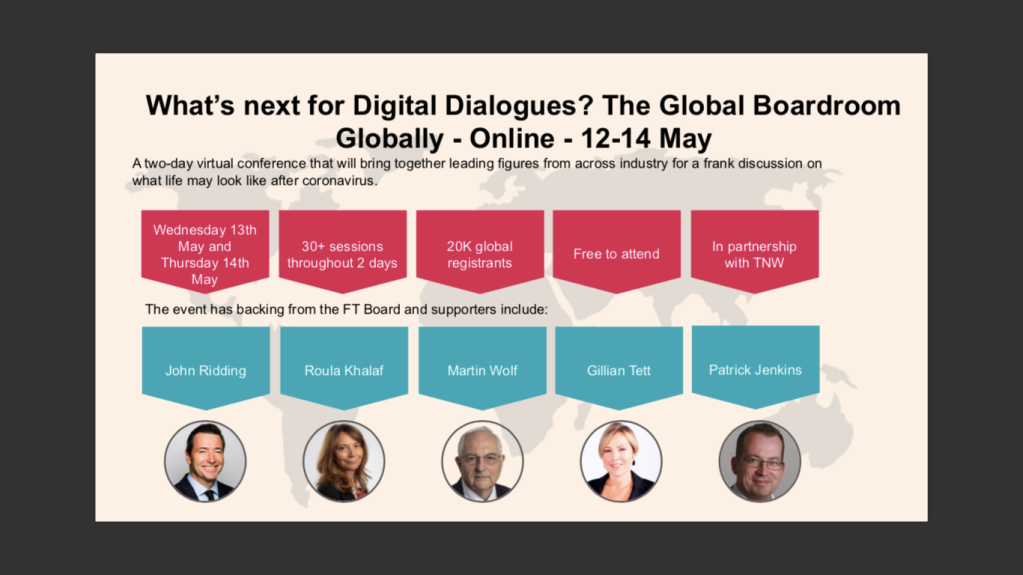 Image description –
The Global Boardroom is the first attempt at a virtual conference and has taken four weeks to plan.
https://digiday.com/?p=366187