Gawker gets one-third of its revenue from native and e-commerce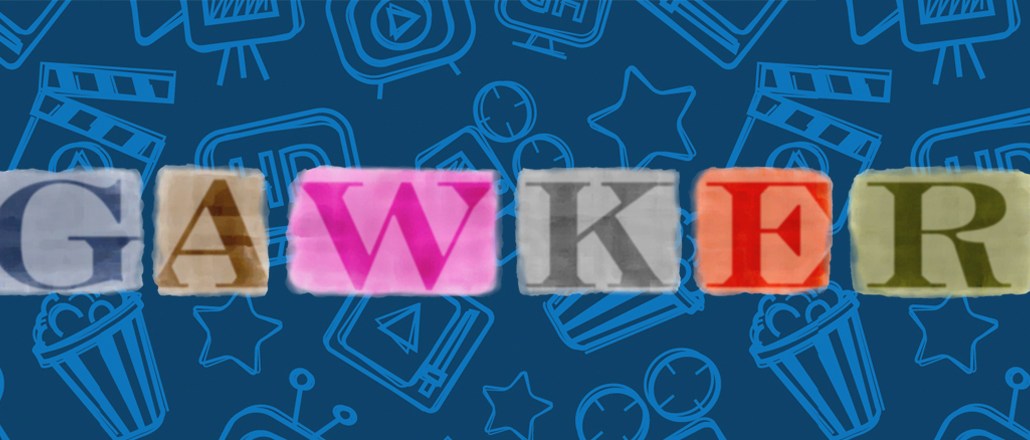 Gawker Media has an advertising problem. In addition to the industrywide problem of declining ad rates and reader response to standard display ads, the edgy editorial content on its flagship vertical, Gawker, scares off many advertisers, leading to what company co-founder Nick Denton himself acknowledges is a "Gawker tax."
But where Denton does see a big opportunity in connecting readers to brands by way of native advertising and e-commerce on its more product-friendly verticals like Jezebel, Lifehacker and Kotaku. That's the thrust of a big hiring push Gawker is making this year, which involves staffing up in technology, native advertising and bloggers to stir up conversation about products — all with the goal of ultimately driving readers to purchase. The company says it gets one-third of its revenue from native ad and commerce-driven sales, which it calls "performance advertising."
The classic interruptive advertising model doesn't work with Gawker's millennial readers, who "don't want to be sold, they want to be entertained," Denton said in a recent, expansive conversation on Gawker's revenue strategy. But when written in the right voice, native ads and product promotions, which take the form of editorial-written articles or sponsored posts written by a separate Gawker "commerce team," can lead readers to engage and buy products.
Gawker says people click on its native ads at a rate of 2 percent, and spend an average of two-and-a-half minutes per post, compared to an average of three and a half across Gawker Media editorial. This post for the Golf Channel, for example, got more than 10,000 views and 228 responses by asking readers, "How Would you Alter Your Favorite Sport?"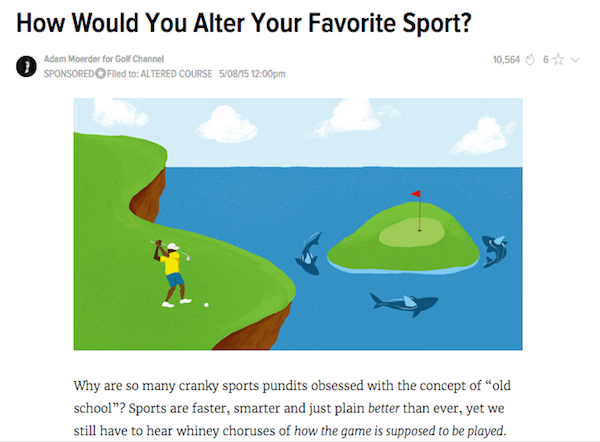 As for commerce, Gawker takes a cut from the sales on products that it facilitates, to the tune of $10 million last year, and projects that figure will grow 50 percent this year.
"Native advertising works far more effectively in many cases than display in driving attention with readers," Denton said. "It works especially well with the rather demanding affluent millennial audience we have."
The other advantage of native advertising is that Gawker can serve it through its own publishing platform, Kinja, which keeps it from being blocked by ad blocking software. (However, the publisher has been experimenting with running its native ads through an ad server, which could come with better targeting capability but which also makes them susceptible to ad blocking).
But Gawker readily admits there are challenges to its approach. Getting enough reach is a challenge given Gawker Media is considered a niche buy by many advertisers, even including all its verticals, and most campaigns only run across a few of them. Reaching multiple audiences requires writing a series of posts for each audience.
The native approach works best when the posts take on the Gawker style, but some brands are slow to learn. When one insisted on a post that read like a press release, said Paul Sundue, who heads Gawker's native ad studio, "the comments were incendiary." Similarly, with commerce, Gawker would like to get more brands advertising around editorial content that's about their product category. But that's hard to scale, and not all brands want to take the risk of having their ads run near negative comments.
As the recent decision by Thrillist to split its content and commerce divisions shows, blending the two is hard to do.
There's a huge future for commerce and content with a company like Gawker, with its unique brand and credibility with their audience, said Gian LaVecchia, managing partner, digital content marketing lead for MEC, North America. "It can ultimately lead to conversion, but it's not the most scalable," he said. "It has to be artfully strategic. That's why you see few examples of that. It's not for everybody."
And engagement is one thing, but marketers are increasingly interested in tying native ads and product awareness to business results. Denton believes Gawker's high click rates on native suggest an opportunity to lead readers down that journey to purchase, though.
"No one has really successfully come up with a package for bringing that awareness right through to the transaction," he said. "The nirvana is when you can connect every single one of these steps."
https://digiday.com/?p=139572