The end of Google's first-click free policy shows promise for publishers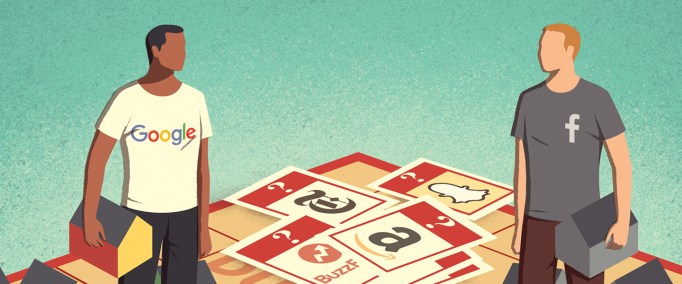 While publishers remain unhappy with the returns they get from platforms like Google and Facebook for hosting their content, the tide appears to be turning.
Publishers believe Google's removal of its first-click free model this month is the first example of the platform evolving in a way that doesn't immediately serve its own interests. Facebook also has started tests for driving subscriptions through Instant Articles with publishers.
You have read the maximum number of free articles.
Digiday
+

Membership

Subscribe now for access to unlimited Digiday content, premium research reports, exclusive newsletters, invitations to member-only events and more.
This content is available exclusively to Digiday+ members.
Digiday
+

Membership

Subscribe now for access to unlimited Digiday content, premium research reports, exclusive newsletters, invitations to member-only events and more.
"We've never seen the platforms talk about the beginnings of ideas of what they want to do to support paid journalism," said Chris Duncan, managing director at Times Newspapers. "Any recognition that the journalism we create is valuable to platforms is welcome. Any model where publishers keep the revenue they earn is a good thing. Any model that gives publishers control over how they interact with audiences is good. you see bits of that in the discussions we have with all the platforms."
Since The Times of London launched its paywall in 2010, it resisted participating in Google's first-click free policy for paywalled sites, meaning the Times effectively disappeared from Google search when it debuted the paywall. As of Oct. 21, all articles from the Times will be as discoverable on Google's search engine as content from a publisher with no paywall.
Advertisement
News UK, parent of the Times, has long noted publicly the power the duopoly wields over publishers. At the publisher's digital journalism summit with Press Gazette on Oct. 20 in London, David Dinsmore, News UK's chief operating officer, reminded attendees that the majority of digital ad spend was going to the duopoly, while 47 percent of all engagements with U.K. websites on social media over the past year sourced content from U.K. news brands, according to a News Media Association analysis of NewsWhip data.
"Newsgathering is spending all the money digging up the news; social media platforms are extracting nearly all the revenue from it," he said. "The terrifying prospect of not sorting out this broken relationship is a world where edited, verified news ceases to exist unless funded by that state. The verified news fuel for platforms will disappear and put at risk the rivers of gold flowing there way."
The Telegraph, one of the partners for Facebook's subscriptions program through Instant Articles, is optimistic about the reach platforms afford, but this relies on the right relationships. "We have a relationship with Facebook at the product level in Menlo Park [Facebook's California headquarters]; with respect to the team in the U.K., that's a very different relationship," said Robert Bridge, chief customer officer at Telegraph Media Group. "Once you are talking at a product level then you can start to make a difference."
Yet for some publishers, the platforms' efforts smack of lip service. "It's all window dressing until the economic problem is dealt with," said Henry Faure Walker, Newsquest CEO. "For years, [platforms] have been riding on the professional journalistic content publishers produce, while gleaning great data insights on top, while we get the crumbs off the table."
Advertisement
Platforms still need to make significant progress in taking responsibility for the spread of harmful content and the possibility of brands appearing next to either unsafe or inappropriate content.
"Google Display Network fails to discern or distinguish between quality ad environment and poorly produced amateur content," said Faure Walker. "The government should regulate against that."
Sign up to get the day's top stories at 6am eastern.