Digiday Research: European publishers still look to Facebook and Instagram to grow abroad
In a survey of 103 publisher executives by Digiday this February, 42% said that Facebook has been an effective platform to grow their audience while 25% said the same about Instagram. Meanwhile, 20% of respondents found Twitter a capable platform to develop fresh audiences. One-quarter of survey takers said social platforms were not adequate tools to grow their international audiences.
"Facebook is great to cultivate new communities and grow interactions with your brand, but the days of it being a chief driver of organic referrals are largely over," said James Dickens, global editor-in-chief of U.K.-based Goal.
But ultimately the sheer size of Facebook, as well as Instagram, still matter to some publishers.
"Social growth is inherently dependent on the 'network effect' and scale. Platforms, like Facebook, still play a major factor in how far a publisher's messaging can reach global audiences," said Camilla Newman, publishing director of Glamour UK.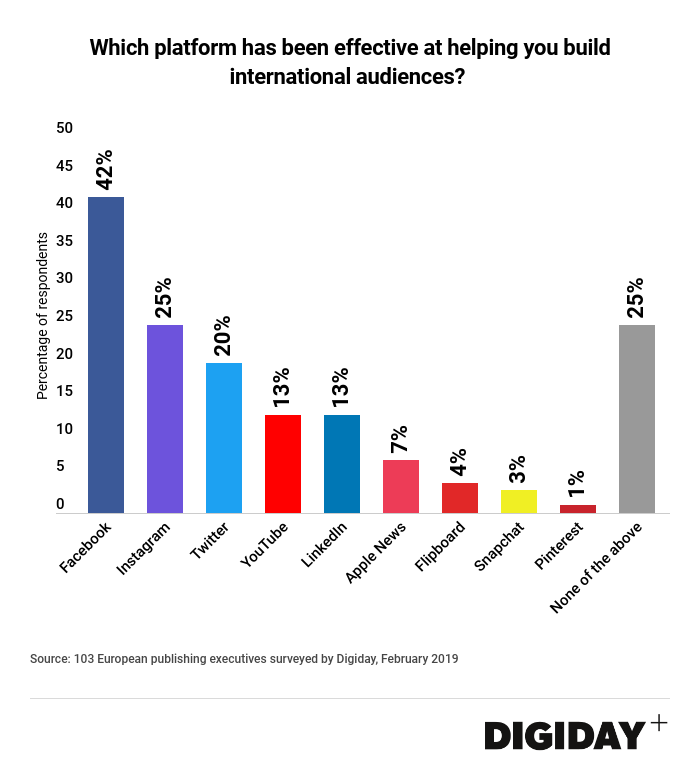 Publishers in the Digiday survey also selected an average of 1.54 platforms in their responses signaling there's no single right way to grow audiences abroad.
"Media owners can dictate how people consume content so we have to ensure our content is in relevant formats for differing platforms," said Ryan Skeggs, chief commercial officer of Givemesport.
For its part, Givemesport said it has had success distributing editorial content and repurposed video across Apple News to new readers in the U.S. and putting out localized content about cricket at scheduled times in countries like India.
"Twitter is big across the world for us, but especially in Japan. Meanwhile, we have doubled down on quality content on YouTube over the last year," added Dickens.
Meanwhile smaller platforms that have drawn less attention from publishers can also provide opportunities to expand global footprints.
"LinkedIn has seen substantial growth and Pinterest continues to surprise us with a slow-moving, but constantly growing, global audience," said Newman.
https://digiday.com/?p=333210