The web may be run by algorithms, but for something as distinct as finding the right music, the human touch still triumphs. Perhaps unsurprisingly, this is a tenet Sam Lee, U.K. music editor at streaming service Deezer, holds near and dear.
"I spend a lot of my time listening to playlists to make sure that the songs I have chosen have a natural flow," he said. "This is one of the things that a human can do much better than a computer or an algorithm; it's one of the many benefits of having ears and a brain."
Even so, Lee still spends a sizable portion of his day pouring over charts and graphs, tweaking track numbers and artwork to get the best performance out of playlists.
The Paris-based company claims it has 6 million paying subscribers (and 16 million combined with non-paying subscribers) and bills itself as a tailored listening experiences from the very beginning. First-timers to the app swipe through artists that they like and dislike. Using a library of 40 million songs, Deezer's algorithm tracks the songs you like, skip and delete to influence Flow, each account-holder's personalized unending playlist.
Including Lee, it has around 50 music editors on the ground, whose job it is to give a local flavor to the new and upcoming music in the area. Lee, who has been at the company for three years, walks us through a recent day in his life.
8:15 a.m.: The alarm goes off. I'm a firm believer in the power of a lie-in, so I wake up as late as possible.

8:30 a.m.: Having packed my bag and prepared everything the night before, I leave my flat at a fairly luxurious time to cycle across town to Deezer's offices in West London. This is one of the only times of the day I'm not listening to music. I clear my head and try not to get run over.
9:30 a.m.: Tuck into a hot bowl of porridge at my desk while checking through my emails and reading the morning's music news on Twitter, the Guardian or the industry newsletter Record of the Day to make sure I'm up to speed with everything.
If there is a big story, like a surprise album suddenly dropping or a major festival announcement, I spend a couple of hours working with our social media and PR team to see what we can do to build on this by creating engaging editorial content around it. Today, the full Glastonbury lineup has been announced, so we have to be quick off the mark to create a Deezer playlist while everybody is still talking about it.
10:30 a.m.: I get my headphones on (a pair of Bose MIE2i in-ears) and go through my playlists to see how they are performing using Deezer's data dashboard. If a playlist isn't performing as well as it could be, it's up to me to find out why and work out how to make it better. A song might need moving to a more appropriate part of the playlist, or the image we use as the cover art might need to be edited to more accurately reflect the content.
I recently had a playlist called Friday Feeling that was underperforming, so I used the data dashboard to find out what type of user was listening, then edited the title to be more descriptive one of "Friday Feeling: Feel Good Hits," updated the image to be more reflective of the title (from a slightly wedding-esque image involving confetti, to a couple having fun on a night out), and completely re-did the tracklisting from top to bottom.
One of the measurements we look at is number of tracks listened to per user per playlist, after making these tweaks to the playlist this figure doubled in the space of a couple of weeks.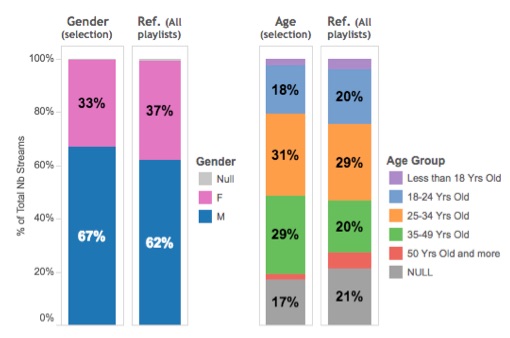 12:30 p.m.: During lunch, I like to get out of the office and get some fresh air. Unfortunately, Shepherd's Bush roundabout rarely provides much of this, so I'll often head to a nearby park to get some peace and quiet – usually with a chill-out playlist downloaded on my phone. Today, it's my own Ultimate Unwind playlist, featuring artists like Jon Hopkins, Khruangbin and Yumi Zouma.
1:30 p.m.: When I'm back in the office, I get my headphones back on and get down to the serious business of listening to more new music. I'll look over all of the release schedules that record labels and distributors have sent me to get an idea of what's coming out over the next few weeks. This gives me time to plan and develop a campaign we're doing with American rapper G-Eazy. We're creating a Deezer playlist with exclusive commentary of him talking through a selection of tracks that are important to him.
2:30 p.m.: Most days, I have a meeting or a call with a record label or distributor where we discuss artist campaigns in more detail. They'll play me music, and we'll talk through their priorities, often pitching to get certain tracks added to particular playlists on Deezer. We'll also talk about how Deezer can support their releases, whether that's adding tracks to key playlists or including albums in our weekly email newsletter.
Today, I have a meeting to discuss an upcoming gig we are hosting with John Grant for our Deezer Live series in London. We discuss the promotion of the event, technical set-up for the gig and the design of the invite. I make a note to look up John Grant fans on Deezer to tell them about the live gig, then will promote the audio captured from the night itself to his fanbase once ready through CRM.
3.30 p.m.: I put a call in to our friends at London On The Inside blog to make recommendations for upcoming live gigs to check out. June is all about Lets Eat Grandma and Femi Kuti.
4:00 p.m.: Near the end of the day, it's time for a catch up with other Deezer editors over Skype. We have around 50 editors around the world, and we all keep in touch, chatting about what we're doing that's working well, what we could improve on and, of course, what we're all listening to.
As well as being an important way of making sure we're all on the same page, it's a great way to find out what's going on in the world, from Belgium to Brazil. Today, we discussed what we like about Deezer's new and improved Flow functionality. This was also the time for us to welcome our new editors on board, Kim, our global rock/alternative programmer and Barbara, our editor in Buenos Aires.
6:00 p.m.: I leave the office, and, like most nights, I'm heading to a gig: Hot 8 Brass Band are playing at Rich Mix in Bethnal Green. The joy of living in London is there's something worth seeing every night of the week.
https://digiday.com/?p=180972