When About.com was launched in 1997, Google didn't exist, most Internet users were on dial-up, and the Web browser of choice was Netscape Navigator. A once-iconic Internet brand that, back in 2005, was sold to The New York Times for $410 million, About.com, since unloaded to IAC in 2012 for $300 million, is now a rehabilitation project — and a case study in whether an Internet 1.0 brand can find its footing again in a vastly different digital world.
About is not without its strengths. Now part of IAC, it still draws a huge audience, ranking as the No. 15 largest Internet site with 92.3 million unique visitors in the U.S. in February, per comScore. It still draws a torrent of search traffic to its how-to articles. It has 3 million specific topic articles and 900 "expert" authors on its platform. And its business of providing simple explainers is suddenly hot again, forming the cornerstone, albeit with data-focused twists, of ballyhooed publishing debutantes like Vox and FiveThirtyEight.
And yet About has a raft of challenges. It has a design that can be charitably described as "needs some TLC," its traffic is flat compared to last year, and it has been forced to go through a painstaking process of ripping out hundreds of article pages that put it at risk of running afoul of search-optimization practices mandated by Google, aka search spam. Oh, and it has to make the About brand stand for something again.
For About CEO Neil Vogel, who took over leadership at the company almost exactly a year ago, the positives outweigh the negatives.
"The New York Times is extremely valuable if you want to know what's going on in the Ukraine right now. We are extremely valuable if you want to learn how to make barbecue sauce," Vogel said. "We make really valuable content."
But About's definition of value has been at odds with Google's. In 2011, Google introduced "Panda," an update to its algorithm that took aim at what Google saw as low-quality sites. While About didn't get hit as hard as fellow content farm Demand Media, it did see a "moderately negative impact on pageviews," according to former NYT CEO Janet Robinson.
But staying on Google's good side is just one of About's more pressing challenges. The site has also had to adjust to the reality that, for most publishers, search traffic has taken the backseat to social, which About is unoptimized for. Compared to say, BuzzFeed, which sees over 80 percent of its traffic from social, About.com's social traffic is impossibly small, accounting for less than a quarter of a percent as recently as last year. That number increased to 2 percent last December once the site added legitimate social sharing buttons. "That's still humiliatingly, embarrassingly low," Vogel said.
A large part of the social problem is the average About.com use case: When someone visits a site after searching "how do I do my taxes," there's rarely cause for them to share that content with others. Instead, About.com users come and go, rarely clicking on more than a story or two before moving on. As a result, About.com's social problem and time-on-site problem are two sides of the same coin.
"When you're on About.com now, you're very likely going to get your question answered or your problem solved, but we don't show you how to go deeper on that," Vogel said.
Vogel said that About.com's solution to this problem is to better package and highlight its existing content, which tends to be evergreen, and tie it to more newsy, time-sensitive topics. The site's editors could, for example, package custom landing pages about tax issues and feature them on the About.com homepage during tax season "You can't sit back and be passive and hope that someone finds you. We're trying to build the tools and systems to be active," he said.
Beyond that, there's not a lot of evidence of Internet 1.0 brands that have revived. Friendster never came back. MySpace has bumped along mostly in obscurity.
There are also significant tech concerns. About.com's creaky dial up-era CMS has also created some major problems for the company's revamp. Its CMS was so rudimentary that its writers had to know HTML in order to use it effectively. The site has also faced significant hurdles with manually retrofitting its existing images and headlines for its new CMS, as well as stripping its pages of unsavory SEO optimization tactics.
But what About lacks in social reach and tech, it makes up for in organic scale. The site's 900 experts churn out as many as 7,000 new pieces of long-form content each month, giving About the sort of inventory that many publishers can only dream of. This, Vogel said, makes About well suited for taking advantage of programmatic advertising, which prizes publishers with scale. "On the aggregate, programmatic is a boon to us more than a threat," Vogel said.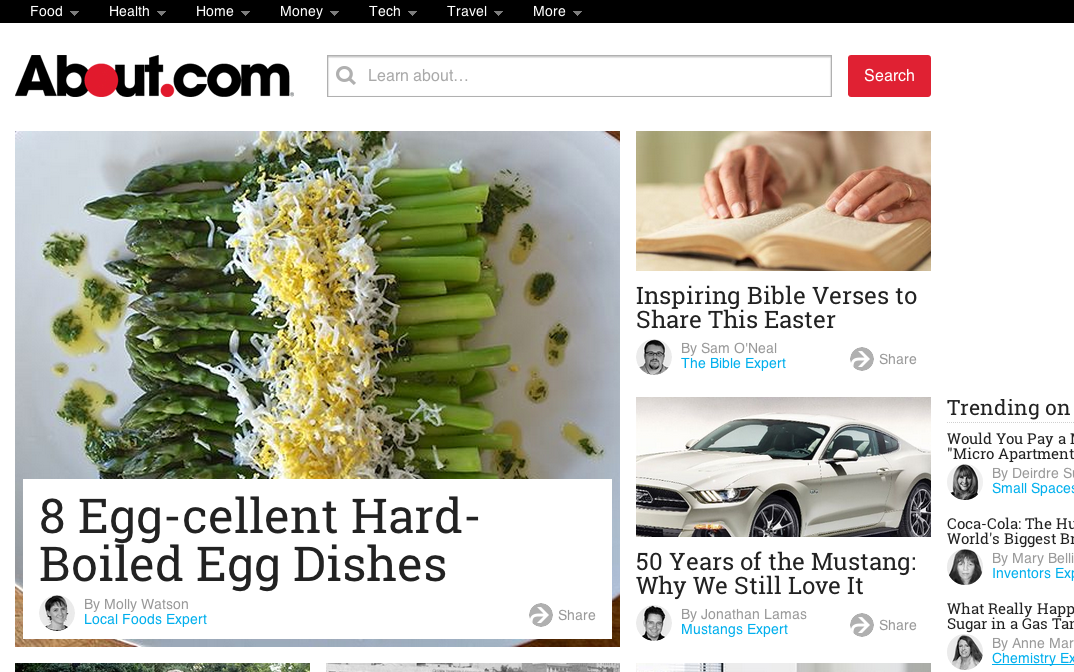 There are already hints of where About.com is headed in the next few months. The site's new mobile-friendly home page design, which it launched in December, feels more at home with the Web today than its current article pages. It features large images, a distinct focus on channels, and more prominent byline placements for is "expert" contributors.
Buyers, for the most part, are giving the new About the benefit of the doubt. "I would bet on Neil Vogel to turn this About.com into what it's capable of being if given enough leeway and resources," said Ian Schafer, CEO of Deep Focus.
https://digiday.com/?p=72196