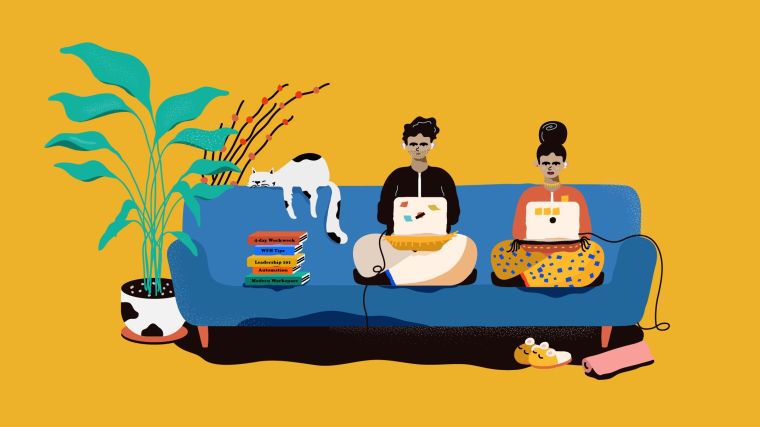 Ivy Liu
March 17, 2021 • 4 min read
•
•
To attract more media dollars at scale to minority-owned and operated publishers, Havas Media Group used its international network to create a social equity marketplace.
The marketplace, which went to market in the U.S. in July last year, quickly garnered support from media businesses and brands looking for success — despite overall, initial uneasiness among some Black-owned publishers to join, according to previous Digiday reporting.
"The digital world is going through a whole evolution of its own," said Sargi Mann, head of digital strategy and investments at Havas Media Group at the Digiday Media Buying Summit on March 2.
Havas Media's Mission: To funnel ad dollars to minority-owned media businesses
01
'Why this, why now?'
After a summer of social unrest, and the ad industry at large turning its strategies toward prioritizing DEI issues, Havas Media turned its own attention inward to see how it could support underrepresented media businesses.
"We are at an intersection of an extraordinary moment in our society — a moment of social change, a moment of strategic change," Mann said. There is a bigger belief than ever that brands and media play a "larger role" in making "a meaningful difference in the lives of people," she added.
"Media needs to work harder to evolve a social change in the marketplace," Mann said.
02
Consider what 'meaningful' means for a consumer
To better understand how it could define "meaningful," Havas Media took into consideration the deep research it had already collected in this space for over a decade, including considering how consumers view the platforms they use, like Spotify or WhatsApp.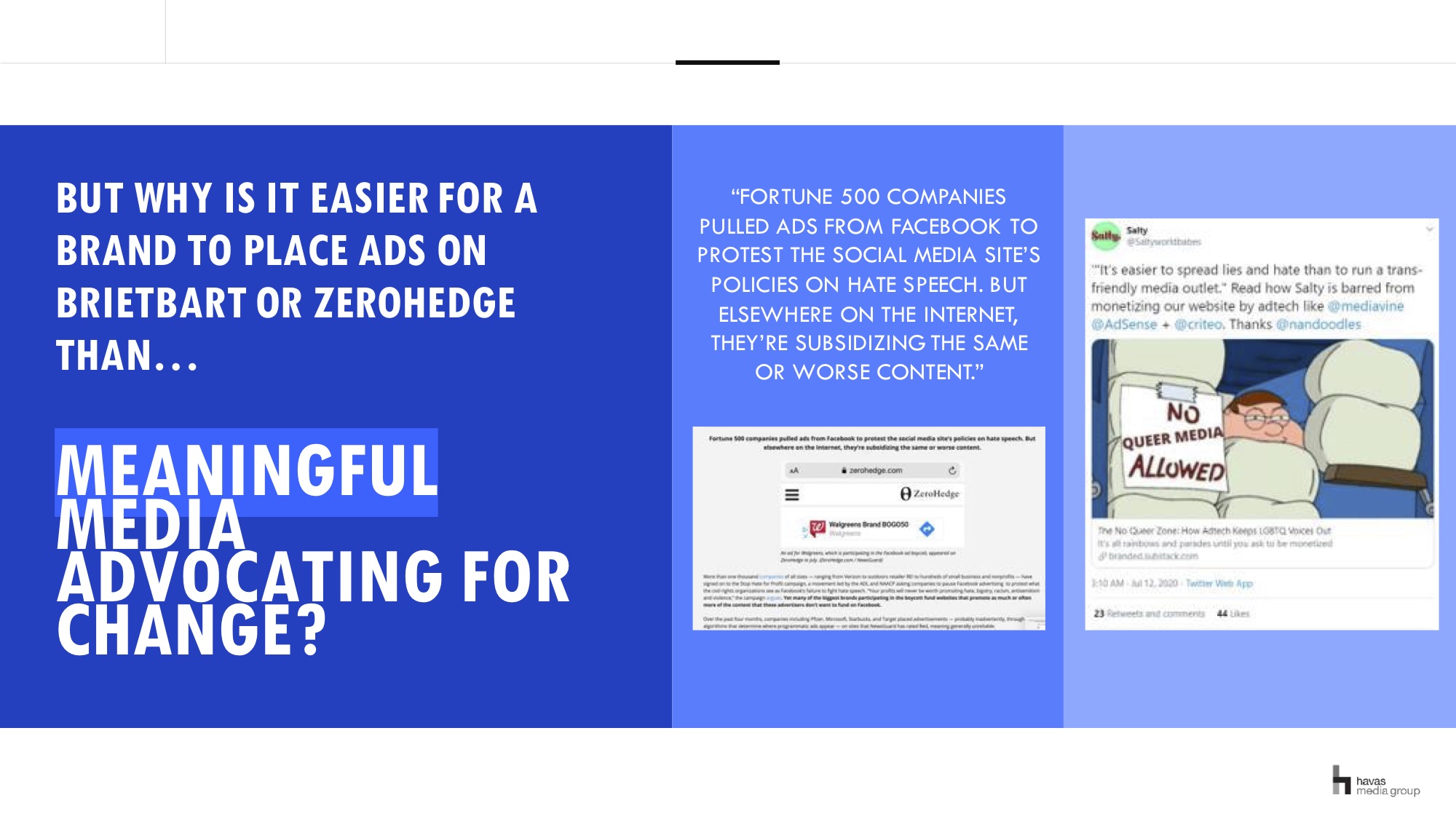 "It becomes a voice for people to express themselves," Mann said, who added the team considered how audiences engage "culturally, emotionally and socially" through these communities.
03
Accessibility of social equity marketplaces
As Mann conceded in her presentation, a social equity marketplace is "not an easy thing to come across." The team had to brainstorm ways it could encourage brands and media to become part of the change and put easily-made promises to minority-owned media into action.
Recognizing that a media investment "needs to be a positive force for change," Havas Media wanted to prioritize gender parity, social inclusion and staff diversity.
04
Creating a social equity marketplace
Publishers deserve a "fair chance" at ad dollars, she added, regardless of whether they attracted 10,000 unique views or 10 million unique views. To make these dollars more accessible, the agency introduced its social equity marketplace.
Creating one presented its own challenges. "There are structural challenges; it is not an easy feat. There are multiple components that make it a challenge to happen," Mann noted.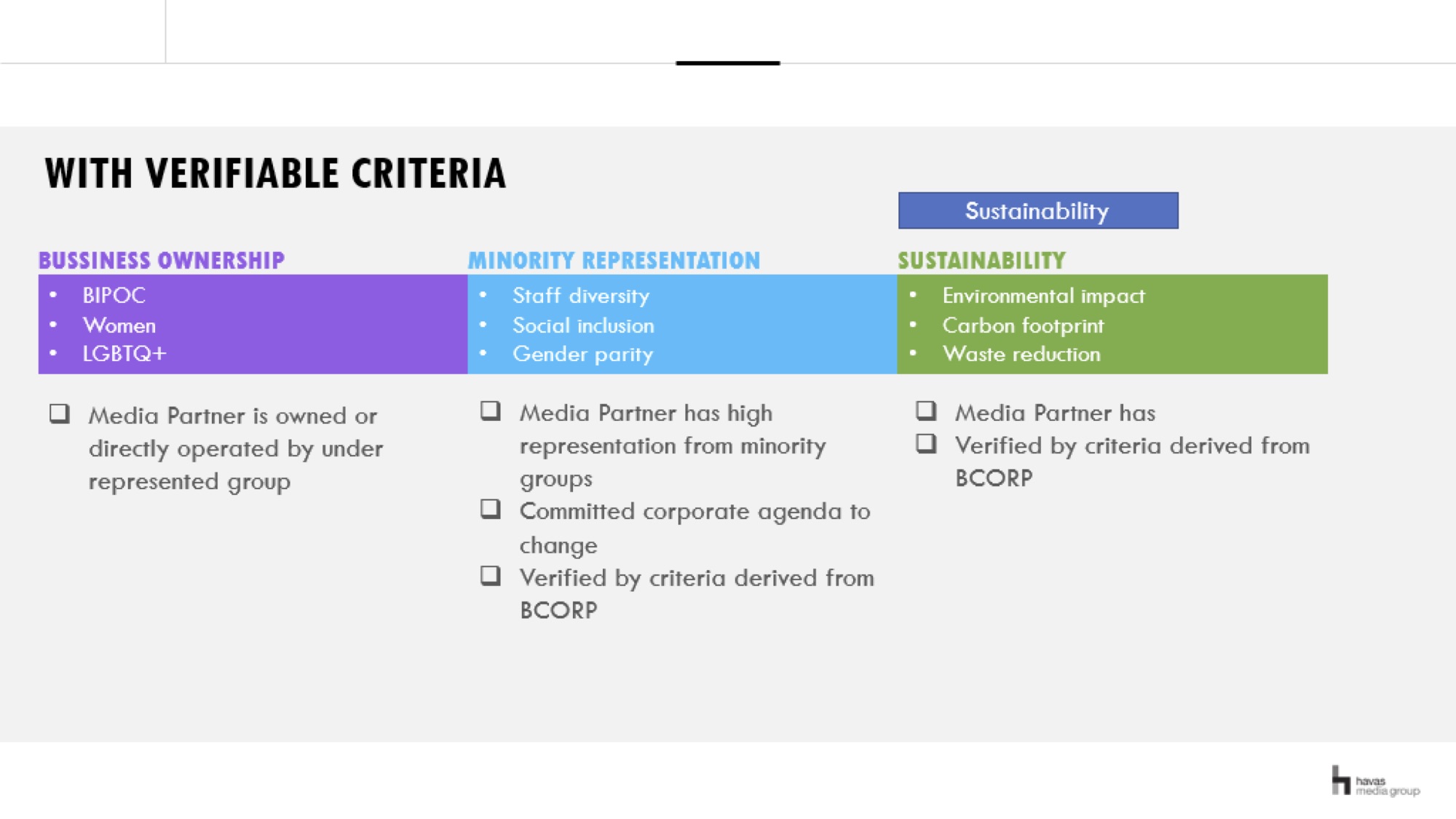 Black and minority-owned and operated small publishers could face engineering issues, a lack of tech support or visibility barriers, Mann said adding, "They don't have the time, the resources or the staff to support the publisher integration requirements."
Havas Media, internationally, has already attracted dozens of partners in the marketplace, including those that range from publishers writing for BIPOC, millennial audiences to those writing on LGBTQ+ issues, Mann said.
"The marketplace presents more to clients than just the opportunity to support under-represented companies," she said. "It's not just about the size, but the quality which is quite unique and impactful."
05
Findings
Havas Media created a marketplace that would be as inclusive as possible to its partners joining. That now includes businesses that are verified by multiple factors including that they are owned by women, LGBTQ+ and BIPOC, employ a diverse staff and have committed to being sustainable companies.
And the success of the marketplace could be seen in tangible business results: one client found that a campaign outperformed its CPA target by as much as 70% versus the open exchange.
Another brand recorded a 49% improvement in video completion rates using the marketplace and a 17% improvement in CPM efficiency.
06
Where do you go from here?
With Havas Media's goal to offer "frictionless ways to invest in positive change through meaningful media," the company has already expanded the marketplace into territories beyond the U.S., including in the U.K., France and Germany.
The marketplace will also include new channels, including podcasts, connected TV and digital OOH. "Meaningful media is not just about the short-term game, but overall the evolution of how we go into the marketplace and how brands play a role in that," Mann said.
https://digiday.com/?p=404837