American Media launches a one-stop shop for its tabloid fare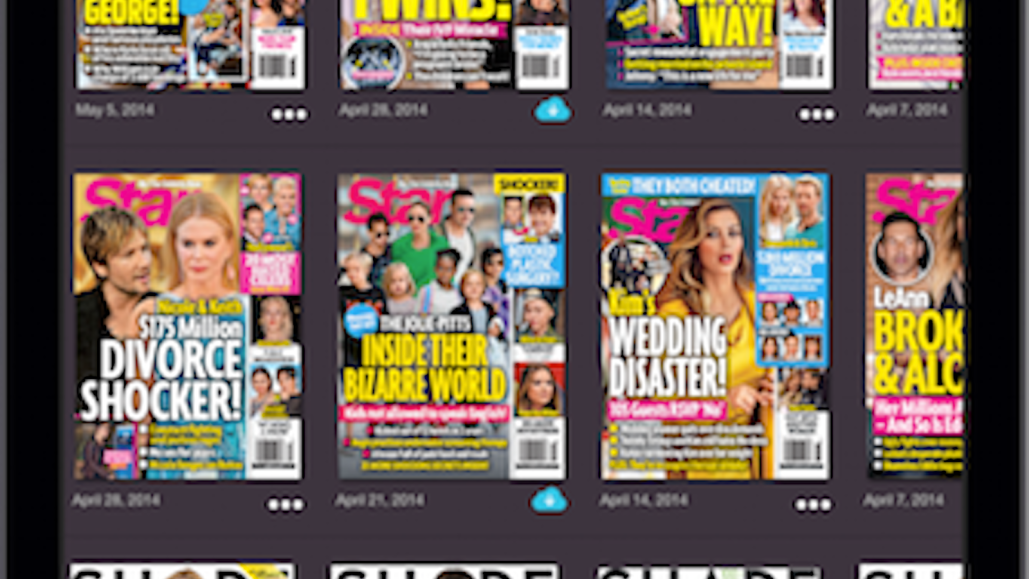 If you've ever wanted to get your National Enquirer, Fit Pregnancy and Flex magazine content in one handy magazine app, today's your lucky day. Tabloid publisher American Media Inc. has launched a new mobile app that will give readers all-you-can-eat access to its 14 magazines.
The InPrint app, introduced Monday for the iPhone and iPad, lets readers get unlimited access to its entertainment titles like Star and OK! and its lifestyle books like Shape and Men's Fitness. AMI is charging 99 cents a month for an introductory period. It hasn't decided are how long that period will last or how the price will increase after it ends.
Most traditional publishers have approached tablets as a way to wring more money out of subscribers, either by charging separately for the digital edition or encouraging people to keep renewing their print subscriptions.
Hearst Magazines last year passed the 1 million tablet subscription mark — in some cases charging more for the digital than print editions — bringing in new revenue and customers. Condé Nast and Time Inc. have taken an all-access approach, which is focused on holding on to their core print customers. (Not that the tablet has transformed the industry yet; tablet editions only represent 3.5 percent of total magazine circulation.)
But AMI says its app is more about getting in front of consumers who aren't reading its magazines in print (read: millennials). Like most print publishers, AMI has an age problem. OK!'s median reader age is a spritely 31, but Star's is 42 and Shape's, 40.
"For us, this is about having a product in market where we can build a direct relationship with consumers who use mobile devices as their primary way to consume content," said Joe Bilman, chief digital officer and global head of business development for AMI. "It's essential that we have a stake in the ground with them."
One of AMI's biggest hurdles will be getting enough promotion for the app to ensure it gets found among the hundreds of thousands of others in the App store. It's a problem another company, Next Issue Media, is all-too familiar with. A year after launching its own magazine app, Next Issue introduced a marketing campaign on 21 cable TV channels last year, but the user base is still tiny.
Next Issue CEO Morgan Guenther wouldn't give specifics but said the app has more than 100,000 subscribers paying a minimum of $9.99 a month to access most major titles — far more than AMI will have on offer. "We will see this number expand dramatically as we look toward a sustained marketing and brand awareness effort later this year," he said.
AMI, for its part, hasn't been promised any special treatment from Apple, though, so for now it plans to use its existing websites, direct marketing and ad campaigns on non-AMI media to find consumers. Bilman didn't quantify how much AMI would be putting into promotional efforts, though.
Assuming readers do discover the app, they'll only get AMI's titles, which are something of a hodgepodge. There's probably some overlap (some Shape readers may go for Fit Pregnancy, but not necessarily Flex or Star). Next Issue may have lacked promotional firepower, but at least it has all the major titles in it, which makes it more of a one-stop shop for readers.
As for the revenue strategy, AMI is betting that it can use the consumer data it plans to collect from the app (assuming people consent to share their info) to convince advertisers to spend more. Bilman is informed by his subscription-building experience working for companies like Columbia House, Thumbplay and Bitbop.
"What we've learned from other companies is, there's more value than just the subscription price," Bilman said. "There's the data of what interests them…what ads are interesting to them, what they're sharing, marking. That becomes an asset in the AMI portfolio."
But first, the app needs to amass an audience, and the record isn't good here. Three years after the iPad launched, tablet editions are too small as a percent of overall circulation to attract any significant advertising.
https://digiday.com/?p=74155