The Feed is Digiday's Web-culture corner. Check The Feed everyday for Web-culture news roundups, infographics, essays and more. Follow us on Twitter for updates throughout the day @SWeissman.

As you all know, yesterday. Jan. 18, was the day of protesting both online and offline against SOPA and PIPA. People in New York gathered outside of the offices of Senator Charles Schumer and Senator Kirsten Gillibrand (both are supporters of the bills) to protest; and online many big websites showed their opposition to SOPA by blacking out for 24 hours or posting anti-SOPA banners all over homepages.
Below are screenshots of some of the anti-SOPA measures that big-name websites have taken. Some sites you might expect to see on this list are missing, like Yahoo, Twitter, Facebook, Blogger and YouTube, to name a few.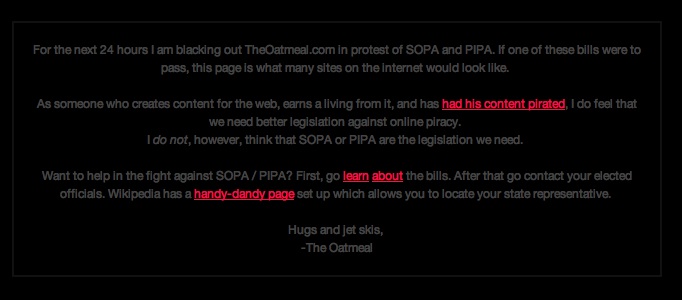 https://digiday.com/?p=4526