Venmo is growing up: In a first for the company, the mobile-payment app is cashing in on the excitement around Saturday's big fight between Manny Pacquiao and Floyd Mayweather, Jr. with a new ad campaign.
The campaign, created by PHD and Undertone, is a mobile ad that will appear on sites like Thrillist, College Spun and Men's Fitness. When someone clicks on the ad, they're sent to a landing page that opens the Venmo app (or directs you to download it) and asks people to split the cost of paying to buy the match with a friend. The match costs $99 on pay-per-view.
So instead of chasing people down to get them to chip in for the match — or worse, having to pay for it yourself because as we know, millennials never carry cash — Venmo will do the dirty work for you.
"Our media strategy for this Pay Per View event was to engage and motivate the broadest audience possible, capitalizing on consumption habits and purchasing behaviors unique to certain audience segments," said Andrea Cardamone, svp group account director at PHD. "We identified Venmo's platform as one solution to highlight what many may not have thought of: just how easy it is to partake in the event of the century by splitting the cost of that experience amongst friends."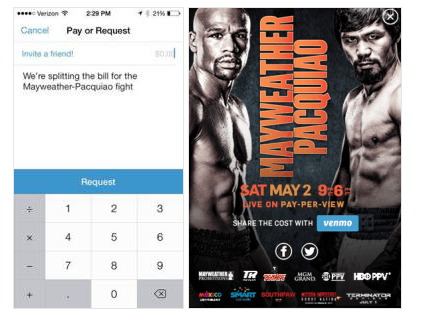 Using Venmo as a brand platform also has another upside: When users pay friends for the cost of the match (or anything else), that information gets added to a social feed that other users can see. So PHD is hoping that someone seeing "for the Pacquiao-Mayweather match" in the feed will act as a trigger for someone to go buy the match as well.
Venmo declined to make an executive available for this story.
The platform has so far shied away from brand or media partnerships. One notable example was when it worked with pizza company Papa John's after it found that the pizza slice was the most frequently used emoji on the Venmo social feed. The pizza brand integrated Venmo into its checkout so people could request money from friends for their share on the app.
Venmo, owned by PayPal, is incredibly popular especially among millennials. A Nielsen study last year found that 55 percent of mobile payments are made by users between 18 and 34. In the fourth quarter, Venmo posted a total payment volume of $906 million, up 29 percent from the previous quarter.
Eric Franchi, co-founder at Undertone, said Venmo fits into enough key trends — payments and mobile, most notably — that he expects to see more activations like this in the future. "The campaign is a great example of how the tech could be integrated seamlessly into the mobile ad experience."
https://digiday.com/?p=116995