When Mark Zuckerberg announced Facebook Messenger would open up to branded chatbots at the F8 conference in April, 1-800 Flowers' was the example he used in his demo.
"I love this one," he said. "It's pretty ironic: To order from 1-800-Flowers, you never have to call 1-800-Flowers again."
With the "chatbot gold rush" now in full swing, Facebook's launch partner should be a good barometer for the success of Messenger bots so far. Two months in, is anyone getting roses besides the recipient of Zuck's announcement flowers, head Messenger honcho David Marcus?
Chris McCann, president of 1-800 Flowers, says yes. He told Digiday that over 70 percent of the company's chatbot orders have been from new customers. As early adopters, these users skew younger than its usual audience.
"They are already using the Messenger platform, so it's been easy to engage them. They're able to place an order in a minute; it's gives them that fluidity," he said.
Volumes are rising too. While McCann couldn't give specifics, he did say that 1-800-Flowers' three new AI tools (the chatbot, its integration with Amazon Alexa and its online IBM Watson concierge service) have together attracted users in the tens of thousands.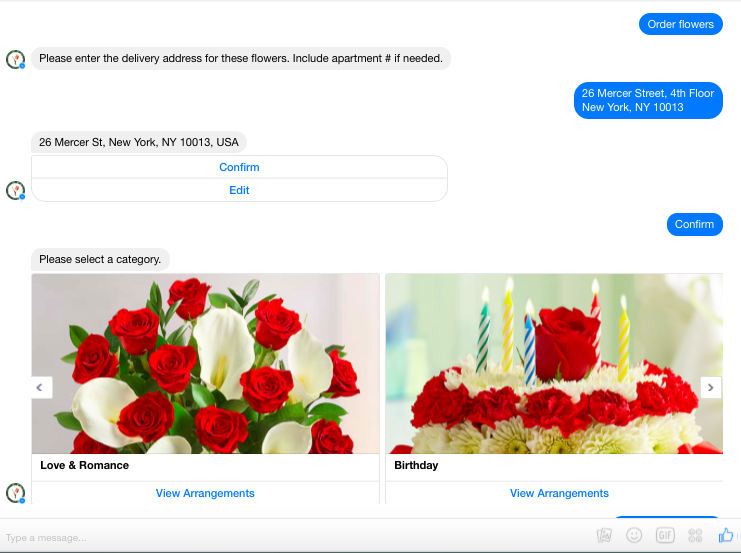 The bot, which was in development for three months, has two functions, which McCann says are used fairly evenly. It can take a customer's order bit by bit, or it can let them connect with a human customer service rep at its virtual contact center. Depending on the time of year, there can be anywhere from 1,000 to 3,500 of these reps answering messages.
While other bots in Messenger — such as Disney's Miss Piggy — can have free-form conversations that lead down any number of paths, 1-800 Flowers keeps it linear. The experience is similar to answering a multiple choice test. This was intentional, McCann said, to keep the process as user-friendly as possible. "Our biggest concern was customer experience, given that it's a new channel," he added.
Like other early bots, it's not perfect. If you go off script, for example, to change your delivery date, the chatbot doesn't always follow you. Often, you'll have to go all the way to the end before you can cancel your order and start again.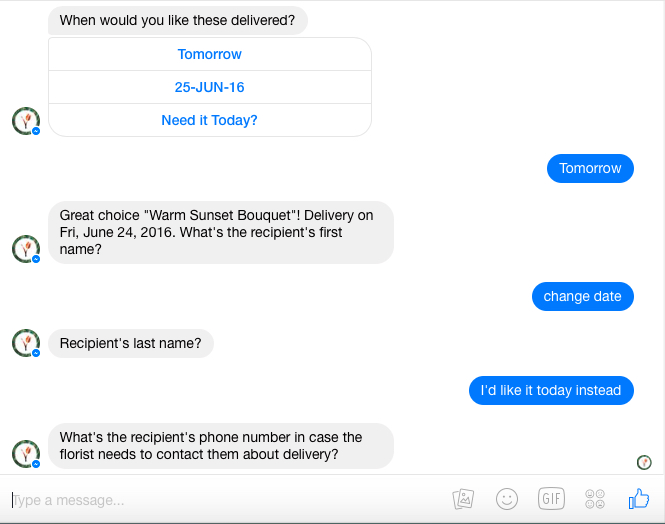 But aside from these kinks, which the brand is ironing out, the response from customers has been positive. So much so, the company is now planning bots for its other brands, including chocolate brand Fannie May and its gourmet gifts brand Harry & David.
Brands inserting themselves into users' conversations, via emoji keyboards, for example, hasn't always paid off: In an oversaturated market, there's little evidence consumers are actually using them.
But McCann said he was surprised at how comfortable users were with using a bot. "Most customers, especially millennials, would rather interact with a robot than a human," he said. But 1-800 Flowers has found that users need clarity about when they are speaking to a bot. To combat this, humans who arrive in Messenger will introduce themselves and sign all messages with their names.
The company has been an early partner in many of Facebook's e-commerce ventures. For example, the now-axed "Facebook Gifts" which McCann said drew in over 100,000 orders for its cookie brand Cheryl's.
In May, the company's website rolled out an AI concierge named Gwyn, short for "Gifts When You Need," which is powered by IBM Watson. It's also trialing orders through Amazon's voice service Alexa. It all amounts to a push toward one-to-one marketing at scale, but it's also a way to get real-time data on how people buy its products, which can then feed back into merchandising. The business isn't just chatting but listening too.
"Customers are clearly spending more and more time in messaging platforms, so we want to position ourselves where they are headed," he said.
https://digiday.com/?p=184770