5 things we learned at the Digiday Brand Summit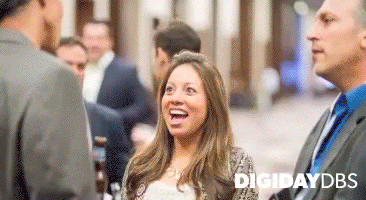 Top brands ranging from GE to Chobani to Mondelez to Mars gathered in Nashville this week at the Digiday Brand Summit to discuss the massive impact digital innovation has had on consumer behavior. After a series of one-on-one chats with Digiday editors and presentations of detailed case studies, here are our five top takeaways from this week.
Humans have a shorter attention span than goldfish
This holy-shit statistic was dropped Tuesday morning by Katrina Craigwell, GE's global manager of marketing. The average goldfish, according to Craigwell, has an attention span of nine seconds. The average human? Eight seconds. Are you even still reading? If so you might be wondering what your brand can do to fight for the drifting attention of your customers. For starters, it helps to get them engaged. Betabrand has it built into its very business model: It takes input from its fans on social. Their ideas turn into real (often quite cheeky) products, like yoga dress pants and disco ball-inspired hoodies. Betabrand then turns around and solicits user-generated content from its customers, resulting in some deeply engaging social fare. AARP has become adept at finding what matters to its target audience — even when its target audience doesn't want to be reminded that it's over 50. Tammy Gordon, AARP's vp of social, TV and radio, notes that Boomers use YouTube more than just about any other platform. This insight drove a smart partnership with former Start Trek actor and Internet celebrity George Takei for Takei's Take.
Mobile has a cookie problem
The cookie is crumbling. Recent data shows that we spend up to two hours a day on our smartphones. Forty percent of the videos we watch are on our phones. The problem for brands is that you can't drop a cookie on a cell phone. The bad news gets worse: Google has considered getting rid of cookies in favor of anonymity-protecting alternatives. Last year, Mozilla moved to block third-party cookies unless users opted in to them. Say bye-bye to retargeting. There is no silver bullet yet. In the meantime, brands are feeling more compelled than ever to become publishers. This also goes back to smart engagement — and smart partnership. Hamburger Helper's Eric Johnson, the company's interactive marketing manager, described the brand's partnership with Epic Meal Time, which generated highly shareable videos that got customers engaged. And coming back for more. "We're not going to find some of these audiences with traditional television," he said.
Someday Google Plus will matter
When Shoe Carnival rebooted its social media marketing in recent years, it made Google Plus its second-most important platform after Facebook. Prior to the change, it had ignored the network many view as a ghost town. Nissan's director of social media marketing Erich Marx told the crowd here that Nissan is heavily engaged with Google Plus despite not seeing returns just yet "because some day it will matter." Overstock's social media manager J. Kay Scott also mentioned the importance of the platform. Why? Google Plus serves as an SEO boost brands can no longer ignore, drafting off Google's main business: search. The point, too, is that brands need to understand what the different social media platforms can do for them, and where exactly their target audience spends most of their time.
Big brands need to act more like startups
"Keep the decision-making team small," said Kristin Hand, avp of marketing at Shoe Carnival. "Keep it with the people that are touching it. Make decisions and move on. Then you can keep testing and learning." It may sound like conventional wisdom, but just try implementing that at your business. The sentiment was echoed, too, by Karen Snell, digital content lead at Cisco, among others.
Real-time is great, but don't force it
Everybody wants to tweet the next Oreo Super Bowl one-liner, but the fact is too many brands force it and come off as lame or, worse, inauthentic. The way to do real-time right is to understand your brand and know what your fans want from it. A few case studies: Chobani threw some shade at the Oscars in a nod toward keeping it real. Meanwhile, Shoe Carnival spotted red-carpet styles and directed its customers to deals on footwear. The AARP needled Jeff Daniels on the occasion of his Emmy win for the Newsroom.
https://digiday.com/?p=73539