Taco Bell now has a breakfast menu, people. And you know what that means: wall-to-wall waffle tacos, waffle taco pajamas, burner phones (naturally), and "secret" calls and text messages from Taco Bell itself.
Yesterday and today, Taco Bell, with help from digital agency DigitasLBi, is dropping prepaid mobile phones (Samsung T404s) across seven cities to 1,000 people that the fast food chain has identified as influencers. And because the company received many responses from its Twitter following of 1.1 million that wanted to be in on the fun, Taco Bell will be adding additional, secret burner drops, communicating their location by social media to fans.
"It really started with listening to our audience," said Tressie Lieberman, the director of social and digital marketing at Taco Bell. "The minute the waffle taco hit Instagram, it became a social phenomenon."
Once the influencers have received their phones, they will wait a call or text with a challenge from Taco Bell. These challenges generally come will come in the form of a question or a task that can be completed by replying to the chain within four hours with an Instagram photo or a tweet. Taco Bell will be picking the best responses as winners.
And if that isn't enough special attention from the taco chain, the prepaid phones can be used to call the Taco Bell headquarters and talk to a team of 5 fielding calls in the newsroom.
"The phone has been ringing off the hook," said Lieberman. "Friends have two-way conversations with their phones. We just want to be a friend and be human."
If one of the chosen influencers is successful in winning a task, Taco Bell will award them with either Waffle Taco Pajamas, Waffle Taco Skate Decks, a Crunchwrap bedsheet set, or Waffle Taco Nikes. Taco Bell will also be picking a winner a day to receive free breakfast for a year.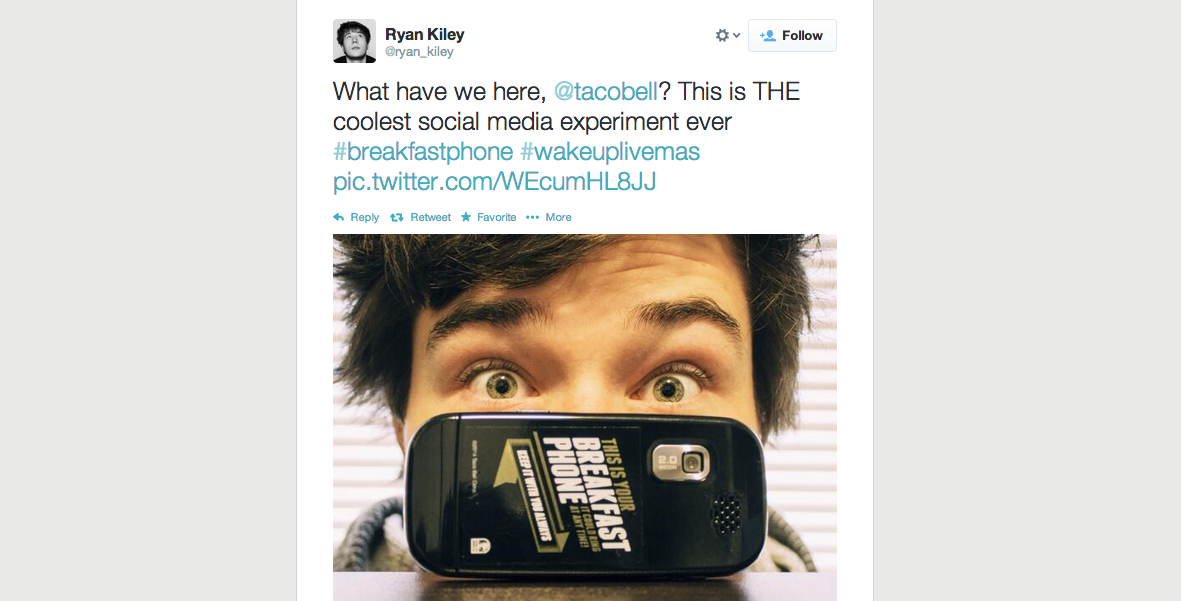 In the past 10 days, Taco Bell's campaign hashtag, #WakeUpLiveMás, has generated more than 16,000 tweets, and in the past day, the fan-created hashtag #breakfastphone has been used more than 1,200 times, both according to the social analytics site, Topsy.