This is part of The Digiday List of Innovative CMOs series, featuring a handful of trail-blazing brand marketers who are ahead of the curve and driving the bottom line through digital innovation.
Taco Bell has consistently been on the cutting edge of innovation, with a steady stream of both new products and marketing campaigns. From the Doritos Locos taco and the quesalupa to the TacoBot and Snapchat lenses, the fast-food chain has not been afraid to recast itself.
"Innovation threads through everything we do," said Taco Bell CMO Marisa Thalberg. "I really believe it's as much of a mindset and a culture as a specific function."
Here, Thalberg breaks down Taco Bell's marketing philosophy and explains how she brings it to life:
By combining both product and marketing innovation
This February, Taco Bell used its Super Bowl ad slot to reveal its new menu item, the quesalupa, after years of making and testing it. While the gameday ad for the cheesy quesadilla-chalupa hybrid may have been the core focus, the brand didn't stop there.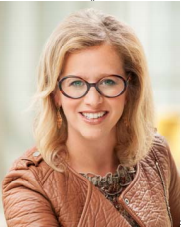 The chain ran an integrated marketing campaign beyond the 30-second spot, including a tongue-in-cheek redacted press release prior to the launch, a Snapchat filter, dynamic, contextual Facebook ads and even "blind" pre-ordering online.
"The quesalupa was our biggest innovation story of the year, so when it came to the marketing, we wanted to be equally innovative," she said.
By being on top of the latest digital trends
Taco Bell has something that most brands would kill for: a genuinely enthusiastic and engaged community. But this wasn't cultivated overnight. Taco Bell makes it a point to understand and invest in the latest digital trends before most other brands. The company was ahead of the curve in terms of launching a petition to get a taco emoji approved and launched a TacoBot on the messaging platform Slack. It has been quick-footed to experiment with the buzziest platforms among millennials, whether it is Snapchat or Musical.ly, and handles all day-to-day communication across its social channels in-house.
"The balancing act in digital now is that you've got to make sure that you have the right percent of balance," said Thalberg. "It's about investing in places where you know you'll get big results and then leaving room around the fringes to find new, buzzy and interesting new places to play."
By keeping pace with innovation internally
One of Thalberg's priorities since taking over as CMO from Chris Brandt has been to break down internal silos. She has been encouraging various teams — including creative, media, PR, social and product — to work more closely together.
One way is by making these various marketing subgroups come up with shared agendas and project proposals in order to work more collaboratively, another is by encouraging people to work on projects outside of their teams. "On the product side, if you're an assistant brand manager, for example, you might get tapped to work on a project outside of your core responsibilities, like PR," she said. "That way, there's cross-pollination."
The marketing team also works very closely with the Food Innovation team, which is responsible for looking for twists on existing products and mining food culture for new ones.
By empowering loyal brand advocates
Taco Bell has recruited social media stars like YouTube's Tyler Oakley and Snapchat's Shonduras for campaigns. But beyond online celebrities, Thalberg believes that passionate fans with genuine, authentic connections with the brand can be the company's biggest influencers going forward. This includes musicians that the brand has given food to as a part of its Feed the Beat initiative, as well as the hundreds of high schoolers it has awarded scholarships to as a part of its Live Más Scholarship, launched last year.
"Influencers are not fundamentally transactional for us," she said. "A lot of times, it's about people who are emerging in their fields and have long been advocates of our brand."
https://digiday.com/?p=208046