How Saatva is differentiating in the crowded DTC mattress market
February 25, 2019 • 9 min read
•
•
Not a Digiday+ member? You can get the Retail Briefing delivered to your inbox every Monday, Wednesday and Friday. Subscribe here.
Ron Rudzin, the CEO and co-founder of the mattress brand Saatva, is tired of customers assuming that because his brand is sold online, it comes in a box.
"That's a much easier barrier to cross. You have all these same beds in boxes screaming, 'Mine's the best,' and some are better than others, but when there are 150 of them, it's impossible to differentiate," said Rudzin.
Rudzin, who invested in and managed home furnishings businesses before launching Saatva in 2010, said he's targeting the luxury mattress market after realizing in 2008 that he could sell high-quality mattresses cheaper online, and take the mattress retailer out of the equation. It's a familiar narrative now, and the mattress category is one of if not the most bloated direct-to-consumer brand category. Even what Rudzin sees as Saatva's differentiator — luxury quality mattresses most comparable to a Stearns & Foster, white-glove delivery service — is becoming increasingly more cluttered with competitors who are targeting higher-spending customers. Boll & Branch and Parachute, for instance, have released mattresses in the last year that are foam-free and delivered shape intact.
But unlike some DTC mattress competitors, Saatva is profitable and hasn't raised VC funding. Right now, the company is doing $200 million a year in sales but, according to CMO Joe McCambley, still has low brand awareness. The company spent the first eight years focusing its marketing strategy on SEO, bidding on keywords and phrases like "best mattress" and "best quality mattress" on Google to rise in the rankings. At the same time, it built the infrastructure Rudzin saw as necessary to scale the company: 18 manufacturing centers and a delivery network of 150 fulfillment centers.
Of course, those phrases have become increasingly expensive, now up to $15 per click on Google search, according to McCambley. So, to drive organic search results, the brand has hired an analytics team and a three-person editorial team, plus a rotating group of freelance writers, to build a 400-story editorial calendar around the most common questions people are Googling around mattresses, arranged hierarchically based on how much ROI they would generate. On its blog, it posts regular articles answering things like "What's the best mattress for sleeping with a pet?" and uses SEO to get Saatva to the top of the search when people, clearly in the market for a mattress and with specific questions the brand can answer, are looking for information. According to McCambley, it doesn't spend money to boost the articles on Google.
It's also looked for more efficient places to advertise, which led it to its first TV campaign, as well as LinkedIn and YouTube advertising. Saatva is spending more on marketing overall, but declined to share how much of its revenue is going to marketing. This year, the brand plans to launch two new mattresses, and then consider the move into physical retail.
"Our early mission was differentiating from online players," said Rudzin. "It used to bother me a lot — I knew we had a better product but I couldn't figure out the best way to tell that story. So now, we're at a place where we can still make money but the transition from a one-dimensional retail brand sold online to one that appears across search, affiliates, TV and social."
Wayfair's seeing results
E-commerce furniture and home goods retailer Wayfair has reasons to be bullish on its prospects. The retailer, in an earnings call Friday, reported $2 billion in fourth-quarter revenue — a 40 percent jump year over year. It's touting the results of its in-house built logistics and delivery network. Despite the margin pressure of supply chain investments that other retailers like Target are feeling, CEO Neeraj Shah told investors that company will continue to expand its proprietary logistics network, even if it means foregoing profitability for now. It's an effort to be first to market on delivery as competitors like Walmart and Ikea grow their e-commerce delivery channels.
Wayfair has 35 of its own last-mile delivery facilities in North America with coverage of 74 percent of the U.S. for home parcel deliveries. It says its improved service levels are resulting in higher customer satisfaction as shown in NPS scores 25 percent higher on average than third-party logistics competitors. CEO Shah said 90 percent of Wayfair's e-commerce orders go through its owned and operated logistics centers. He added that Wayfair's advantage is its direct relationship with suppliers, removing the need to transact with third parties.
Dynamic pricing or surge pricing?
After Target's location-based app pricing snafu and subsequent changes it made to its app earlier this month (prices changed when customers were inside or outside the store), the concept of dynamic pricing is garnering attention. Dynamic pricing, sometimes called real-time pricing, is pricing that fluctuates. Sometimes it can be based on market conditions like supply and demand and it can be personalized based on what the brand knows about the shopper's behavior. Retailers are dabbling in dynamic pricing to compete with Amazon, which changes prices throughout the day. Some have argued that Amazon engages in "surge pricing" or personalized pricing, but Amazon says that its prices are based on offering consumers the lowest price possible, irrespective of location or behavior.
Greg Girard, program director at IDC, said it can be difficult to ascertain the motivations behind dynamic pricing because brands often do it in such a way that customers can't easily notice. He adds that dynamic pricing can cause serious reputational issues down the road if there are perceptions of price gouging or discrimination.
"It erodes customer loyalty and tarnishes the brand tremendously," he said. "Dynamic pricing works best when it's done in a subtle way and rewards a shopper for something they would have liked to do." — Suman Bhattacharyya
Lively founder Michelle Cordeiro Grant explains the brand's in-store strategy
"The foundation of Lively is a community. That's why we started doing retail. We have 65,000 brand ambassadors that share our brand but it's important they come together, so we started doing events. We've done classes, Soulcycle meetups, and at events [where] people wanted to buy and they were sharing photos of products when it was there on site. So we thought, 'Well yeah, this is why you have a store.' We tried rev-share pop-ups in Dallas, Nashville and New York and the data was incredible. In Dallas, we saw 175 percent online transaction growth following the pop-up, 80 percent in Texas overall. In Nashville, it was 160 percent transaction growth — transactions. Forget impressions and engagement. So we thought, let's try this full time in New York. We opened a Soho store in January. I'm taking advantage of the flexibility real estate is giving us, so it's a short-term with options store lease. We're opening Dallas and Chicago this year as well.
In thinking about how to start, I worked for Victoria's Secret. I saw how they did retail and I thought we could do it cheaper. Everything in the store was created by us, it's very scrappy. In Dallas, we spent $16,000 on the whole experience plus rev share. We figured out a way to throw it all together, we use Shopify POS on the backend, and we're in business. We think about it as an experience but we have to have inventory in stores. You can feel the product, and then leave with your size. But we have to be fine with someone coming in, leaving without buying something, and that still being a win.
In New York, we're breaking even. We're not making a ton of money in the store yet, but it's going to be something we keep investing in and keep building. The customers who come to stores spend more online. We don't think about ourselves as DTC, we think about ourselves as a brand. And to be a brand you have to exist in real life."
Online luxury booms
Forrester's new luxury retail forecast shows sales continue to move online, and e-commerce will drive the industry's growth through 2023. Here's what you need to know.
E-commerce drove 39 percent of luxury sales growth in 2017, and that's expected to rise to 59 percent by 2023. In 2017, luxury sales grew by 6 percent, while online luxury sales grew by 24 percent.
According to the forecast, the four main growth factors are:
1. Income growth, especially amongst millennials in China. In the last two years, income grew by 15 percent in China and almost half of China's luxury shoppers in 2017 were under 30.
2. Online growth from luxury retailers like Moda Operandi, Farfetch, MatchesFashion and Secoo, which grew sales by more than 40 percent in 2017. In the US, the share of luxury shoppers purchasing online began catching up with those purchasing offline, reaching 50 percent and 64 percent, respectively.
3. Offline growth, which will continue to drive luxury goods sales. Michael Kors, for example, experienced 61 percent of its sales in-stores.
4. High-spending individuals. More than 90 percent of the world's affluent consumers buy luxury products and services.
YouTube's not a safe place for brands, but brands don't seem to mind
As a number of major brands, including Disney, Nestle, McDonald's, AT&T and Epic Games, are pulling their ads from YouTube due to its latest brand-safety "crisis," media buyers are largely reacting with a collective shrug.
In a poll conducted by Digiday Research on Thursday, Feb. 21, only 14 percent of 100 buyers said they expect the crisis to have any impact on long-term spending on the platform. Nearly a third of buyers said they expect any cutbacks they make to be temporary. Meanwhile, 37 percent of respondents said the crisis would not impact their advertising plans for the platform.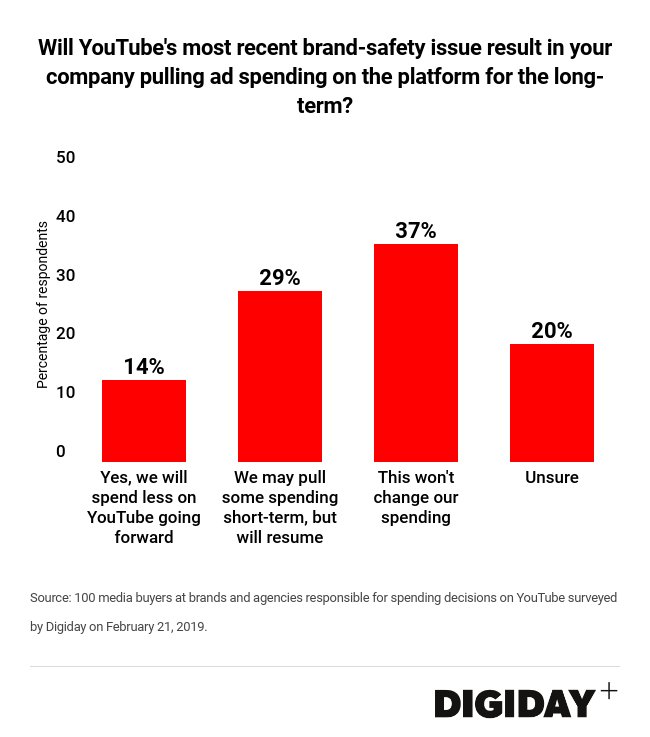 What we've covered
Tell us how you really feel: Ad buyers share candid thoughts on the state of the industry at Digiday's Media Buying Summit.
Aldi on the move: The discount grocer's $5 billion US expansion is fueled by its private-label strategy.
Cheatsheet: Roku expects to bring in $1 billion in revenue this year, bolstered by its advertising business.
https://digiday.com/?p=323436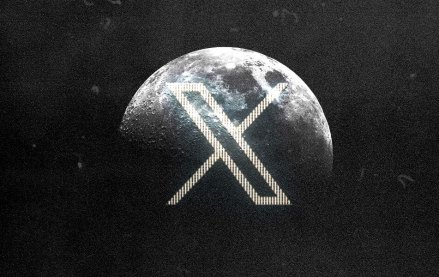 November 30, 2023 • 4 min read
In the packed DealBook conference in New York yesterday, owner Elon Musk bluntly told them to shove it.
November 30, 2023 • 2 min read
WorkTok, or CareerTok, is in full force. Combined, those hashtags on TikTok have over four billion views and it is benefiting Gen Z.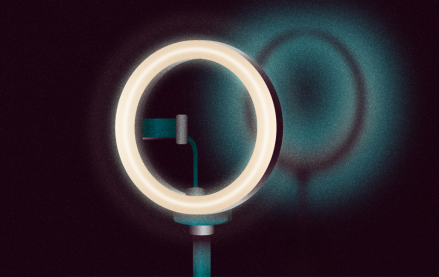 November 30, 2023 • 5 min read
In this week's Digiday+ Research Briefing, we examine how brands have been upping their TikTok investments this holiday season, how Lyft and the MSG Sphere are positioning themselves as ad opportunities beyond OOH, and how publishers are committing to building their events businesses in 2024, as seen in recent data from Digiday+ Research.