Red Bull Radio focuses on brand-building, one Princess Nokia song at a time
July 23, 2018 • 4 min read
• By
Digiday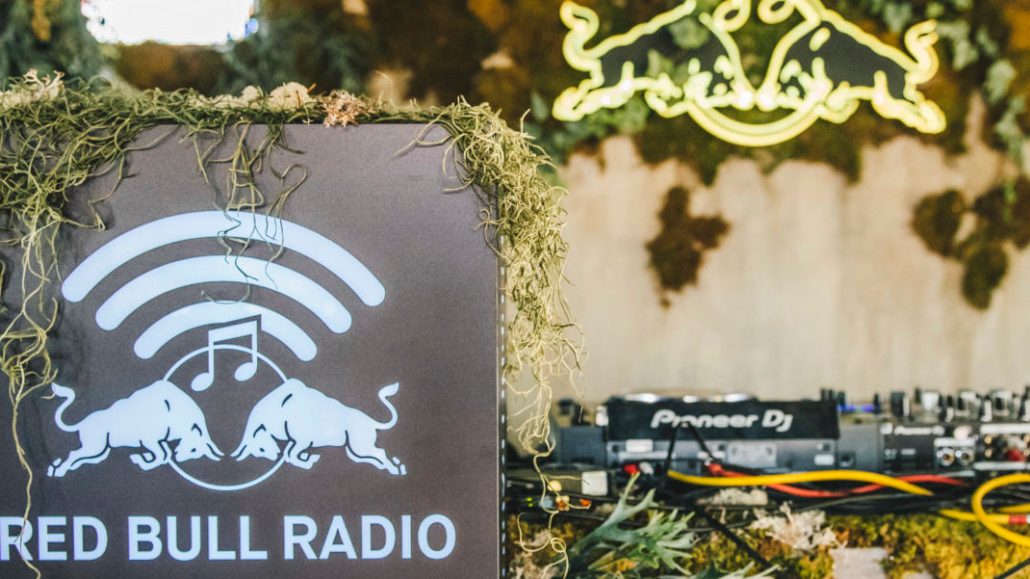 Red Bull Radio
Red Bull frequently slaps its brand across extreme sports, but Many Ameri sees it as the energy drink brand investing in culture and in communities. Ameri isn't a skateboarder or a cliff diver. He's the co-founder of the Red Bull Music Academy and of Red Bull Radio.
First launched in 2005, Red Bull Radio began as an extension of the Red Bull Academy to provide another outlet for the academy's alumni to perform. In 2014, it relaunched as a 24/7 online radio station. Now, even in the era of services like Apple Music, Spotify and SoundCloud providing listeners with nearly any type of music instantly, Red Bull Radio is still streaming dozens of shows.
Red Bull Radio doesn't run ads or serve as another revenue stream for its parent company. It's another marketing vehicle for Red Bull, the largest energy drink distributor worldwide. That marketing is quite important as of late. Competitor Monster recently took control of the U.S. market and is gaining overseas, according to analysts of the privately held companies.
"The mission always has been to turn people on to what they weren't listening to. There's no lack of music and no lack of people getting instant gratification. We tried to position ourselves as the trusted source where you can find the music you didn't know you were looking for," Ameri said.
People can listen to Red Bull Radio on the web, on iOS and Android app or via TuneIn and iHeartRadio. The apps have 20,000 monthly active users worldwide and around 300,000 downloads overall, according to Apptopia. Ameri declined to share any viewership data.
Unlike its rivals, Red Bull Radio specializes in indie artists. Though, one of their most listened-to fireside chat was with Kendrick Lamar, and that's followed by Tony Allen and OneOhTrix Point Never. For a separate show called Headphone Highlights, the top shows have featured Princess Nokia, Madlib and Kaitlyn Aurelia Smith. Red Bull Radio launched with about four show formats and now has 72.
The shows "have the same goal, led by what the artist themselves want to talk about. We come in on this very specific angle, and we try to do it so people are lured into a topic, so ideally they'll learn something about it," Ameri said.
To Ameri, Red Bull Radio doesn't necessarily compete with Spotify or the other music streaming platforms. He likened his channel to the brick-and-mortar experience where a friend would tell someone about an artist and show off a record and that person would then end up in the record store.
"Our position is not competing with the stuff that's out there but helping people find more. I can perfectly see a journey where somebody through a show they learn about an artist or a certain track and then they go to Spotify," Ameri said. "We don't do this to sell music or sell tickets. We're doing this to get people to talk about music."
Operating a 24/7 online radio station isn't cheap. Red Bull also puts on more than a dozen festivals throughout the year. For five weeks in September and October, Red Bull will host a music festival in Berlin.
Ameri said Red Bull's investment in music aligns with the company's slogan to give people "wings."
"Giving wings doesn't mean, 'Oh you have a crazy idea we have all the money in the world.' It's this idea of inspiring people and allowing artists to express their musical vision and allowing people to care about that. It's going to have integrity," Ameri said.
Wings, fair enough, but what about ROI? Ameri said Red Bull Radio isn't held to traditional marketing measures. Rather Red Bull tries to gauge the cultural impact and access they receive such as an artist coming to Red Bull Radio to exclusively announce a new album or another event. It is, admittedly, an inexact attribution model.
"The system we built is a living organism of other people making decisions on what they want to do. We don't sit there and think what's a trendy topic we want to cover. It's likely to be an artist approaching us," Ameri said.
https://digiday.com/?p=296119