'Now we work with thousands': How getting on TikTok transformed this drink brand's influencer strategy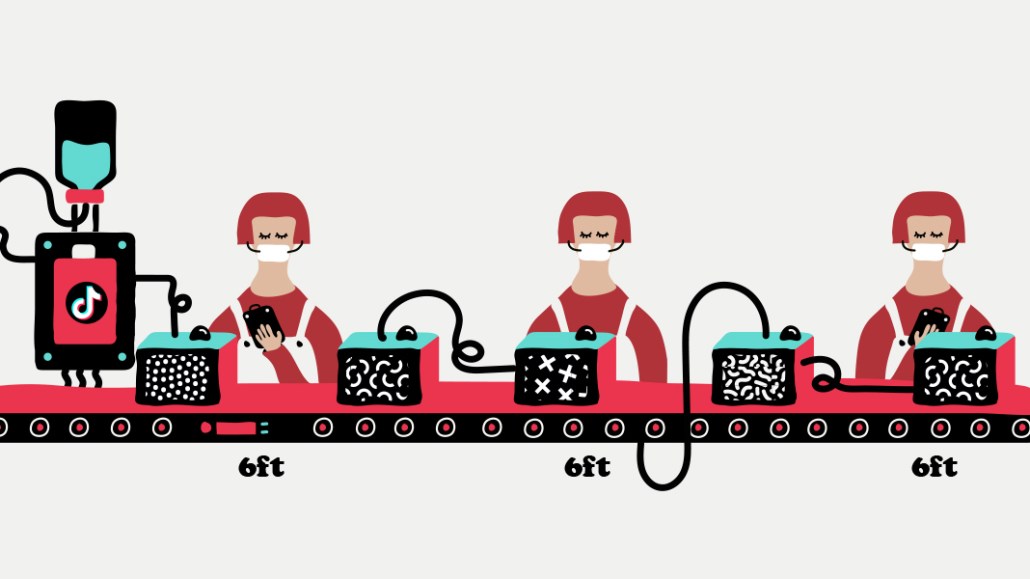 Ivy Liu
TikTok is seemingly in a season of growth, having recently passed the 1 billion user mark. While ad executives say the ByteDance-owned platform still lacks lots of the basics when it comes to ad offerings, marketers are using the channels organically, hoping a viral moment will help build their brands on the short-form video app.
It's a strategy infused water brand Blk used successfully.
Over the last year, the California-based company racked up more than 400,000 followers on the app, even catching the attention of celebrity influencer Kylie Jenner in a post liked by more than 14 million users. But instead of utilizing TikTok's ad offerings, like branded hashtag challenges or full page takeovers, Blk is leveraging organic content, producing videos for the app in-house or working directly with paid influencers for content.
Per Blk, it's a brand awareness play, leveraging influencers to get a bigger share of shopper attention and make Blk water a household name.
"We tried getting into the whole [paid branded hashtag] challenge thing — it doesn't work for us," said Samantha Ratiner, vp of business development at Blk Beverages, who noted that prior to TikTok, the 10-year-old brand had little to no ad spend dedicated to influencer marketing. It's unclear how much Blk is spending on advertising as the company would not share exact figures.
So far, Blk has partnered with TikTok influencers like Dr. Ben Winters, known as "the Bentist," on a sponsored post that garnered 10 million views. Other influencers Blk has partnered with include food TikToker Matt Peterson in addition to a number of vegan-based accounts, Ratiner said. Financial agreements with these influencers were not shared.
"We went from working with 20 influencers a week to 50 to 100, and now we work with thousands a month," Ratiner said. "The reason why we're so popular on TikTok is because we tell the influencer, 'You are the creator. It's up to you to incorporate this water into your video.'"
Instead of focusing primarily on increased sales, Ratiner says the return on its TikTok investment comes by way of impressions and customer awareness. Even without the primary focus on sales, Ratiner said Blk's TikTok presence landed the company ongoing conversations for retail deals with big box retailers — which Ratiner declined to name.
The brand is running advertising campaigns across Facebook showcasing its partnership with Walmart, Central Market and Meijer, according to Facebook ad tracking. It's currently available in Publix, GNC and local health food stores.
There's more of a chance (to go viral) if you're creative and strategy is tapped in.
Marketers have been bullish on an organic approach to TikTok with its rise in popularity in recent years, citing the platform's expensive ad tools and pay to play nature. Right now, the social media platform is looking for ways to partner with small and medium-sized businesses, better positioning them to compete with Facebook and Instagram, per previous Digiday reporting.
Overall, Blk's strategy of getting as much product into as many influencer's hands as possible makes sense, said Erica Patrick, svp and director of paid social media at Mediahub Worldwide.
"I don't like to promise that we can get something to go viral because it's lightning in a bottle," Patrick said. "But there's more of a chance for that to happen if you're creative and strategy is tapped in. By doing that with influencers, you can get more bang for your buck."
That's not to say that influencer marketing is the end all, be all when it comes to social media advertising. In that respect, Faith Markham, vp of strategy and content at Hill Holliday ad agency, warns advertisers not to abandon traditional ad units altogether and to instead balance paid advocates with actual messaging from the brand.
"While the borrowed authority and highly engaged audiences of TikTok influencers are certainly appealing, this can be limiting," Markham said in an email. "Brands who lean on TikTok influencers should balance with content from the brand and about the brand."