Nordstrom, for another year, is putting its employees ahead of its sales-slinging this Thanksgiving. The department store has issued a disclaimer: It will remain closed on the Thursday holiday, opening at normal hours on Black Friday, "unveiling" its holiday decorations that day. Before that, Nordstrom won't even acknowledge that Christmas is coming.
Their reasoning is hanging on posters at Nordstrom and Nordstrom Rack stores across the country: "Well, we just like the idea of celebrating one holiday at a time."
The decision to not eat into employees' Thanksgiving dinners with Black Friday sales that start on Thursday is something Nordstrom has been practicing for years, and according to a survey performed by RichRelevance, it's a smart way to get in the good graces of customers who wish companies would preserve the Thanksgiving holiday.
RichRelevance surveyed 1,000 American shoppers and found that 65 percent reportedly "hate or dislike" the trend of retailers opening up on Thanksgiving Day. Only 12 percent reportedly like it, according to the survey.
Nordstrom competitors, however, will continue the trend of opening on Thanksgiving. Macy's, Sears, Kohl's, Target and Walmart all open at 6 p.m. on Thursday — but a Forrester report suggests that thanks to online shopping, there's less emphasis on the need to drive people into stores earlier and earlier every year. Nordstorm's Black Friday discounts, for instance, will begin online on Thanksgiving Day.
Forrester reports that online holiday sales are expected to reach $95 billion in November and December this year, an 11 percent jump over last year. This amounts to 14 percent of the overall retail industry happening online in these two months, compared to the annual share of 10 percent.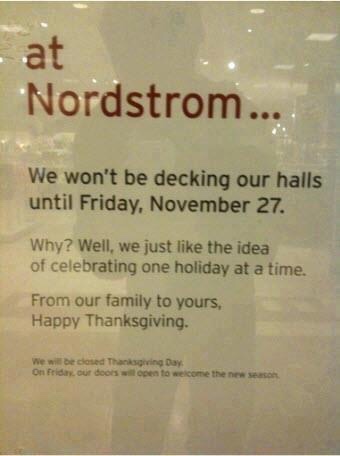 Cyber Monday is also expected to have a strong year, as Forrester points out, there are fewer negative associations with Cyber Monday than Black Friday. And with more and more retailers (like Nordstrom) offering free shipping over the holidays, that's encouraging more people to shop online rather than in stores. According to RichRelevance's data, only 28 percent of people said that they shopped in store to avoid shipping costs.
On top of staying closed on Thanksgiving, Nordstrom isn't in any rush to welcome the holiday season in stores by way of decorations and themed promotions, as it says in its announcement that "doors will open Friday to welcome a new season." RichRelevance found that 67 percent of shoppers find it annoying to see holiday items appear in store early. Kmart, which has become the first retailer out of the gates to begin promoting its holiday layaway offer, was met with criticism when its ads appeared at the beginning of September.
.@Kmart big retail is ruining the holiday season. At least wait until November to air your ads.

— Scott Lauermann (@ScottLauermann) October 12, 2015
A Nordstrom rep said that the company has no plans to change its holiday tradition of staying closed on Thanksgiving and starting the season on Black Friday, but that it's willing to evolve based on how customers want to shop. Judging by the praise REI received for deciding to close all together on Black Friday, the overwhelming sentiment: many are happy to stay home from the mall on Thanksgiving.
Images courtesy of Shutterstock.com
https://digiday.com/?p=145677