The Council of Fashion Designers of America and the NFL make for unlikely bedfellows. Still, the CFDA — the organization in charge of New York Fashion Week — has teamed with the NFL to create a collection of decked-out footballs designed by fashion brands.
The CFDA recruited 50 of its designers, names ranging from the well-known (Tiffany & Co.) to the more obscure (Tanya Taylor), to create a decorative football masterpiece in honor of the Super Bowl's 50th year. The point is to appeal to the cross-section of fashion and football fans among the Super Bowl's 114 million viewers.
Each of the 50 designer footballs are completely unusable for a game of catch, but look pretty sitting on display at San Francisco's Levi's Stadium during the Super Bowl on Sunday. They'll also be auctioned off for charity online, with bids beginning at $500.
Adam Roth, CFDA's director of strategic partnerships, said that the Super Bowl's buzz is the perfect place to draw attention to fashion and pop culture, regardless of whether you're a football fan or not. According to Influenster data, eight of ten women are expected to watch the Super Bowl this year, giving advertisers a chance to get in front of this demographic.
Roth thinks that the partnership is an evolved iteration of the NFL's line of pink attire aimed toward women. The pink jerseys came under fire as women — who make up 45 percent of the league's fans — objected that they didn't need overtly girly items to feel included.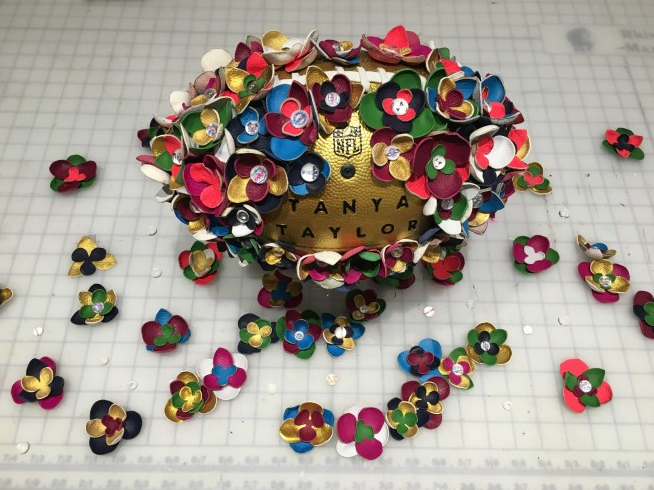 "The NFL has a true interest in involving options for female fans, and that's what they're thinking here," Roth said. "There are women who would never wear a pink jersey, but this is something else entirely. It's beautiful without interrupting the game."
A fancy football wasn't the only opportunity for fashion designers to get in on Super Bowl 50. Sportscaster Erin Andrews hosted a VIP "Ladies' Night Out" on Tuesday evening at the NFL Shop in San Francisco. For sale at the event was a collection of high-end football gear, like team clutches designed by Anastasia Moda, Dooney & Bourke bags imprinted with the Super Bowl 50 logo, and Alex and Ani bangles decorated with football charms.
In a comment for Mercury News, NFL's vice president of consumer products said that the number of female fans of the NFL was increasing. "We see more women of all ages watching the game and supporting their team by wearing their gear."
To capitalize, what the NFL sells to women has shifted away from Pepto Bismol-pink to more stylish items, like fitted tank tops and T-shirts and players' jerseys in women's sizes. There's no rhinestone in sight in the online NFL Shop, and the only pink is seen in a few limited-edition Breast Cancer Awareness Month items.
As the NFL figures out how to cater to its female fans without patronizing them, Roth asserts that the CFDA's bedazzled footballs aren't exclusively for women.
"Menswear has crossed over into the mass public and is having a moment right now," he said, adding that pro athletes Victor Cruz, Eric Decker and Matt Harvey are all CFDA ambassadors. "Guys see fashion through these players and it crosses over. If he doesn't follow fashion, he might see our designers in a new light. That marketing component is huge."