Everyone's got that friend who, in lieu of being polite, sits head-down thumbing through his phone while you try to talk to him. Now, thanks to San Francisco based interactive ad agency Traction, there's an app that might just make your friend less, well, douchey.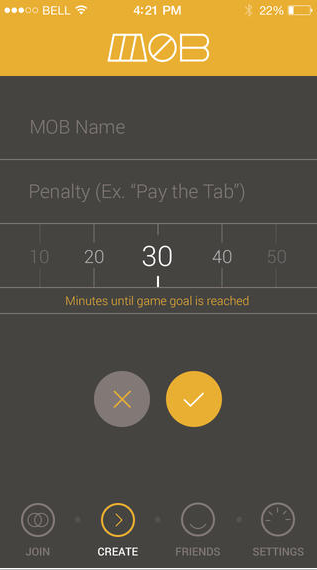 MOB is a social game you play with friends far away or nearby, and the premise is the same as an analog bar game that's been floating around for a while: The app asks you to invite friends for a game, then gives everyone 15 seconds to lock their phones. The first person to unlock his phone loses.
Players can set the length of the game, say 30 minutes, and determine the penalty, like "loser buys the next round of drinks." You don't have to be in the same room or even state as the rest of the players, though local gameplay is possible for barflies.
"The first time someone unlocks their phone during gameplay, everyone else instantly gets a notification on their phones that the loser lost and has to pay the penalty," said Traction CEO Adam Kleinberg.
Kleinberg hopes the app will push people away from the behavior.
"It is my hope that in the future, Darwinian pressure will gently, but persistently nudge us toward less intrusive applications of technology," Kleinberg said. Until such time, there's MOB. (Or you could just tell your friend he's the worst, but then you'd have to text him and the whole point would get lost.)
The potential applications go far beyond just gaming and shaming, too. "We aren't committed to any particular roadmap at this point, but I could totally see a business version where people get 'outed' for checking their phones in a meeting," said Kleinberg. "That behavior is so prevalent."
Asked if the agency plans to monetize the app, Kleinberg said "definitely."
"Because of the polarizing nature of this game, it is something that we feel will be able to garner significant daily active users," he said. "That might mean in-game commerce opportunities or it might mean brand sponsorship."
The app launched a few weeks ago, and to date has a few hundred users, mostly friends and family. Credit for the initial idea goes to creative director Theo Fanning, but Kleinberg said everyone in the agency helped make it happen, "except me."
For now it's iPhone only, available now in the AppStore. Except features like Bluetooth discovery and game archiving in the future.
https://digiday.com/?p=94562