Live blog of the live blogs: How tech media covered the Apple Watch launch
March 9, 2015 • 8 min read
•
•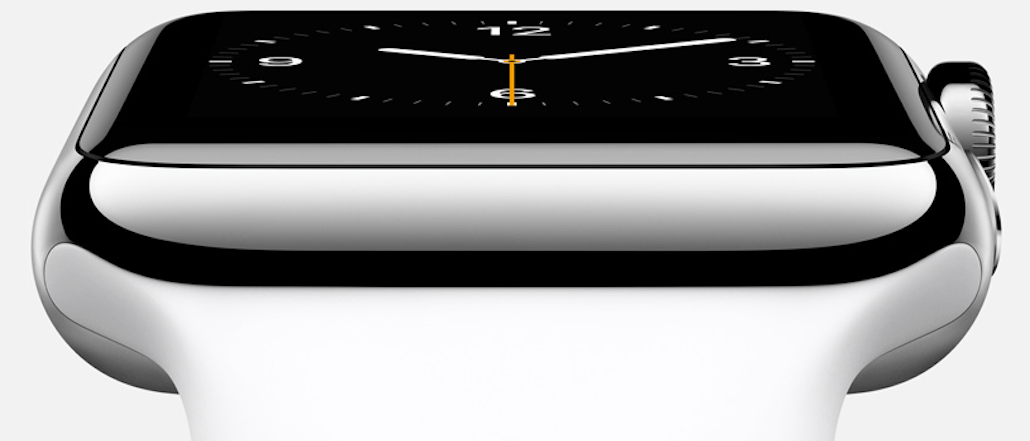 What Super Bowl Sunday is to ESPN, today is to the tech publishing world. For today, Apple will unveil (for the second time) its Internet-enabled "smartwatch," appropriately dubbed the Apple Watch. Which means that every tech publication of note is live-blogging what is, despite the oversized fanfare, just a press conference.
An Apple product announcement is enough to get the tech news echo chamber churning at top speed. But this event is especially hysteria-inducing because it includes a new product rollout.
Digiday wants to spare you yet another live blog you won't read. Rather, this reporter decided to cover how tech publications chose to cover the big show — and to discern how they attempt to differentiate themselves while all covering the same event in the same manner. All times are Eastern Standard.
2:38
The event has wrapped up, and so have the live blogs.
All of the publications did a fine job covering the event in ways that reflected their unique positions in tech publishing. Recode's was true to its insider status; Mashable's was ideal for those who wanted surface level coverage of the event. Example update: "Cook is thanking the team that made this all possible."
The Verge was informative but irreverent; TechCrunch was straightforward and comprehensive; Digits was aimed at a refined-but-not-obsessive tech consumer and Fusion's was aggressively playful.
But I missed Twitter throughout this exercise. Twitter allows users to hear from the best voices across all these sites and people whom you might not even follow by way of retweets. And instead of having to shuffle through six tabs and inevitably miss some poignant insight or funny joke, you can experience that all in one stream. As such, the platform again asserted itself as the ideal place for reading about a breaking news event.
That said, here are the official Digiday Live Blog Awards:
Best joke:
Fusion, for this incisive take on Apple's $10,000 smartwatch.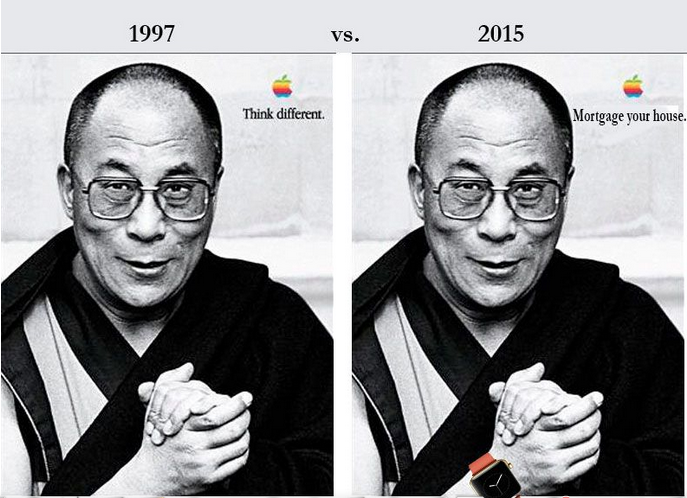 Apple has long co-opted images of social justice figures in its advertising. Kudos to Fusion for pointing out exactly what Apple's aims are in doing so.
Best news coverage:
Digits. Whereas many live blogs felt the urge to write about every minute detail of the event, Digits showed restraint and posted fewer posts that were more meaningful on average.
Best analysis:
Recode. There are few publications that can provide as much helpful context around a live, breaking news event.
Best all-emoji recap: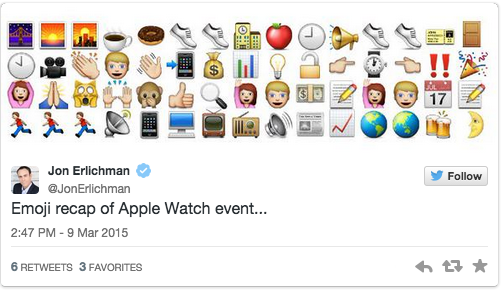 2:30
Digits, Recode and TechCrunch are reporting on the most expensive version of the Apple Watch retailing for $10,000 in an utterly flat manner. Fusion is cracking jokes about needing to mortgage your house to afford it. "!!!!!," writes Patel at The Verge. My Mashable tab died.
2:29
We're not the only ones covering the coverage. Here's a bit of spot on media commentary:
Every tech journalist right now #AppleWatch pic.twitter.com/Im606eeQPB

— Brian Fung (@b_fung) March 9, 2015
 2:22
The division of labor at Recode is interesting. Dawn Chmielewski is churning out news updates at a breakneck pace, leaving Swisher and media reporter Kafka free to crack wise and provide their own industry analysis from time to time.
Seniority has its perks.
2:20
This might be our favorite bit of coverage today. It's on-brand, it's interesting and it's differentiated: 
The wristwatch was invented during WWI as a tool for officers to synchronize attacks from the trenches. https://t.co/LB8SHP4G1S — Lapham's Quarterly (@LaphamsQuart) March 9, 2015
2:18
The TechCrunch and Digits live blogs have stopped updating which in all likelihood is because my computer is slow than it is about any lagging on their behalf. Live blogging these live blogs has turned into a piece of gratis #branded #content about why you should buy the new MacBook when it hits shelves.
2:14
I mock Fusion, but they are at least making a concerted effort to stand out and assert a unique voice. That voice can aptly be described as the epitome of an insufferable millennial co-worker, but it's unique all the same. The Verge, Mashable and TechCrunch all do a fine job of covering the event, but I fail to see why I would read one over the other unless I were particularly fond of their writers. Recode differentiates by providing the most insider-y analysis, and Digits the best raw reporting.
2:11
Some legitimate media news, courtesy Pater Kafka's update over at Recode: The Apple Watch will have media integrations with CNN, ESPN and Facebook. The latter two make perfect sense; sports scores and photos you've been tagged in can be easily consumed (uh, "glanced") from a small screen such as the Apple Watch interface. How CNN works with the device will be interesting. The network has been aggressively pursuing mobile distribution lately as evidenced by its partnership with Snapchat. Facebook just wants to be (even more) ubiquitous.
2:04
Supermodel Christy Turlington has joined Tim Cook onstage and, according to The Verge, it's incredibly awkward. "Apple has reached the 'forced fake Q&A with celebrities' portion of its keynote lifecycle," Verge writer Nilay Patel wrote. "This is so embarassing [sic] I want to die." Turlington is there to both shill for the watch, which doubles as a fitness tracker, and advocate for maternal health worldwide. But apparently that's of little interest to certain tech blogs.
Do you think Christy Turlington came to Apple through her close friendship with Bono? pic.twitter.com/iLjmZFxKiz — Ben Greenman (@bengreenman) March 9, 2015
2:00
The Apple Watch has finally taken the stage. It's the moment everyone has been waiting for, even though the product was first unveiled last fall.
The watch may seem a consumer technology device, but it has some interesting media implications — publications will be able to send news alerts to your wrist, for example. And it could be profoundly meaningful for retail since it incorporates Apple Pay, an iPhone feature that lets users pay at the register using nothing but their phones (and soon watches).
1:55
The Wall Street Journal's Digits live blog is placing Twitter share buttons next to each of its updates, encouraging readers to share through the micro-blogging service. Which seems counterintuitive considering Twitter is a competitor to the live blog itself.
That's all these live blogs are really: A Twitter stream but only for the reporters and editors of a single publication, and without the social aspect.
1:41
Fusion is sporting what appears to be its own live-blogging software, complete with a like feature. When I press like, I'm directed to create a WordPress account.
As Gawker has proven with Kinja, it's a struggle for publishers to create effective internal commenting platforms. But the "platisher" model is sexy, and seems worth a try for a company such as Fusion, which has money to burn by all accounts.
1:34
Mashable keeps commenting on the amount of applause that follows each new announcement. Considering the room is filled with press, it's safe to assume some of those cheers are coming from reporters. Reporters who are fanboys for a company whose products are built by exploited workers and that keeps money in Ireland as a tax-evading maneuver.
1:24
Switching to my Mashable and TechCrunch tabs and am now reading them side by side. Of the six publications I'm currently following, Mashable and TechCrunch are the two oldest titles.
Mashable momentarily resorted to posting nothing but screenshots of the presentation currently being given, which was mildly helpful when it wasn't just photo of white men looking into the camera.
1:20
The Verge is playing things pretty straight; few attempts at wit and lots of information. But again, there's not much here I couldn't glean from the livestream itself.
Swisher just pointed out that Cook finally looks comfortable onstage. I'll take her word for it, partially because she would know better than almost anyone but mostly because I'm experiencing this entire event second-hand.
1:19
Fusion won't stop talking about the quarter-zip pullover sweater Cook is wearing. Scorching takes.
1:17
All of these tabs have brought my computer to a crawl. It's a MacBook Pro from late 2011, for the record.
1:14
With every blog incorporating lots of still images, I do get a sense of what it's like to be there. Which is great. But why would a person prefer a smartphone photo of Tim Cook stalking the stage in a black zip-up sweater as opposed to just watching the Apple-provided livestream?
1:08
Fusion's Kevin Roose is going to painful lengths to be funny: "Does this mean my neighbor's dog-walker's cousin's HBOGo password will stop working?" I am not entertained.
1:07
All of the live blogs appear to have have nearly identical strategies: have their reporters and editors all chime in on the same blog, providing a mix of tangible news from the event, wider industry analysis and zingy one-liners about how silly this whole thing is (even though they're devoting significant resources to it).
This is the best example of the troubling lack of differentiation in the tech news industry that I can point to.
1:04
Right on cue, I notice The Journal's Digits blog has started embedding its reporters' tweets into its live blog. Smart move as it allows for it to easily integrate photos into the coverage.
1:02 p.m.
First impression: This is going to be insanely difficult. I have six live blogs (Recode, Fusion, Mashable, The Verge, TechCrunch and The Wall Street Journal's tech vertical Digits) running simultaneously on six different tabs on a second monitor and am having major difficulty keeping track of how each live blog is keeping track of the event.
The lights just went down, and Apple CEO Tim Cook is taking the stage to cheers from journalists who are supposed to be adversarially covering Apple, as Recode co-editor-in-chief Kara Swisher notes on Recode's live blog.
Image courtesy Apple.com
https://digiday.com/?p=109054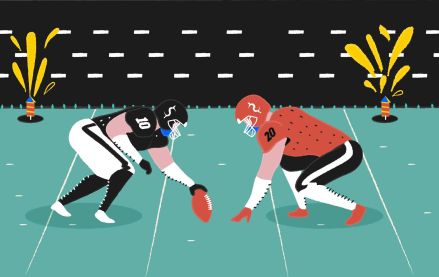 December 6, 2023 • 4 min read
In response to this challenge, the NFL's Detroit Lions have adopted a proactive strategy, introducing an extra channel for their local NFL broadcast. The objective is to broaden advertising opportunities, leverage direct-to-consumer distribution, and establish stronger connections with local fans, with the ultimate goal of increasing preseason viewership.
December 6, 2023 • 4 min read
It's been over a decade since the most recent entry in the wildly popular "Grand Theft Auto" series came out in September 2013, meaning anticipation for "GTA 6" has been building for years. Rockstar titled yesterday's trailer as "Trailer 1," making it clear that the company is poised to launch a massive marketing campaign in the lead-up to the game's 2025 release.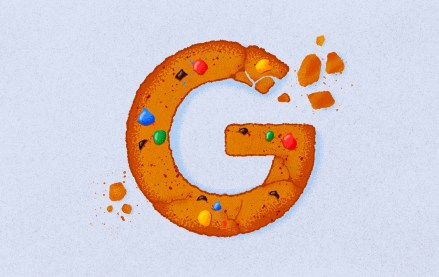 December 6, 2023 • 4 min read
A healthcare client that decided to scrap all conversion tags and cookies within weeks provides a case study for what will likely be a common experience in a year's time.