How CVS is Capitalizing on Consumer Mobile Behavior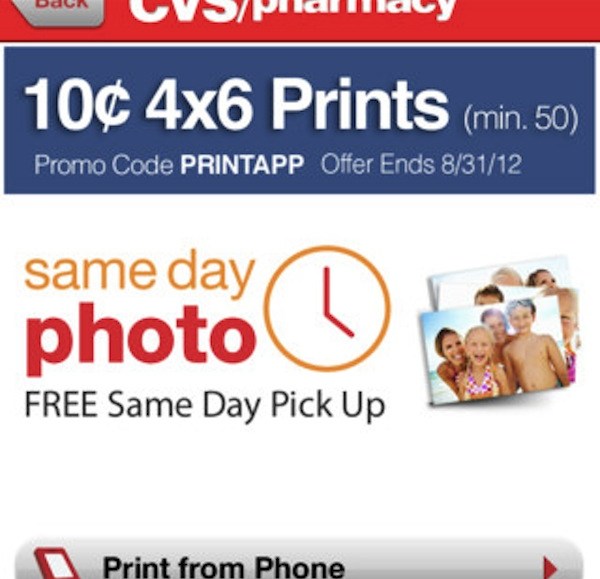 The phone now doubles for most people as their camera, always with them and powerful enough to do the job for many shutterbug opportunities.
CVS wants to capitalize on the mobile photography boom that's led to the rise of Instagram to 80 million users in just under two years. The CVS mobile app now lets users order photo prints at their nearest CVS. People using the app for the first time get a discounted rate of 10 cents per print, when ordering more than 50 prints.
"Although in its early stages, the photo feature has been received well by consumers, resulting in significant increase in downloads [of the app]," said Erin Pensa, spokeswoman for CVS. "The user base growth can be attributed to an integrated marketing campaign, consisting of online traditional and non-traditional promotional elements."
CVS has been promoting the app on its Facebook and Twitter accounts, through its own site, via display and also through traditional PR tactics.
The app's success is a testament to the idea that apps for utility will always be in demand. Along with printing personal photos from their smartphones, the CVS mobile app lets shoppers digitally store their loyalty card in their smartphone, eliminating the need to carry the card when shopping. Loyalty cardholders can also track, manage and redeem their savings and rewards within the mobile app. Additionally, shoppers can check their app for the mobile weekly circular with local deals and promotions, find nearby CVS pharmacies and MinuteClinic locations. The app is also mobile-commerce enabled, letting consumers buy stuff without ever leaving the experience. CVS would not reveal how many downloads the app has received to date.
Competitors like Rite Aid have mobile-commerce enabled apps as well. Rite Aid does not offer a printing service, however.
"[Our mobile strategy is all about] delivering personalized value to each shopper," Pensa said. "[So for the app that means] making it the most convenient and accessible way for shoppers to get information they need to shop, save or manage prescriptions at CVS."
https://digiday.com/?p=20396