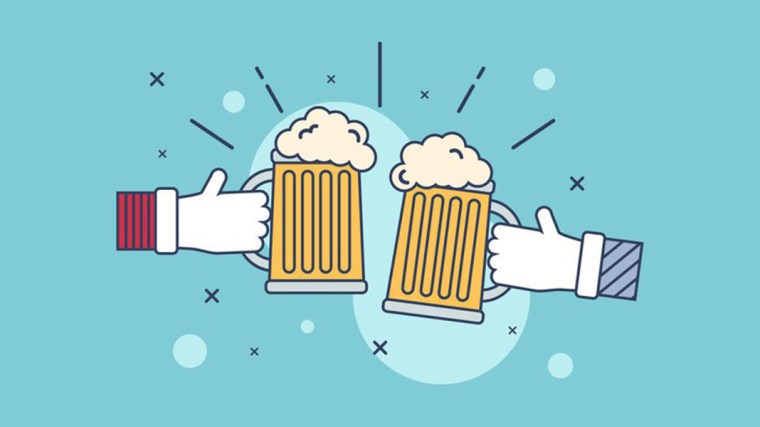 May 20, 2020 • 5 min read
Anheuser-Busch InBev has seen a sales decline as bars and sporting venues across the world closed their doors. But while that's led to pullbacks in "discretionary spending," the beer maker has continued to advertise but with different messaging.
One of the first actions that AB-InBev took for its brands was sharing the charitable donations and actions that the brands and parent company were taking, including a campaign showing the reallocation of money from sports sponsorships to giving it to the Red Cross, which hosted blood drives with the Budweiser brand.
"We had to go through every single ad and marketing campaign and adapt the messaging in real time to make sure that it was sensitive to the current situation," said Spencer Gordon, the company's vp of digital at DraftLine, AB-InBev's in-house agency in the latest edition of Digiday+ Talks, a weekly series of practical tutorials for media and marketing.
Because each state is reopening at different rates and has different social distancing mandates, AB-InBev is taking a regional approach to advertising. This is something that DraftLine was already well versed in, however, because each state has different rules and regulations regarding online alcohol sales and different regions have different tastes towards AB InBev's brands.
"When we go local, we tend to do significantly better and win more frequently," Gordon said.
AB-InBev is also putting renewed focus on e-commerce in order to keep selling while bars and stadiums are closed. DraftLine created and distributed hundreds of e-commerce ads with specific partners to make sure that the brands were growing their online presence. Since restaurant and bar sales were so far down, the company wanted to make sure that it would still be able to sell beer in regional locations that allow online sales of alcohol.
Gordon said the team of 85 has created hundreds of e-commerce ads to help push direct sales in states that allow the online sales of alcohol.
Gordon, who who founded DraftLine in 2018, discussed what he learned while building and in-house agency from the ground up and how DraftLine is helping AB InBev keep its marketing strategy optimized during an economic downturn.
See the event video and slides below.
01
What we learned
The role of DraftLine during coronavirus
DraftLine was built to help AB-InBev understand consumers' behaviors to make sure that the messaging used in old and new ads isn't tone deaf.
DraftLine is better equipped than any third-party agency to do this, Gordon said, because it has access to the company's consumer base and can drive deep understandings of what consumers want and are talking about right now. This has enabled the in-house agency to not only vet thousands of its existing ads, but also create a whole new slate of assets that avoid tone-deafness and insensitivity during a pandemic, leaving the company in a better position than it would have been in two years ago, he said.
"Now has been a moment to shine for us," said Gordon, adding that two years ago, the company would have been in worse shape trying to understand the wants and needs of consumers right now. This is because it didn't have DraftLine, which was built to gather consumer insights and then share them with its brands to create more effective messaging.
Launching an in-house agency
When launching DraftLine, Gordon said there was some uncertainty towards it from the brands, so Gordon said his team didn't mandate that every brand had to use DraftLine at first. Instead, he said the team started small by pitching ideas, delivering creative that the brands needed and ultimately proving that the in-house agency could be effective for the brands.
"We had a ton of headwinds when we first started," Gordon said. "We had to earn credibility."
DraftLine was created with the intention of providing a central hub for understanding consumers and sharing that information between the brands and partners.
For companies considering launching their own in-house agencies, Gordon recommends taking several weeks to purely do research and look at how existing agency partners are set in order to learn from those models. Then, companies should figure out what the in-house agency is best equipped to do initially, whether it is more creative services or consumer analysis services. He called this stage going after "the lowest hanging fruit."
In terms of saving money, Gordon said that the goal of having an in-house agency wasn't necessarily to save money, but to add creative value to the company. DraftLine hasn't incurred incremental dollars to the business, he said, but has repurposed money from elsewhere. And any savings that might have come in from having an in-house agency have been distributed to other areas of the business.
Working with external agencies
Despite being an in-house agency that can take on a lot of the creative needs of the company, Gordon said that DraftLine is not replacing agencies, but rather supporting its agency partners.
A major reason for this is because the company has acquired more brands in the past few years and the advertising landscape has changed as well. "It's an enormous company with a lot for creative needs that have splintered and expanded in the past years," Gordon said. He added that no two brands work the same or take the same approach to its advertising strategy, which makes the job of managing each brand even more difficult.
Each campaign a brand runs can have hundreds or even thousands of assets, which can be too much work for one 85-person agency to take on, Gordon said. Therefore, DraftLine and its agency partners "can divide and conquer or work together to make something stronger," he said.
Additionally, DraftLine doesn't always win the pitches that brands put out, he said. Or in the event that it doesn't have the capacity to produce the campaign, the division will refer the brand to other agency partners who can help take on the job.
"The one thing that we do for [every brand] is we provide social listening, data management, community analytics and programmatic e-buying for everyone," he said. Otherwise, from a creative perspective, some of the company's brands will only use agencies or will use agencies if they are best suited for the job, in terms of skill, time or budget. DraftLine will also share all of that collected information with any agency partners to ensure that they know the most effective way to reach the brand's consumer.
02
Event video
03
See the slides
https://digiday.com/?p=367638