How Extinction Rebellion is using social media and marketing to grow a movement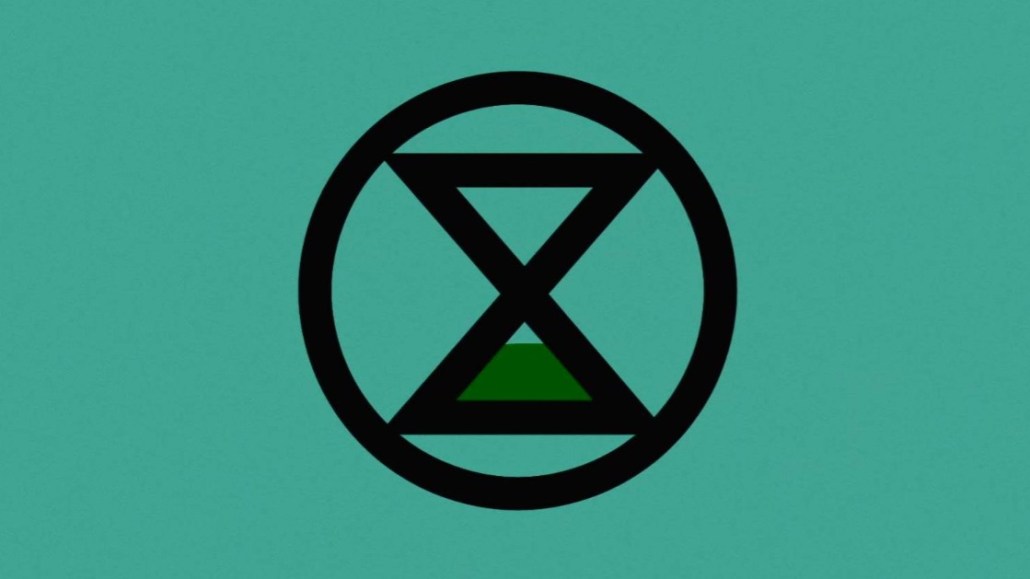 Cherry blossom season is a popular time in Washington, D.C. Tourists descend on the capital to take a look at the beautiful first signs of spring.
But for Extinction Rebellion, a global group of climate change activists, it's a time for action. Cherry blossoms are blooming earlier due to climate change, says 18-year-old Sophia Kianni, a member of the D.C. chapter. And the group is figuring out what to do about it.
In recent weeks, the group has been brainstorming catchy slogans to post online and use for the event. "One of our ideas was [to use a common phrase of ours] 'No blank on a dead planet,'" says Kianni. "So we were like, 'There's going to be no flowers on a dead planet.' And then having like a pink XR logo and then putting that on social media. That way we create viral-worthy content that people can easily share on their [Instagram] Stories."
The global grassroots movement of activists is known for fighting climate change with non-violent direct action — and making sure to do so in headline-grabbing ways. In early March, for example, activists who are part of the Hong Kong branch held a dinner party in the South China Sea to highlight the rising sea levels. And in Melbourne, also in early March, activists buried their heads in the sand at Inverloch Beach; doing so was reportedly a symbol of the inaction legislators have taken to reduce Australia's carbon emissions and reliance on fossil fuels. The point? To keep climate change in the news as long as necessary to inspire action to fight it among legislators as well as people across the world.
The multi-generational movement, which was founded in May 2018 and has hundreds of thousands of members in 70 branches across 350 cities, many of whom are Gen-Z and millennials, also uses its own channels on social media to keep the effects of climate change top of mind. On Instagram, where Extinction Rebellion has over 655,000 followers, the group posts protest photos, details for upcoming actions, art created by members and news about climate change. On Twitter, where the movement has over 352,600 followers, a similar approach is used. The channels are also used to communicate and reiterate the group's principles and demands, including to get governments to "tell the truth" about climate change, "act now" and create a "citizen's assembly" on climate change.
"It creates a public face for the organization," says Henry Pratt, a 22-year-old member of the Washington, D.C., chapter of the U.S. branch of Extinction Rebellion, of the social media accounts. "A good 40 to 50% of our efforts goes into these digital realms. We have a very core brand and every single bit of our social media copy all fits within that."
The movement, which has no leadership and works as a flat organization, has worked to create an easily recognizable brand with a cohesive message by working together on various encrypted chat apps, like Keybase and Matter Most, to make sure that the content is consistent on the accounts. Creating content for the accounts is done on a volunteer basis, according to members. Typically someone will share a potential Instagram or Twitter post to the group's chat channels and the group will workshop it from there, with the primary concerns being inclusive language, as well as the intent of the post and whether or not it will resonate with followers.
"Everything is very much a group effort," says Kianni. "We never want just one person to be in control of the social media. If you want to pitch in and help with the social media then you totally have the ability to do so."
In workshopping the posts, Extinction Rebellion aims to be as inclusive and as attention-grabbing as possible. "We spend a lot of time on wording," says Kianni. "A lot of our social media centers around thinking of catchy slogans and stuff for events that we're planning."
"Something that's really key to Extinction Rebellion is that we have shared resources, shared ideas, share values and that comes across in our media," says Farzona Comnas, a 20-year-old member of the D.C. branch, adding that the movement has caught on quickly because many are already worried about the environment. "People are already concerned with the climate crisis and we tend to use a lot of language that goes like, 'It's your moral obligation to future generations' [to do something]."
"We're being raised in this political climate where we are hyper aware of everything that's happening, we know what climate change is going to do to the planet," says Kianni, when asked why Extinction Rebellion is popular among younger generations and on social media. "We just want to make sure that our generation is going to have a future. And we're also thinking about future generations."