Digiday is at SXSW giving you the latest industry news out of the festival at Austin, Texas. More from the series →
For New York digital agency Barbarian Group, SXSW was always all about "the party."
From 2008 to 2016, the agency, which was operating at its peak — at least from a cultural relevance perspective — held a blowout at the famed Mohawk venue in Austin, Texas. It was the party everyone wanted to attend, with a VIP section on the balcony, a public area downstairs and musical acts that ranged from Michael Cera to Tokyo Police Club to The Octopus Project.
Here's the story of how it all happened, from the people who lived through it.
2008: Monday Night Frrvrr featuring Tokyo Police Club, 'Til We're Blue or Destroy, The Laughing, Freezepop and Car Stereo (Wars)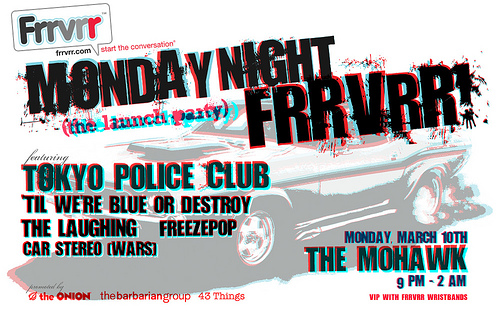 Rick Webb, co-founder, Barbarian Group: I love music. And I love SXSW. I'd been going for years. And there were lots of parties at SXSW Music. There was a whole ecosystem of branded parties at Music. But we didn't do anything at Interactive. And I wanted to do a party because honestly, I wanted to show the engineering nerds at Interactive that Barbarian was different from other agencies. It had a legit business purpose: recruiting. The first one was 2008. We did it with The Onion.
Graham Williams, founder, Transmission Events: This guy's father was the CEO of The Onion. And he worked with us at Transmission. So when The Onion and Barbarian, they looked for a place to do the event, they came to us.
Webb: It's funny, we made up this fake startup called Frrvrr and themed the party that. We paid SXSW so we could be on the "official party list." You were official. The year before we were there, I realized all the parties were so dumb. I had been going to Austin for a long time. I knew enough to get in with the Mohawk people.
Eva McCloskey, former PR director, Barbarian Group: It's funny because we started doing the party before the infiltration or saturation at SXSW had happened. Now, it's totally a different story.
Williams: [Barbarian's] was my favorite party to book. They were a like-minded group of people. Sometimes I get hired to do things that are unrealistic, like, "Can we get Radiohead?" Or book something terrible. Barbarian was right up our alley: indie rock and hip-hop.
Webb: To be official, we had to spend money, which basically meant buy an ad. It was like $2,000. We didn't have to. All the clubs that are around are owned by three companies, and they have as much clout in Austin as SXSW does.
McCloskey: We loved throwing parties. It started in Boston with Barbarian Day, which happened in December that was this start of the holiday party season. People would fly in for that party.
2009: Decider featuring Eugene Mirman, The Wooden Birds, Low Line Caller, The Lemurs and DJ Sean O'Neal
Williams: These guys were like, "Let's do a party everyone would go to, but it also was open to locals." That was a big push for me. I always wanted to keep it that way.
Lexi Peters, former communications director, Barbarian: In the earlier years, I would work with Rick. Rick, he knew what he liked. That brief process used to be: Here are the people we'd love to have.
McCloskey: I remember the party got mentioned in a piece of press that wasn't about SXSW. It was a watershed moment.
Peters: People climbed the wall and jumped over most years. There was a catfight on stage in 2009. I don't remember why. Ask Rick.
Webb: Ha! That's amazing. I don't remember. I wish.
Peters: 2009 was my first intro to it. At that time, nobody else was doing music in Interactive. There was nothing else like it happening. It was the brainchild of Rick.
McCloskey: It was a smart formula: Give VIP passes to clients, and it makes them feel special. Then, you get your own entrance. And VIP folks were everyone in business. You have the best seat in the house for an amazing rock show and have your own bathrooms, food and booze.
2010: Forbidden Frontier featuring The Octopus Project and Woven Bones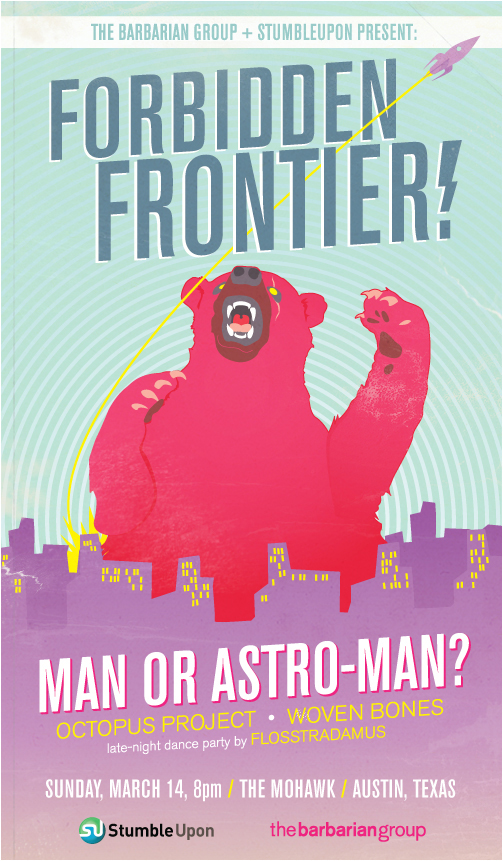 McCloskey: It always helped to invite clients. Having your own party was a way to get out of going to other people's events.
Peters: Mohawk always held the venue for us. Graham would start a conversation in the earlier days of November. He'd ask: "What date do you want?" It was always latched between the second-to-last night or last night of Interactive. It was close to Music. That way, we could get the bands.
Williams: Everyone RSVPs for everything at SXSW. This way, we invited everyone, so lots of people showed up.
Peters: I was locked out of Facebook because I was sending VIPs Facebook invites so fast, Facebook said I was spam.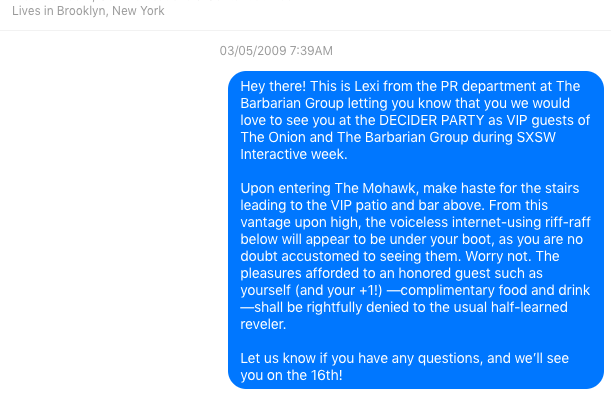 Peters: It used to be much smaller. In 2009 and 2010, it was honestly small.
McCloskey: Also, have booze, and have food with the booze. And order pizzas when the food runs out. It became legendary because it was open to the public. But we curated an experience that was kind of awesome and DIY and rock 'n' roll.
2011: T.O.S. Violation featuring Mister Heavenly, Ted Leo and Bare Wires
Webb: We paid bands who were shockingly affordable. And they don't get paid for the official sets anyway. So we gave them like $2,000, $3,000.
Colin Nagy, former chief media and strategy officer, Barbarian Group: I kinda took on a more active role in 2012. Early days was Rick and Eva, and then she left, and we just kinda kept building it.
2012: Robo Trip featuring Matthew Dear and Bear in Heaven
Nagy: I can remember the 2012 show with Matthew Dear best — the line being so far down the block I couldn't see it, and it was weird. It was a feeling that we built something people give a shit about.
Peters: In 2012, it got really big. It was 2012 that we decided to take over Mohawk and Club de Ville. After that, we had to start planning it in like, August the prior year. It sort of got ridiculous.
Nagy: It was always our party. But we wanted to be ambitious with a budget, and we were driving the concept and booking.
Peters: It wasn't a huge splashy spend, either, especially at the beginning. The money would always be funneled into the talent.
2013: No Way Back featuring Austin supergroup Divine Fits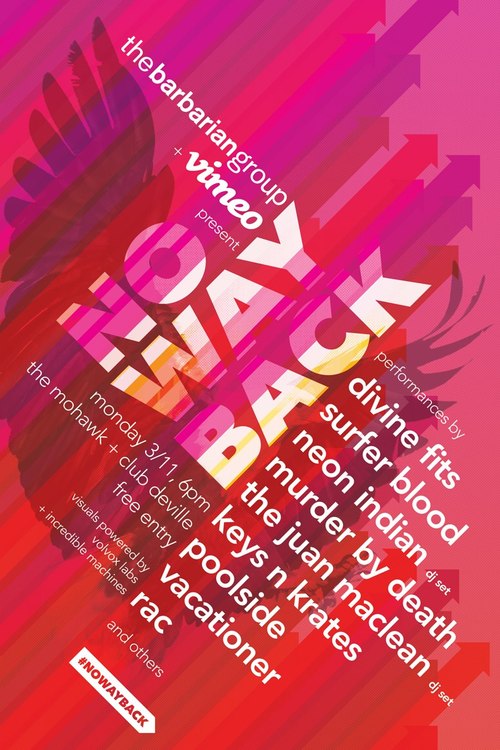 Williams: Bands liked that party; elsewhere, they were background music.
Peters: We just used Graham and his relationships, so we could take bands performing at SXSW Music and bring them over to us.
Webb: It was schmoozing with the public. The party invites changed, as we changed from doing stuff with agencies as their digital agency to doing stuff directly with brands. It stopped being Goodby people, and then it became Pepsi.
2014: Advanced Settings featuring The Raveonettes and Nullsleep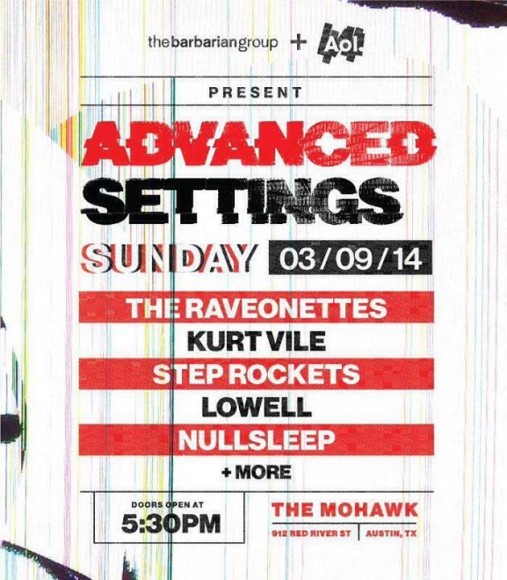 Peters: The Mohawk changed. They got more and more bookings coming in. There were big brands doing splashy events more and more often. Like around 2014 or 2015, eBay came in.
Webb: All the New York media people were there. It was all Jonah Peretti, all these execs, and then the weird celebrities like Michael Cera, who played one year.
Peters: It got complicated with partners who wanted to get into the ring with music selection. I'd get a wish list from partners to ensure we had similar enough musical tastes to even make this happen.
Webb: I was so drunk most of the time. [Barbarian co-founder] Benjamin [Palmer] and I would always divide it up; I'd deal with the internet people, and he'd deal with the brand people.
Peters: Barbarian was the longest-standing client of Mohawk's. We're like family. They didn't turn over on staff a lot. There were people tending bar I'd known for years. Even the security, I'd known for years.
Peters: The idea was badge-blind, which philosophically lined up with Mohawk. It wasn't another industry event at SXSW.
Nagy: We didn't want it to be a jerky, industry-insular thing. The bottom floor was always open to every kid in Austin. And during SXSW, kids wanna see music, and they didn't have the money to buy a badge.
Williams: The challenge was you have to find a band willing to come into town four or five days before SXSW Music began. Now, it's easy. Bands are moving over to the Interactive.
Peters: The VIP section was only about a quarter of the capacity. We never had a huge headliner; we just had a bunch of midlevel bands, which drew in all the awesome crowds.
Williams: Like-minded bands was key. I remember early shows where we had Kool Keith back to back with punk rock. Barbarian always wanted upbeat and fun.
Peters: During the party, I'd be running around to go to the door, which was always a shitfight. We had to stand by the door so people who somehow didn't RSVP would have a familiar face there. If someone texted me, Graham would go grab people for me because if I went or Colin went, we'd be suffocated by bodies. We had a texting thing, though; they could show a text from us to the people at the door, and they'd be let in.
2015: Dress Code featuring Mobb Deep and Dan Deacon
Noah Brier, co-founder, Percolate: We co-sponsored the party once? I hadn't even remembered we were involved. I think of it so much as a Barbarian Group party. It was Rick's baby as far as I knew.
Peters: It was a velvet-rope thing. Plus, in SXSW, nobody wants to wait in line because they're above everything. LeVar Burton spoke on a panel one year and came by, but couldn't get in. We had to go out and grab him. Pee-wee Herman showed up one year, and he hung out with us.
Williams: I remember one year I thought stood out was when an instrumental surf punk thing played. And it had a theremin player, and so did the next band. It's like an alien instrument, goes "woo-woo!" Not a common thing to play. And both happened to have one. They had a theremin-off, and I think one of them lit the instrument on fire.
Peters: Sometimes I would hide in the cellar, have a cigarette and say I'd gone down to change kegs.
Brier: The party made Barbarian cool, but also there were tons of clients there. It was a good place for business. Even when we sponsored it at Percolate, it was a good place to entertain people.
Peters: We never footed the booze bill. One year Cheil did. Other years, I worked with the venue people, who have key distributor relationships. We pitched the party to them and added their branding.
Nagy: I invented a holiday called the "Day After the Barbarian Group Party." I also called it "Lexi Day."
Peters: On Lexi Day, we'd just go and eat. Once, Benjamin took us to a shooting range.
2016: Peak Joy featuring Peanut Butter Wolf and Ghostface Killah

Nagy: The reason we called the last one "Peak Joy" was because we knew the lights were getting flipped on, and it was kind of the end of TBG as we knew it. I think we also put in a lot of effort into making it great. It was bittersweet because the ride was over.
Williams: SXSW has changed. Interactive has gotten busier; Music has shrunk. There are so many parties, but it's sad that we don't have the Barbarian one anymore.
https://digiday.com/?p=278845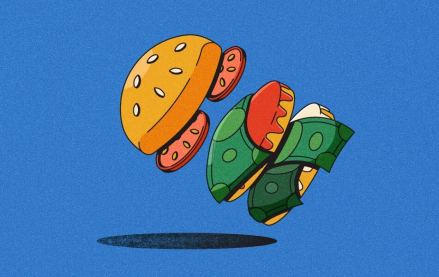 November 28, 2023 • 6 min read
As more influencers look to get into food content creation, brand opportunities are following.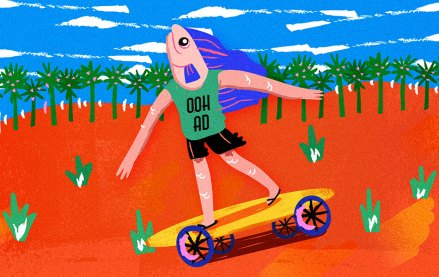 November 28, 2023 • 7 min read
As major marketers like Maybelline experiment with faux OOH, more marketers are open to the idea.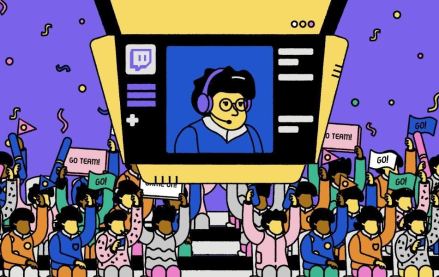 November 28, 2023 • 4 min read
The love affair between Alienware and Team Liquid does not mean that every esports organization is suddenly going to be all-in on wooing the endemic brands they once spurned in 2024. These days, esports organizations' varying level of interest in endemics is a matter of their broader brand identities — which are rapidly diverging.