When 18-year-old Tenzin Thokmey began his college search, he didn't just stick to college fairs and school tours — he also scrolled through his Snapchat feed.
"You see what the environment is like, and it gives you a sense of whether you'd like it or not," said Thokmey, a senior at Murray Hill Academy in Manhattan.
Universities are pretty much like any marketer, albeit one peddling a product with a very high price point. Snapchat's popularity among youngsters is no secret. The app has a nearly 70 percent reach among the 18-24 demographic, according to comScore, and colleges are increasingly beginning to take note.
Many universities operate active Snapchat accounts, even enlisting current students to operate them and offer viewers glances at various aspects of campus life. Several have also started tapping into Snapchat features like geofilters, which are special graphic overlays that Snapchat makes available based on location.
New York University tried out the newly unveiled on-demand filter feature for its Admitted Student Day a few weeks ago, giving those visiting its campus a fun tool. NYU's on-demand filter, created by Warren Bischoff, — a feature only recently made available widely — was viewed over 11,000 times. NYU had also experimented with geofilters last year,when Snapchat was experimenting with branded geofilters with a few partners in late 2014, holding a competition among students to shortlist a design that it then employed.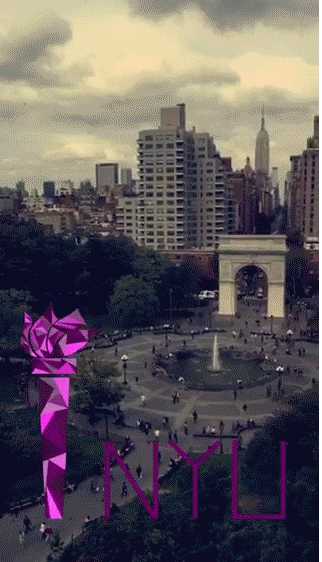 "We want to be where prospective students are and share with them what they want to know about being an NYU Stern undergrad," said Erin Potter, executive director of communications at NYU's Stern School of Business. "Snapchat is a way for prospective students to connect with current students on a common platform, and geofilters are kind of like a check-in or a passport stamp that allows users to mark a moment."
For schools, geofilters also serve as a branding tool. Drake University had two geofilters tied to a one-day high school journalism conference that it hosted earlier this month. When the attendees opened their Snapchat accounts, they could choose to embed their snaps within two geofilters running in the building that was hosting the conference. One said, "I heart Journalism" while the other carried the caption "Picture yourself here" — both with accompanying school logos. The filters ran for a total of seven hours and were viewed more than a 1,000 times each.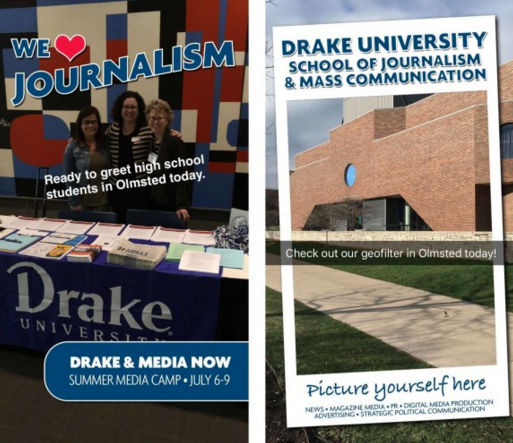 "It was a no-brainer because it allows us to engage with them, shows them that we're ahead of the curve as far as technology goes and also lets us promote ourselves subtly," said Chris Snider, assistant professor at Drake's journalism school.
Some schools like Purdue University and University of Michigan frequently enlist students to run their own Snapchat accounts, giving prospective students a look at the dining hall or sports games. The idea is that students are the best way to recruit other students.
"The continued ability of Snapchat to evolve as a first screen is what appeals to us the most," said Nikki Sunstrum, director of social media at University of Michigan. "We're launching a special geofilter for Commencement next week and will also look at them for prospective students in the future."
Universities aren't the only ones relying on social media for recruitment. Agency Space150 attempted to hire its summer interns this summer through Snapchat geofilters as well. Havas too has tapped Twitter, Instagram as well as Snapchat to scout for its interns in the past. Expect the trend to continue.
"These technologies and platforms have the potential to transform the types of experiences we're able to offer potential students," said Martin Roth, dean of University of Hartford's Barney School of Business. "I'd think more and more universities will start catching on."
https://digiday.com/?p=174897