While some companies are eager to start capitalizing on Thanksgiving as early and often possible, there are few that are planning to actually give us something to be thankful for.
Here are a few brands helping to create some real cheer this holiday weekend:
Zappos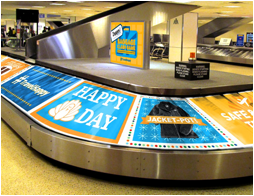 Lucky travelers to Houston's George Bush Intercontinental Airport might hit the jackpot with Zappos. During peak travel hours, the online retailer will transform a run-of-the-mill baggage claim into a giant Wheel of Fortune-type game. When suitcases are spit out onto the rotating belt, their owners could win a prize. The only thing better would be to have Vanna White on hand.
Macy's

If you love watching the big Thanksgiving Day parade, you'll appreciate that Macy's used Spotify to create a playlist to listen to as the floats hover above the city. Parents can entertain their young ones with tunes from Elmo, Jimmy Fallon and Fall Out Boy.
 Tim Horton's Cafe and Bake Shop

The most overwhelmed group of people over the holidays is not moms, no matter what they say. It's retail employees. But with a little help from from the Canadian coffee chain Tim Horton's, employees of large retailers like BestBuy, Kmart and Target will receive "I Survived Black Friday" mugs and free coffee while they slog through their long holiday hours. If only Jameson would step in and magically make that Canadian coffee turn Irish.
Travelocity

The online budget travel agency has established a "Turkey Task Force" to live-tweet travel conditions from airpots around the country. Weary travelers can search the hashtag #TTF2013 or follow @travelocity for updates.
Image via Shutterstock
https://digiday.com/?p=56965