Amazon's 4-star store shows what the future of multibrand retail could look like
September 28, 2018 • 3 min read
• By
Digiday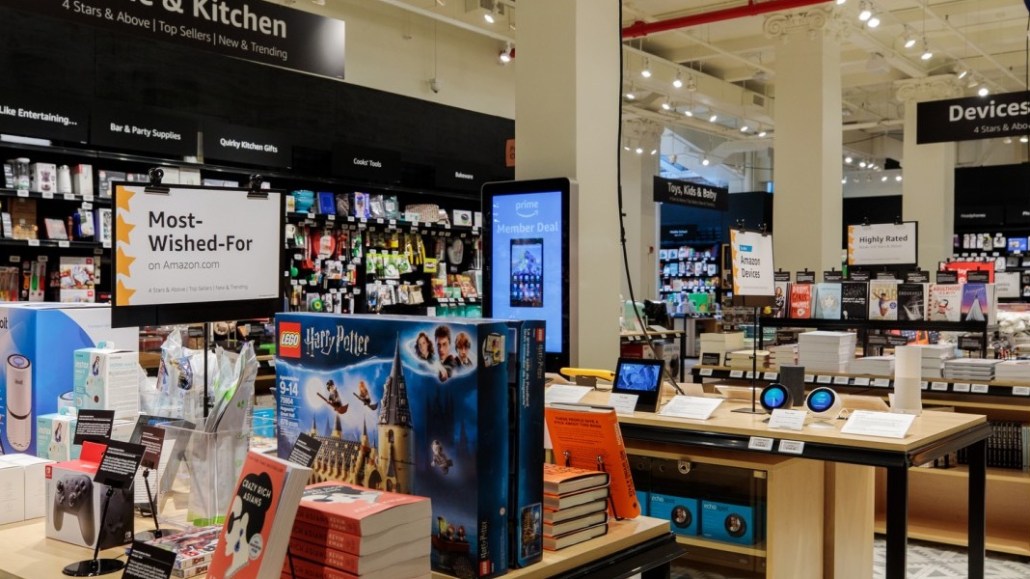 Amazon's new 4-star store, where customer feedback determines what's on the shelves isn't just a way for Amazon to appeal more to sellers — it's also a look at how Amazon is shaping how the department store of the future looks like.
For one, it's a new take on a traditional model where buyers decide on inventory, not customers, which means added pressure on big-box retailers to curate selections based on customer feedback rather than market research alone or raw assumptions.
It's also a shot across the bow for the off-price retail model, which is based on selling goods for cheap because they didn't sell well the first time.
"It's the absolute best use of data we've seen so far," said Jim Cusson, president of retail marketing agency Theory House. "Any retailer's biggest concern is inventory carrying cost. If you can curate a store with guaranteed success of items on the shelves, you have a significant advantage."
Amazon did not respond to requests for comment.
According to a recent report from consultancy IHL, retailers tie up significant amounts of capital anticipating customer purchase behavior by holding safety stock in the event some items beat expectations. IHL estimates that retailers in North America collectively tie up $24 billion in safety stock to compensate for poor inventory management. Items that don't sell are often sent to discount retailers to offset some of the cost, but if retailers could more effectively predict how products will do at the outset based on customer data, discount retailers stand to lose.
"There's a whole retail industry like TJ Maxx and Marshalls and other discount providers that make a living selling products major retail brands couldn't sell or weren't hot sellers," said Cusson. "If Amazon can open its doors, and there's a high likelihood the products will resonate with consumers, that's a key advantage — they've got the most data."
Cusson added that whether the challenge to off-price retailers becomes an actual threat depends on how quickly the concept of user-feedback driven merchandising scales, and how other industry players respond to Amazon's move. In addition, as recent TJ Maxx growth plans demonstrate, some customers are drawn to a "treasure hunt" experience of finding a bargain after rifling through merchandise.
At Amazon's 4-Star store, all products offered are rated at least four stars online, are "new and trending" or top sellers. Product categories include consumer electronics, kitchen, home, toys, books, and games; the store also features curated selections, including those most often added to online wish lists, products that are trending in New York, items that are frequently bought together, and "Amazon Exclusives."
While 4-Star is an experiment in data-driven inventory, Amazon isn't the only brand bringing customer data to inventory decisions. Stitch Fix, for example, has been using customer data to personalize product offerings to customers. EMarketer e-commerce and retail analyst Andrew Lipsman said Amazon's 4-Star store will likely push traditional retailers to invest more in using customer data to inform merchandising decisions.
Customer data-driven merchandising also doesn't push out retail buyers, though their roles may change, he added.
"There's nothing that says they couldn't do something similar — if you think about large retailers, they have their own data from online and physical stores, and they could incorporate product reviews and ratings," he said.
Image via Amazon
https://digiday.com/?p=305081