Brands are capitalizing on the trend of stressed adults coloring on their phones
January 9, 2018 • 5 min read
• By
Digiday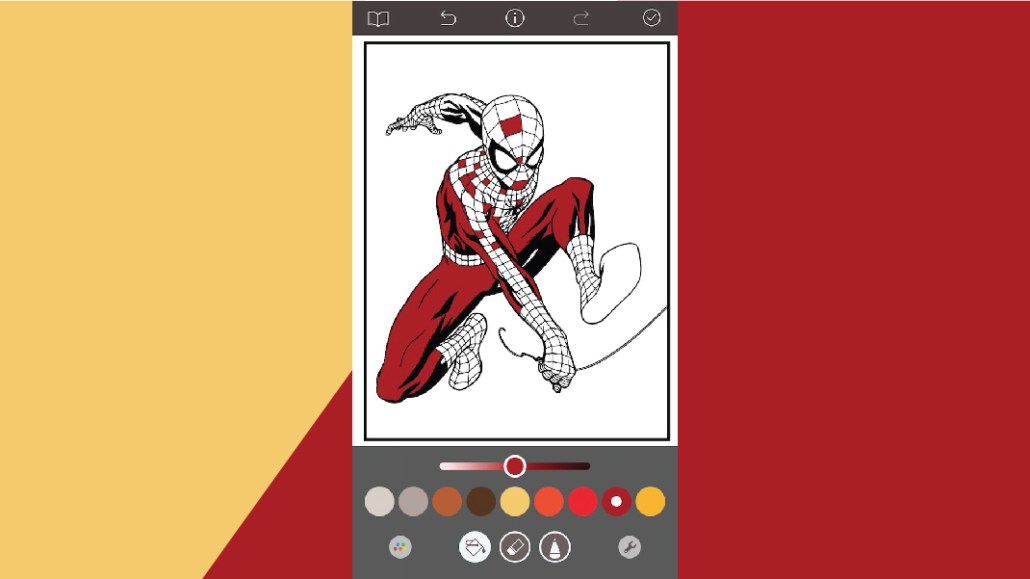 Two years after adult coloring became a trend, brands are taking notice. Companies like Lionsgate, Hasbro and Kellogg's are buying up ad space inside apps, creating their own coloring apps and designing branded coloring pages.
For Lionsgate's film "Wonder," the movie studio went to coloring app Recolor to run a three-month campaign that features a banner ad at the top promoting the available branded coloring pages. When a user taps the banner, a branded page appears with four coloring pages and the movie trailer. Hasbro took a similar approach in Recolor for its October film "My Little Pony." In September, Kellogg's ran a campaign featuring 3-D designs of Tony the Tiger and Pop-Tarts that users can color in Recolor. And Marvel made its own coloring app, called Marvel: Color Your Own, featuring characters from its movies.
Brands say coloring app buys produce higher engagement rates than other types of in-app advertising. Coloring apps, such as Recolor, Pigment, Unicorn, ColorBox and Pixel Art, bring in loyal followings since they are driven by subscriptions rather than in-app purchases, said Adam Cohen-Aslatei, vp of marketing at ad agency Jun Group, which works with consumer goods, beauty, luxury and clothing brands on placing video ads in a variety of coloring apps.. Most coloring app users are women in their 30s — an attractive demographic for brands. Women control 73 percent of household purchases.
App Annie estimates that in-app advertising will triple in revenue to $201 billion by 2021.
"Our clients are beginning to see coloring apps as a very viable place to place their ads when it comes to engagement," said Cohen-Aslatei.
Coloring apps for adults sit among the top free and top grossing apps in the Apple iOS Store, according to App Annie data. Of the current top-50 grossing entertainment apps, 11 are coloring apps. In November 2017, the top 10 coloring apps in the US collectively saw over 2.3 million downloads and over 1 million downloads on iOS and Google Play respectively, according to App Annie data.
Adam Blacker, communications lead at analytics firm Apptopia, said coloring apps began reaching the top charts in September, and in December, five coloring apps were in the top six free entertainment apps, sandwiching Netflix at No. 3.
Coloring apps are following in the direction in-app advertising is moving toward: delivering interactive ads to users in exchange for something they want. Most of the time, ads within coloring apps appear as opt-in options. Users can choose to watch a branded video to unlock specific coloring pages. Cohen-Aslatei said the completion rate for Jun Group's clients is 91-95 percent, which dwarfs the industry average of 75 percent for a 30-second video.
Cohen-Aslatei did not reveal which or how many clients the agency is working with for placement in coloring apps, but did say that ads are bought on a CPV basis, much like video ads on other types of apps. Jun Group determines the right user in the coloring app based on first-party data and shows them the ad. Once the person clicks on the ad, and after the 15- or 30-second video plays, the person unlocks a premium coloring book. The video must be completed for the premium book to be unlocked and Cohen-Aslatei said the agency only charges clients once a full video is watched. So if a person watches only half of a video, the client is not charged. Once the video ends, the user is shown an end card with more branding.
Unlike with game apps where brands mostly have the choice to advertise using banners or pre-roll videos, some coloring apps offer different ad formats that can help boost engagement, like Kuuhubb-owned Recolor, which allows advertisers to run their own branded designs. Brands buy these on a CPM basis.
Recolor, a subscription-based app that charges its 6 million monthly users $10 a month for unlimited coloring designs, has worked with Kellogg's, Hasbro and Lionsgate in the past six months to create their own "coloring books."
Tero Kuittinen, co-founder and chief strategist at Kuuhubb, said branded coloring books on Recolor see an average engagement rate of 10 minutes. For comparison, the average engagement rate of a custom interactive ad is 43.7 seconds. Kuittinen said branded banners at the top of the page get an average of 60 million monthly views.
Brands that have launched their own coloring ads outside of coloring apps are also seeing high engagement numbers. In December, shoe brand Timberland launched a coloring book ad in a number of gaming and creative apps. Users could color in the black-and-white image of hip-hop artist Nas as a cartoon video ad for the new shoe played beneath. In the seven weeks the ad campaign ran in October and November, 230,000 people interacted with the ad, with almost half watching the entire video ad, said Mike Isabella, director of consumer engagement at Timberland.
Studies have shown that coloring apps can reduce stress and anxiety, so brands also see the apps as a means to connect with users when they are in an open and positive mood, said Cohen-Aslatei. "When you are relaxed and focused," he said, "a brand message is a positive experience."