Kevin Jonas has a new gig: mobile trivia host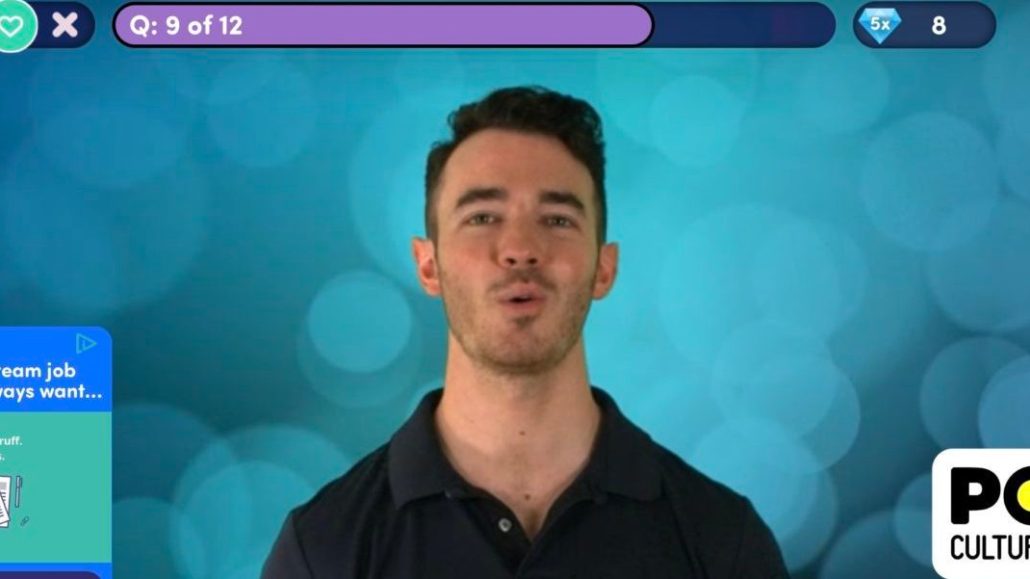 Ten years ago, Kevin Jonas toured the world with two of his brothers, singing and playing guitar. These days, Jonas, 30, is married and the father of two. He's also available on your smartphone at 4 p.m. every weekday for trivia.
Jonas is the host of a new mobile trivia game called Pop Culture Live, where viewers can win cash prizes. The game, available on iOS for now, launched on July 9 and is one of the latest trivia apps inspired by the rise of HQ trivia. Jonas serves as the talent and helps select the questions along with a team of 12 at Brooklyn-based startup Treehouse Interactive.
"Our real goal is to make this a similar feel to what's trending right now in pop culture and bring you something entertaining and fun. The truth is, we don't take ourselves too seriously. We're just here having fun," Jonas said.
Jonas has a history with leading content initiatives around social media. In 2013, he and Steven Forkosh launched The BLU Market, an influencer marketing company. In 2014, Jonas created a food search app called Yood. In 2015, he hosted a segment for AOL's online morning show "Rise" called "This Week In Snapchat."
Lately, he's been focused on mobile games and multiplayer experiences — with good reason. Fortnite from Epic Games recently announced it's expecting to make more than $1 billion from in-app purchases. The games market is predicted to make about $138 billion in 2018, according to market research firm Newzoo.
"We realized [multiplayer games] was cool, but there was something missing out of it: the immediate action. It's the Wild West in this app gameplay," Jonas said.
HQ trivia, The Q, Gravy, FleetWit and QuizBiz are all trying to get smartphone owners to spend about 15 minutes playing trivia. Of course, each has its own twist. Pop Culture Live, unsurprisingly, focuses on pop culture. Typically, players who answer all 12 questions correctly split a prize of $100, but they're encouraged to keep playing to earn "gems," which can be traded in for extra lives or used to eliminate answers. The game is played horizontally, which makes it different from HQ's vertical format.
While HQ trivia has grown its revenue through sponsored games, Pop Culture Live is supported with programmatic ads. Ads are visible throughout the entire game on the lower left side of a smartphone screen when it's held horizontally.
Jeff Maxon, CEO of Treehouse Interactive, said the plan is to introduce more advertising. The game's first advertiser — beyond the programmatic experience — is Fox Sports, which will run video ads during the game. The pitch emphasizes brand safety given the controlled environment of the game and the host.
"We're introducing a safe brand, a family-friendly opportunity with Kevin at the microphone leading the way. He's a very comfortable figure with the 18-to-34, even 45-year-old demographic. [He's] a known person, somebody who they grew up with," Maxon said.
Are you ready for your next obsession? pic.twitter.com/y9Zqe2KD2T

— Pop Culture Live (@popculturelive) June 12, 2018
Introducing advertising from the start was also a way to set user expectations. Jonas said he's focused on getting players to keep coming back, which is why prizes are modest for now. On Aug. 1, about 660 people played with five winners taking home $20 each. Kyle Hudson, chief operating officer of Treehouse Interactive, said the app has more than 3,000 players and more than 25 percent of the installed user base is active in any given game. The app will host its first $1,000 game on August 6.
"The larger the show gets, the bigger the payouts, because the revenue is there to do it. It's kind of codependent. We're also taking our time. We don't want to burn down the gates right away and say, 'Oh we just gave someone a million dollars. How are we going to pay that?'" Jonas said.
Had a special guest help me out with a question on @popculturelive today! pic.twitter.com/Ayob5Ej8XZ

— kevin jonas (@kevinjonas) July 25, 2018
Games are only about 15 minutes, but the time that goes into each one is significant. Jonas said he runs through the list of questions in the morning and helps work on the script for about two hours. Then, he'll work on promotion, whether it's video teasers for Twitter or other posts on social media, for two hours before the game starts. After each episode, they review what worked.
"It's not like, O.K., one and done. We know when people are responding to a question, [saying] 'This is ridiculous,' or people are talking about it, we're doing our job," Jonas said.
https://digiday.com/?p=297544