IPSY and Huge are among 2021 Future Leader Awards nominees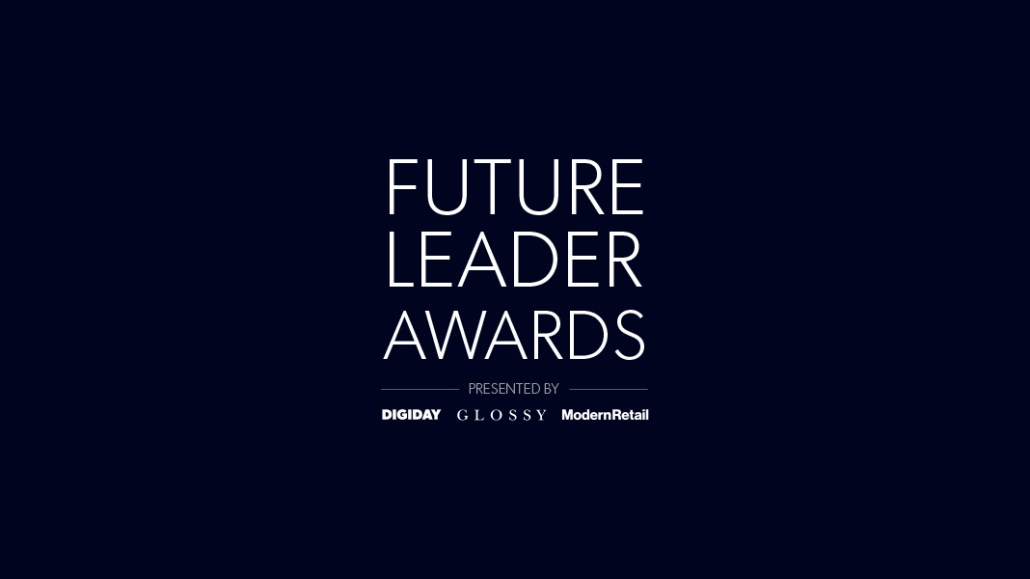 When it comes to the future leaders of the media, marketing, beauty and retail industries, the common thread is that there's hardly time to hang around looking for recognition — the proof is in the audience and customer journey, and that's a 365-day focus for the professionals making waves at their companies. 
And so, to highlight the leaders who are so hard at work, the Future Leader Awards — presented by Digiday, Glossy and Modern Retail — are back to spotlight our industries' most outstanding up-and-comers, the often unsung heroes guiding teams and organizations through innovative transformations and next-generation success stories. 
This year's nominees are producing measurable business results in their roles and helping shape the cultures of the companies for which they work. Advocating for women in the workplace, creating justice-and-equality-focused programs for people of all backgrounds, promoting progressive and sustainable approaches to the planet's health and, of course, steering the course during a time of pandemic and quarantine — all these accomplishments marked our shortlist of Future Leader Awards. 
As our judges look back on 2020 and recognize the best of the best — including multiple nominees from IPSY and Huge — the full list of finalists follows. Stay tuned for the winners announcement on Thursday, March 11.
Brand
Chloe Songer, co-founder, Thousand Fell 
Katina Papas Wachter, head of ad sales and strategy, The Roku Channel, Roku
Antonia Ansgariusson, social media marketing manager, YouTube
Frances Tang, founder, Awkward Essentials 
Alix Peabody, founder and CEO, Bev
Mitchell Roth, co-founder, president, COO, Bourbon Brothers (Roth Industries)
Agency
Steph Loffredo, associate director, social marketing, Huge
Sean Lynch, director, product management, Huge
Katie Bullek, director, account services, January Digital
Kyle Kuhns, founder and CEO, XX Artists
Khari Motayne, associate director, multicultural strategy, Direct Agents
Mark McDowell, CEO, Primal Co. Ltd.

Publisher
Chelsea Sanders, vp, brand innovation and strategic partnerships, Refinery29's Unbothered
Jill Schulz, vp, marketing and account strategy, Dotdash
Steven Vasquez, director, video content, UPROXX
Ryan Jordan, strategist, media strategy, Vice Media Group
Jillian Hershman, director, ad product marketing, The New York Times
Kristin Matzen, director, communications, TIME
Technology Provider
Lara Vandenberg, founder and CEO, Publicist Inc. 
Shane Hegde, co-founder and CEO, Air
Sabina Davis, client success manager, Knotch
Irene Oh, marketing manager, InMarket
Ido Raz, co-founder and president, Bigabid
Travis Clinger, svp, addressability and ecosystem, LiveRamp
Beauty and Wellness
Dakota Kate Isaacs, market director, North America, DECIEM
Paul Michaux, co-founder, vp, product, Prose
Patrick Vice, technical director, Fullscript
Julia Lee, social media strategist, IPSY
Kaitlin Jones, senior manager, merchandising, IPSY
Carlie Albanese, assistant manager, marketing and pr, Color&Co Personalized Haircolor, by L'Oreal
Retail 
Beatrice Weindel, merchandise planner, e-commerce, IPSY
Krista Bourne, svp, president of consumer sales and field operations, Verizon Consumer Group, Verizon
Jennifer Burke, head of sales and account management, Faire 
Imran Patel, vp, business development, Quip
Rania Kaouadji, project management lead, NTWRK
Alexis Nelson, social media manager, BARK
https://digiday.com/?p=398807