research
The majority of 218 current and past Cannes attendees no longer see Cannes Lions as a festival celebrating creativity according to a May survey by Digiday. But 70% of respondents still believed it was an incredibly important business event.
rundown
Two months ago, the first real wake-up call was delivered to the advertising industry regarding the General Data Protection Regulation. After over a year of complacency from European businesses, most of which believed they could continue business as usual without changing much and remain complaint, attitudes are changing.
Subscribe to Digiday+ Membership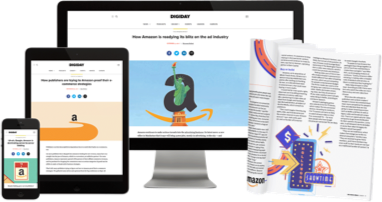 Digiday+ gives you an inside look at how digital is transforming the world of media. Join a growing list of industry executives who've made the decision to gain an edge, make smarter decisions, and connect with the people who matter.
Digiday Magazine
It's summer, which means it's time for the ad industry's annual pilgrimage to Cannes. But whether you choose to go or not — and whether you think Cannes is worthwhile or not — the industry's biggest and most expensive confab occupies a pretty special place in the industry. We explore what comes next for Cannes in our cover story, which looks at how much Cannes is under threat as every corner of the industry undergoes its own upheaval.
Digiday Events Briefings

Brands face some tough decisions ahead. In 2018 their demands for better control over the marketing landscape — from their agency partners to platforms — kept rising, and that trend will become increasingly pronounced in 2019. Meanwhile, brands face challenges as they figure out how to bring more capabilities in-house. At the Digiday Brand Summit in Palm Springs, California, marketers met to discuss these challenges and what the year ahead will hold.