To update its breaking news strategy online, CNN takes cues from TV
When CNN set out to revamp its approach to breaking news online, it didn't have to look far for inspiration. After all, its cable TV operation was already in the business of covering news around the clock.
That thinking is now reflected in CNN's homepage. Where there used to be one lead story, there's now a "breaking news" module and a "latest" timeline that let the homepage accommodate multiple big stories, as it did Wednesday, when the Manchester bombing and Donald Trump's visit with the pope dominated the news cycle.
To Mitra Kalita, who became CNN's vp of digital programming last July after stints at newspapers including The Wall Street Journal and Los Angeles Times, CNN had a big advantage over newspapers that are rooted in a daily publishing schedule. "We realized we have something others don't," she said. "CNN is so different because it's built on a 24/7 mindset."
CNN is applying lessons from TV news reporting in other ways. Instead of waiting until an event ends to write a story, in the newspaper tradition, it's publishing more curtain-raisers that preview upcoming events. CNN also is trying out more formats, like GIFs of big, buzzy news moments. It also overhauled its approach to news alerts when it redesigned its main app in February, replacing its one-size-fits-all delivery to a choice of three levels of alerts, ranging from one or two alerts to all alerts.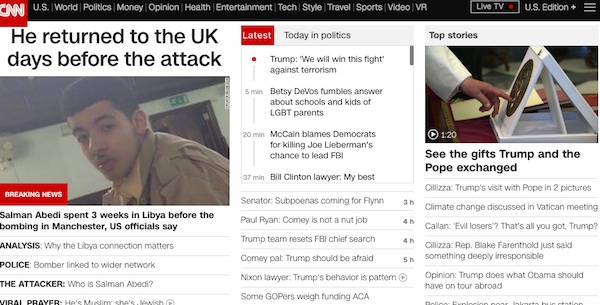 Since overhauling the mobile alerts, CNN has tripled the number of alerts it sends out and expanded the types of alerts it does. So in addition to breaking news, CNN sends out "appointment reading"-type alerts based on what people are likely to be doing at the time, such as one it sent for this end-of-day recap designed to hit people on the commute home. It's also sending alerts about enterprise or health stories.
The idea is that there are stories that aren't necessarily super important, but people are interested in them because they touch on issues a lot of people identify with — like parenting, in the case of Melania Trump's decision not to follow her husband to Washington immediately.
The expansion to non-breaking news alerts has allowed for a more conversational writing style and attention to headlines, which can be workshopped over email. That takes time, but it can pay off in opens, Kalita said. Recalling an alert on a climate change series, she said, "I think I counted dozens and dozens of emails to get those alerts right. And it was among our most opened alerts of the month."