Top publishing execs say interstitial ads are the worst user experience trade-off
August 2, 2017 • 3 min read
•
•
Spending time on digital media properties can be a horror show. The pressures of the market mean that monetization comes well before user experience. Viewability requirements mean clicking on an article results in seeing almost no content, only ads. More ads frequently interrupt paragraphs. Autoplay video, even with sound, is now common. Many sites will have multiple autoplay video ads on the same page.
If anyone doubts how bad the user experience can be, please visit The Independent's website and brace yourself. This is modern media — and it's not getting better.
We decided to poll some top publishing executives anonymously on how they balance user experience with monetization needs — and who they think is doing it well and who is doing it poorly. We promised anonymity for these five executives. The highlights:
Interruption fatigue
Interstitials were named the worst feature of digital media from a user-experience perspective, beating out autoplay video and slow load time.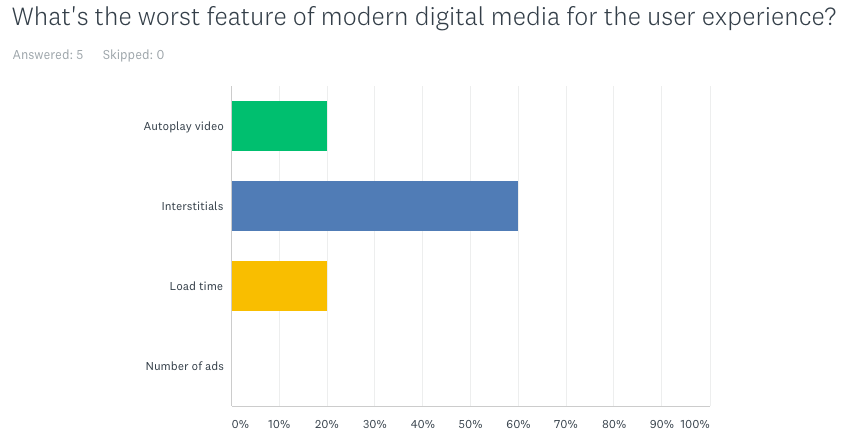 Video as a false savior
The vaunted pivot to video is just a grab for ad dollars, not to meet user demand.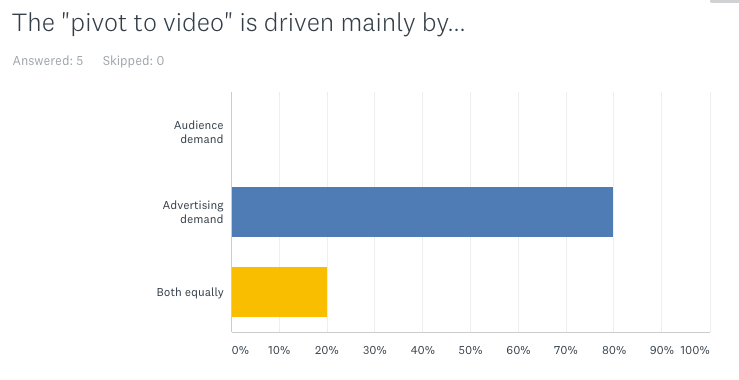 On making trade-offs
"The user is not a primary consideration in most designs. Instead, we've got sets of predetermined requirements — from ads, from SEO, from other stakeholders — that limit what we are able to do."
Love for Quartz
Two executives singled out Quartz as a model for user experience, with one naming The New York Times. One respondent said any publisher that does not use content ad networks.
Less love for Daily Mail and Forbes
Both were flagged for terrible user experiences, along with "anyone with autoplay video, and that number is growing every day."
— Brian Morrissey
…..
How to lose with video
Media companies use plenty of tricks to goose video views and ad dollars. Flipboard co-founder and CEO Mike McCue succinctly highlighted three of the most common tricks in a recent tweet:
Losing video strategy:

– Combine images & titles into glorified slideshow w/ soundtrack

– Force pre-roll ad view

– Auto play w/ audio

— Mike McCue (@mmccue) August 1, 2017
What each of these practices fundamentally get wrong about video is the simple fact that none of them have the viewer's interests in mind.
Facebook has made it easy to get a lot of views on a video as long as you have striking imagery and subtitles long enough to get the video to play for 3 seconds. It's been so easy that publishers such as Business Insider, Unilad and Daily Mail don't ever become "video companies" without Facebook's News Feed and algorithm. But it's hard to find people who are craving this type of moving images. And even if Facebook were to construct a legitimate ad system with its mid-rolls test, it's hard to believe these kinds of low-cost, forgettable videos would command the CPM rates that everyone wants, but a few actually get.
True video companies aren't immune to poor practices, either. Broadcasters such as Bloomberg, ESPN and CNN have robust video businesses, but all of them also employ autoplay video with the sound on from the beginning. That makes it easy to capture video view counts and ad dollars — since these autoplay videos also come with pre-rolls. But again, it's not something viewers are asking for. Sometimes when you click on an article, you just want to read an article. It's the quickest way to drive people off your site, which will leave you worse off in the long run.
That doesn't mean pre-rolls don't or can't work. They have basically become the bedrock of anyone making money from digital video advertising. The important thing is viewer choice: YouTube users don't reject pre-rolls outright because ultimately they're choosing to watch a video with the understanding that it might come with an ad. That choice currently doesn't exist on many publisher sites and on Facebook.
— Sahil Patel
Coming up: A Slack town Hall with Domino CEO Nathan Coyle
Join us on Thursday at 1 p.m. for a conversation with the Domino chief to discuss how to weave commerce with content and revenue streams outside of advertising.
https://digiday.com/?p=248112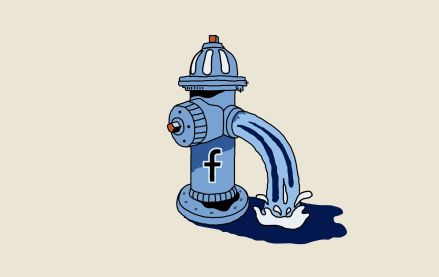 October 4, 2023 • 5 min read
•
•
Publishers are still feeling the effects of a change Facebook made in May that caused a steep decline in referral traffic. Nearly four months later, publishers aren't sure when — or if — that traffic will come back.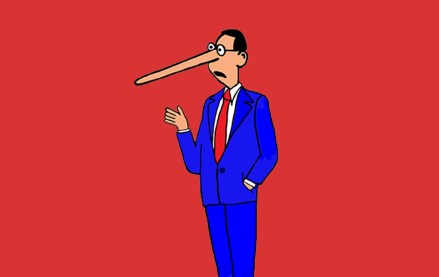 October 3, 2023 • 7 min read
•
•
A new definition for MFAs is available but the vague nature of the guidelines is leading to a lack of standards that might prevent adoption.
October 2, 2023 • 1 min read
•
•
The publishers who attended DPS were focused on the potential upsides of applying the technology to their operations while guarding against the downsides.