The Sun's fantasy football site, Dream Team, is ramping up its commercial offering by tapping influencers in ad campaigns for brands.
The campaign for snack brand Doritos launched June 11 with a YouTube video featuring football influencer Spencer FC, (real name Spencer Owen) as he tries to score penalty goals against professional footballers. Fans watching at home have a chance to win a prize if they tweet out the videos of the goals. As part of the campaign, Doritos-sponsored footage of Spencer FC promoting the penalty shootout is also appearing in The Sun's Snapchat Discover edition this week.
"There has to be passion and an emotional charge under what is being said," said Harry Burt, general manager at Dream Team. "That's why influencers are so appealing, because of our irreverent tone and the subject matter. Using influencers lends itself to that raw sense of community; it resonates with people."
Dream Team started publishing content in September. Before then, it was just a fantasy football site. Unlike other sports publishers that report on the day's football events, it covers smaller league teams and fan-culture, publishing across platforms like Facebook, where it has 1.7 million fans. Dream Team has a blended-revenue model of advertising, fantasy football and soon affiliate betting links — which its first-party data from fantasy football players will play a pivotal role in — although Burt wouldn't say how much each revenue stream contributes.
The idea, though, is that people will come to Dream Team for the fantasy football and stay for the content. According to comScore, the average time spent per month per user on Dream Team is 28.5 minutes. This is behind BBC Sports (31.2 minutes) but ahead of ESPN (24.2 minutes).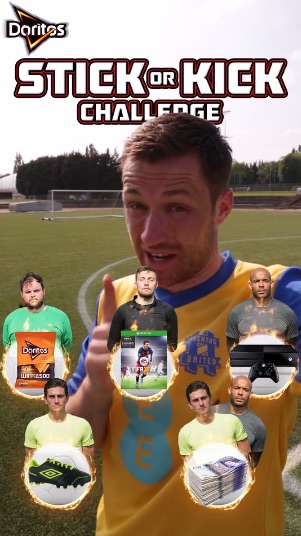 Spencer FC has 1.5 million YouTube subscribers, over 400,000 Twitter followers and nearly 600,000 Instagram followers, and he averages 65,000 views per snap on his personal Snapchat account. Dream Team has been working with him since 2013 without brands, co-producing his YouTube chat show Benchwarmers and the first series of his podcast. Because of this previous work, Dream Team has guaranteed Doritos it will get 400,000 views on the YouTube video. (It surpassed this in the first 48 hours and now stands at 410,000 views.)
Advertisers on a site like Dream Team have access to a highly engaged, albeit smaller and niche, audience. Paying influencers is another way for brands to get in front of hard-to-reach audiences, like 18- to 30-year-old males, those most likely to install ad blockers.
"Influencer marketing is still an emerging phenomenon," said Burt, "and it's still relatively unregulated, so we have to be clear on what the objectives are and how to measure it." (It can be particularly murky when it comes to rates, trying to put a price tag on influence has led to agencies "throwing too much money" at them.)
Josh Robinson, head of digital at sports marketing agency Synergy, said that now all briefs from clients ask for some form of connecting with influencer marketing, a very different story to a year ago. "It's a broad world," he said. "At one end of the spectrum, there are bedroom DJs, and at the other, you're just talking about celebrity endorsements. When you find that new breed of talent, you work with them in a very different way to how you would with a brand ambassador."
Dream Team has worked with a range of influencers at different levels, but this is the first time it's done so on behalf of a brand. "You can help build them up by helping them get close to talent, and you both get content from it," said Burt. In the case of Spencer FC and Dream Team, the publisher came up with the idea and the scripts and storyboards were signed off at the beginning by the brand, but it was an ever-evolving cycle.
Striking that balance of giving the influencer enough creative freedom for them to be able to do what their audience knows and loves them for, while having some brand control, is the challenge for brands.
"It makes you think differently about the whole creative idea in that campaign," said Robinson, who said whether to get influencers on board is one of the first decisions his agency makes. "They need to be broad ideas for the influencer to be able to get stuck into. It reminds us that we should be building a big flexible campaign across different channels."
Images: Courtesy Dream Team via Facebook.
https://digiday.com/?p=183299