The legal murkiness of sports highlight GIFs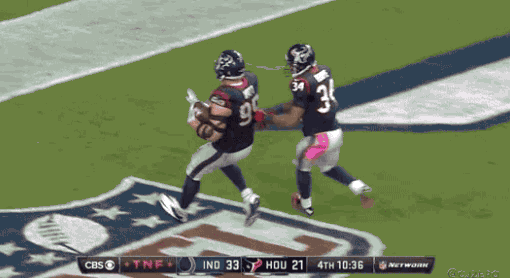 GIFs are a great way to tell sports stories — and quickly draw an audience with a near-real-time highlight. But sites that rip them from TV broadcasts are treading a fine line between giving people what they want and putting themselves at risk of legal action from rights holders.
A look at the pages of sports sites like FTW, Deadspin and SBNation shows just how reliant these publishers have become on GIFs and Vine videos to tell stories. Recent FTW stories about J.J. Watt, T.Y. Hilton and The Colts all feature content ripped directly from sports broadcasts. The same goes for Deadspin, which often features stories that consist exclusively of GIFs. SBNation, too, often uses GIFs in its coverage.
The risk to publishers is that sports copyright holders aren't shy about staking claims on their content. During this summer's World Cup FIFA went on the offensive, sending dozens of takedown requests to Twitter for accounts that it said were "displaying and/or offering 2014 FIFA World Cup Brazil audio-visual content." Slate was forced to remove its story featuring the first 136 goals scored during the World Cup; SBNation, too, was forced to take down a pair of Vine accounts it created.
Such takedown requests have become a regular occurrence. Deadspin editor-in-chief Tommy Craggs said that the site gets at least one NFL takedown request a week during football season, though it doesn't have an overall policy for using footage in GIFs. "The boring, lawyerly answer is that we look at the complaints on a case-by-case basis; we push back when we believe we have a fair-use argument," he said. 
Jonathan Hunt, head of marketing at Vox Media, said that SBNation only uses sports footage when it has the licenses to or when it's legally allowed to under fair use. "We maintain good relationships with the leagues and teams and take down any offending GIFs if they're in violation of fair use," he said.
Publishers lean on the "fair use" defense pretty heavily. Established as a check on overbearing copyright law, fair use is the legal defense that gives creators limited use of copyrighted work for purposes of parody, reporting or commentary. The defense was most famously used in 1994 to successfully defend 2 Live Crew's use of Roy Orbison's "Oh, Pretty Woman" in their song "Pretty Woman."
But lawyers say it's not exactly clear whether ripping sports highlights and posting them online unaltered really constitutes a fair-use defense. For one, a successful GIF post can draw thousands of views, netting publishers a good amount of cash in advertising revenue. "The fact that these publishers are commercial entities doesn't help their case," said Peter DiCola, associate law professor at Northwestern Law.
The other problem, DiCola said, is publishers invariably post highlights, which are, almost by definition, the most valuable parts of games like baseball or soccer. Thus, a copyright holder like the MLB could make a strong case that, say, home run highlight GIFs actually pose a market harm, particularly since broadcasters have to pay sports leagues to rebroadcast their content.
But all of this is speculative because these sorts of fair-use cases are few and far between. Kevin J. Greene, a law professor at Thomas Jefferson School of Law, said that perceived fair-use cases rarely go to trial because they're rarely battles that are worth fighting, since fair-use cases by their very nature necessitate court battles. "The only way to fight a claim is getting in front of a judge, and if you're a small entity, you're not going to do that," he said. "The only ones who can afford to fight are the big boys."
https://digiday.com/?p=91342