Google's homepage has a new look, at least for read-it-later app Pocket's users. The app, which has raised $14.5 million according to Crunchbase, has a new Google Chrome extension that shows "trending articles" recommendations in a tray automatically inserted for users who open a new tab with Google's homepage.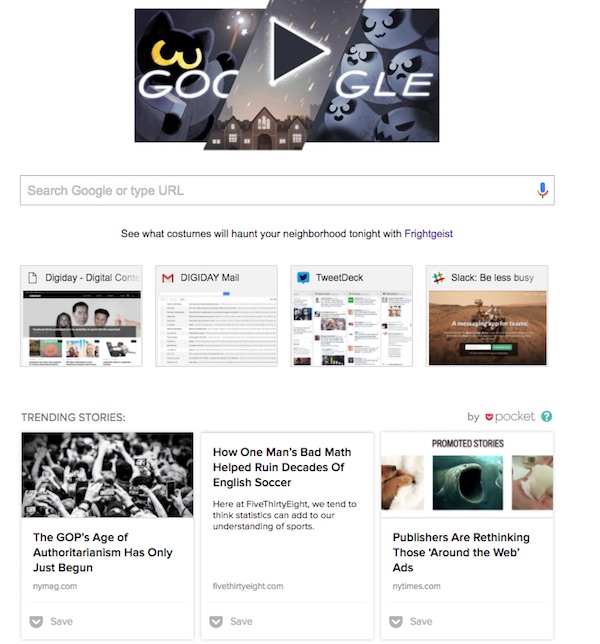 The strategy is a legal gray area according to cyberlaw experts since Pocket doesn't have a deal with Google. It also raises the question of whether Google will block the extension from altering the appearance of its page. (Google declined to comment specifically on this question.)
"There is no definite answer one way or the other [if the widgets are legal]," said Mark Bartholomew, a SUNY-Buffalo law professor who specializes in advertising law. "The law hasn't caught up with addressing add-ons and widgets."
Last week, Pocket launched a few new features, including a recommendation widget that pops up under the search bar when users with the Pocket extension open a tab on Google Chrome. Pocket plans to roll out similar widgets for Safari and Microsoft Edge by the end of the year.
Pocket's Chrome extension has been downloaded 3 million times, and the widget has displayed content from about 260 publishers.
The recommendations are driven by which articles are being saved and read the most on Pocket, and publishers can't pay to have their stories promoted in the widget, said Nate Weiner, Pocket CEO and founder. The company is also having internal discussions on how to expand their widgets to social platforms, even though several premium publishers such as Slate and The New Yorker are ditching their suggested-content boxes amid pushback from irritated users.
"The stuff you see at the bottom of those sites isn't great," Weiner said. "They're actually terrible in a lot of ways. We're trying to prove you can drive recommendation to quality stuff that users trust."
Although Google has been successful in stopping pop-ups and maintaining a clean homepage, consumers are less likely to be confused by Pocket's widgets since they only show up for users who opted into the extension, Bartholomew said. Unless the widgets start interfering with the search bar's functionality, it's unlikely that the FCC will get involved, he added.
"But I think Google would be eyeing this cautiously," he said. "They don't have the strongest case here, but they do have a brand to protect."
Frederick Lane, an attorney and author who writes about emerging technologies, said that there is a growing trend among extensions that insert content onto other websites.
"It is a legal gray area, but I don't think it is consumer confusion," he said. "It is more accurately described as adware, although it is a fairly mild example."
Although people like to complain about Outbrain and Taboola links, Slate and The New Yorker are outliers when it comes to dumping recommendation widgets. A recent study from ChangeAdvertising.org found that 82 percent of the top 50 news websites used ads from players like Taboola and Outbrain.
One publisher told Digiday, "The widgets are worth paying attention to. But it depends on what the goal is, scale or loyalty. If you're about scale, then these widgets are important. But if you're about loyalty, then they're not nearly as important and it's just another acquisition channel."