Publishers continue to get tough with ad blockers. For a new, six-week test, Condé Nast site Epicurious is serving a pop-up to ad blockers, requiring them to disable their ad blocking software or register in order to continue using the site.
Publishers have taken a variety of approaches to ad blocking, with more moving to tougher approaches than run-of-the-mill guilt trips. In the case of Epicurious, it had to consider that only 7 percent of its audience blocks ads (the message is being shown to about half of them). That's relatively low; a 2015 Adobe/PageFair report estimated that 15 percent of internet users in the U.S. use ad blocking software. Epicurious also has plenty of competition for free recipe content online.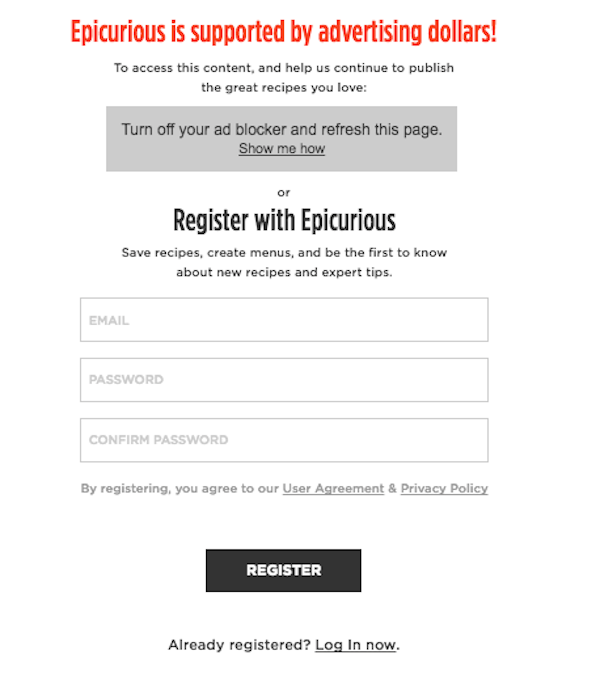 Epicurious tried out several versions of the message with readers last September before coming up with the current one. The publisher thought it was important that the message be consistent with its brand as well as communicate its business model, so it opted for clear and transparent rather than clever. It also took into account scrolling behavior and the need to show there was content underneath.
"For our users, we found that clear messaging wins and that it was best not to take over the whole screen," said Eric Gillin, executive director of Epicurious and head of product for Condé Nast's Food Innovation Group. "I think people tend to scroll down first, so they'll miss it if you have it too high."
Brands like Epicurious work closely with Condé Nast's corporate consumer marketing division on ad blocking options. Wired and GQ have taken a more aggressive approach, requiring that they disable the ad blocker or pay to access the site. Wired requires people to pay $1 a week for an ad-free version of the site. GQ required that people sign up for micropayments.
Wired's messaging was tailored to reflect the fact that its users are tech savvy, highly likely to block (over 20 percent of users have an ad blocker on) and are repeat visitors, said Kim Kelleher, Wired's chief revenue officer. Three months in, she said she's pleased with the whitelisting, subscription and abandon rate results, but said it's too early to give specifics.
Still another Condé Nast title, Ars Technica, with 25 percent of its audience ad blocking, has taken a multi-pronged approach. It's been running a banner asking people to subscribe to an ad-free version. It's also cut out intrusive ads and reduced page-load speed.
Some publishers are skipping the messaging entirely and instead resorting to "revenue reclamation" providers in order to get around ad blockers and show the ads anyway.
Epicurious isn't requiring people to pay up for now, but it sees value in getting people's emails when they register. Its relationship with the user is important, and getting emails gives Epicurious a way to communicate with and forge a connection with them.
"We'll let user behavior dictate [next steps] instead of letting brute force dictate it," Gillin said. "We want them to understand we're ad-supported. And we're just attempting to understand the mindset and what would let them allow us. It's hard."
https://digiday.com/?p=178866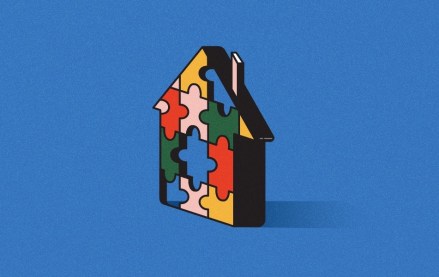 September 22, 2023 • 4 min read
Apartment Therapy's president Riva Syrop took the stage at the Digiday Publishing Summit to discuss the convergence of commerce and sponsorship revenue within its Small/Cool event.
September 22, 2023 • 4 min read
Media execs took stage at the Digiday Publishing Summit to discuss the growing importance of ROI in ad campaigns this year.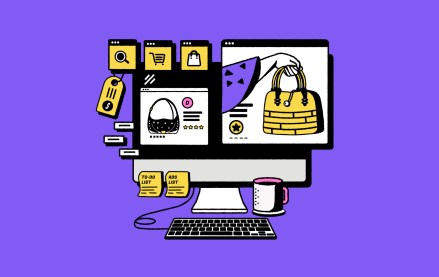 September 22, 2023 • 4 min read
CEO Satya Nadella said AI assistants will be as ubiquitous as PCs and will help users navigate across apps, operating systems and devices.